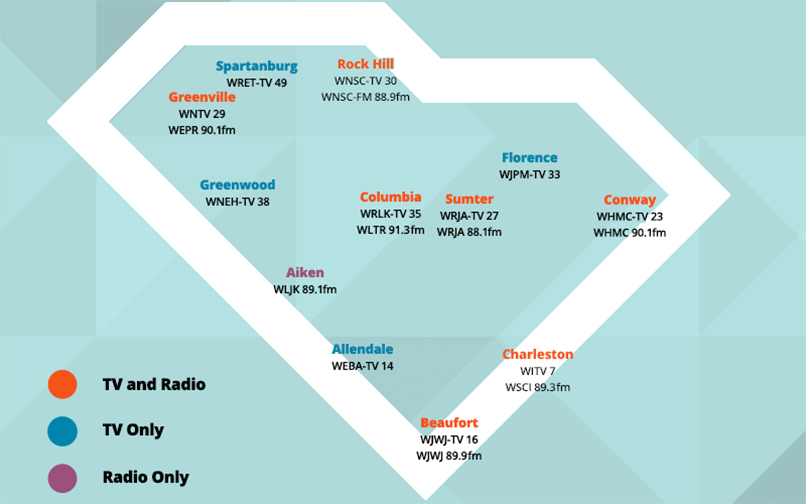 South Carolina ETV (SCETV) is the state's public educational broadcasting network. SCETV amplifies South Carolina voices, provides educational experiences and strengthens communities, while working to create a stronger, more connected and informed South Carolina. SCETV provides national and local content to classrooms via internet services Knowitall.org and PBS Learning Media. SCETV also provides teacher training and re-certification in face-to-face and online settings.
SCETV currently presents How She Rolls, Reel South, By The River, and Yoga in Practice on public television in addition to national radio productions Song Travels, Piano Jazz and Chamber Music from Spoleto Festival USA.
SCETV began in 1958 in the library of Dreher High School in Columbia, SC teaching French and Plane Geometry classes to multiple schools via closed-circuit. Today the network comprises 11 TV stations, eight radio stations, and a statewide tower network that serves schools, hospitals, and emergency management teams.
History
South Carolina ETV and South Carolina Public Radio have a rich history of teaching, in both formal and informal settings.  From our first classes in the library of a high school to our multi-platform national presence, SCETV and SC Public Radio continue to be a place where talented educators and producers bring current events, history, and the culture of South Carolina to light for all generations. Celebrating our rich history.
Television
Our 11 TV stations provide a total of 33,818 hours of educational programs each year on four channels.
Channels
ETV-HD is our primary channel featuring local and national programs. It also features the bulk of SCETV's daily children's shows, offered as a safe-haven for parents looking for quality educational programming. 
The South Carolina Channel features SC-specific history, arts and nature programming, as well as the CreateTV block of crafts, cooking and home improvement programs.
ETV World brings viewers public affairs programs on local and national issues, and is the home of SCETV's State House coverage.
SCETV PBS Kids features 24/7 children's programming from PBS Kids.
Stations
Allendale Channel 14 (WEBA)
Beaufort Channel 16 (WJWJ)
Charleston Channel 7 (WITV)
Columbia Channel 35 (WRLK)
Conway Channel 23 (WHMC)
Florence Channel 33 (WJPM)
Greenville Channel 29 (WNTV)
Greenwood Channel 38 (WNEH)
Rock Hill Channel 30 (WNSC)
Spartanburg Channel 49 (WRET)
Sumter Channel 27 (WRJA)
PBS Membership
SCETV is a PBS-affiliate (see member certification). Through this membership, we are able to broadcast numerous national programs and series.
Most PBS programs are available online for one week after broadcast at video.scetv.org. Local SCETV productions are also available on this website. Our app for TV and radio is also available.  Download the SCETV App from the iTunes App Store or the Android store.
Radio
South Carolina Public Radio broadcasts two different services over eight transmitters.
Other options are available using the SCETV App,  TuneIn, the Public Radio Player, the NPR News Mobile app for iPhone, and Apple Music Radio. Select podcasts of local programs are available from the website and from iTunes. SC Public Radio also provides content to NPR One, a mobile streaming app.
News/Talk
Our news/talk stations present national programs such as All Things Considered, Morning Edition, and Fresh Air and local programs like Walter Edgar's Journal.
South Carolina Public Radio news/talk stations include:
Aiken/Augusta: 89.1 FM (WLJK)
Beaufort/Hilton Head: 89.9 (WJWJ)
Charleston: 89.3 HD2 FM (WSCI)
Conway/Myrtle Beach: 90.1 FM (WHMC)
Rock Hill/Charlotte: 88.9 FM (WNSC)
Sumter/Columbia: 88.1 (WRJA)
News/Music
Our news/music stations focus on programs such as Performance Today and Echoes. Locally-produced content includes Carolina Live, Spoleto Chamber Music Series and Marian McPartland's Piano Jazz, a series that has been a mainstay on national public radio for 30 years. 
South Carolina Public Radio news/music stations include:
Charleston: 89.3 FM and HD1 FM (WSCI)
Columbia: 91.3 FM (WLTR)
Greenville/Spartanburg: 90.1 FM (WEPR)
SCETV joins with other public media organizations nationwide in adopting and supporting the Public Media Code of Integrity. 
Contact Us
You can submit questions or feedback via the website or contact us by phone or mail.
1-800-922-5437
(803) 737-3200
1041 George Rogers Boulevard
Columbia, SC 29201