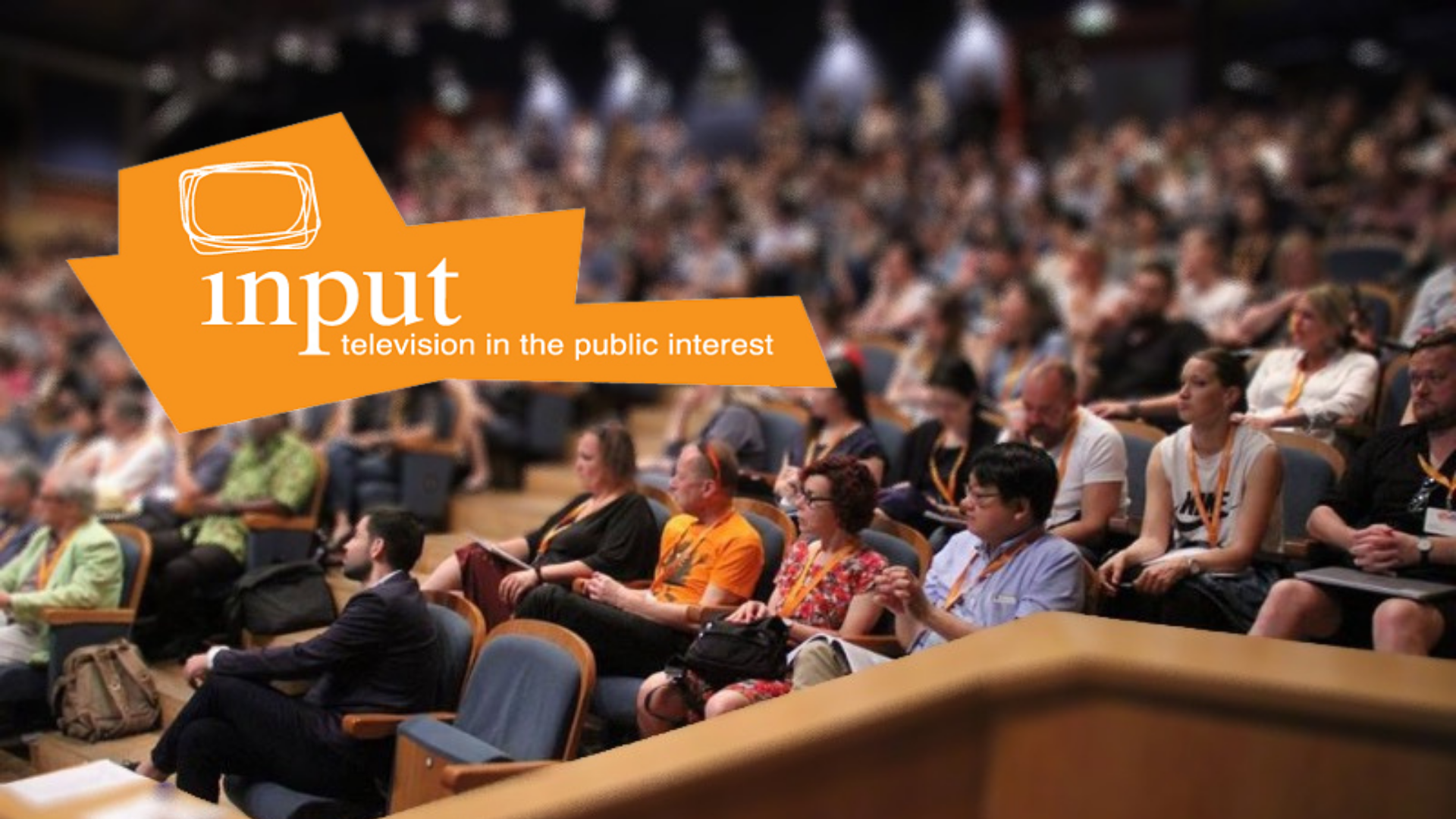 INPUT 2024 - Charleston, SC, May 5-9, 2024
Since 1984, the South Carolina Educational Television Commission (SCETV) has served as the U.S. INPUT Secretariat. 
INPUT - the International Public Television Conference - is an annual weeklong public media showcase where the rules of broadcasting are challenged and redefined. This event is the only international conference that focuses specifically on the innovative programs produced by public as opposed to commercial broadcasters. INPUT is dedicated to the proposition that public broadcasting should be public service in the public interest; that access to the most honest, innovative, provocative, courageous and challenging broadcasting is a universal fundamental human right.
Submissions are now open for U.S. Input for INPUT 2024.
For information about INPUT 2023 go to www.input-tv.org.
Questions for SCETV? Call 803-737-8381 or send an email.

TRAVEL with the NC
Tabitha Safdi, US Input's National Coordinator shares her travels and adventures in Taipei, Taiwan. Read more...
The Ron Hull Scholarship
This year, the U.S. INPUT team is proud to announce the inaugural Ron Hull Scholarship. Ron Hull is the longest-serving INPUT participant, having attended nearly 40 conferences across the globe. But it's not his experience that makes him such a stand-out.  It's his eagerness to make connections with people all over the world, soak in their thoughts and ideas and discuss them with enthusiasm.  Ron Hull is the exemplary INPUT participant, offering deep insight, engaging conversation and encouragement to rising stars in our field. Learn more about the legendary career of Ron Hull.
Tabitha Safdi, US Input's National Coordinator shares her travels and adventures in Taipei, Taiwan.

2022 U.S. Film Selections
Bring Her Home follows three Indigenous women — an artist, an activist, and a politician — as they work to vindicate and honor their relatives who are victims in the growing epidemic of Missing and Murdered Indigenous Women. As they face the lasting effects of historical trauma, each woman searches for healing while navigating the oppressive systems that brought about this very crisis. (Twin Cities PBS)
Tutwiler, a documentary short from FRONTLINE, The Marshall Project and co-presented with America ReFramed, offers a powerful and unforgettable window into the lives of incarcerated pregnant women — and what happens to their newborns. (America ReFramed)
"Outsider artists" are those who live outside the "norm," but Gregory Blackstock's story is as much about an artist who is self-taught as it is about an artist who creates art to please himself. Through rich animation, this film showcases Gregory's inner life and intricately detailed "list" drawings and shows how he uses his artwork to catalog and make sense of the world around him. Gregory's cousin Dorothy Frisch ultimately helps bring his drawings to the attention of the art world, while the documentary brings his drawings to life through hand-crafted animation, bringing you deeper into the unique vision of this singular artist.  (Independent Lens)
China's one-child policy, the extreme population control measure that made it illegal for couples to have more than one child, may have ended in 2015, but the process of dealing with the trauma of its brutal enforcement is only just beginning. From award-winning documentarian Nanfu Wang and Jialing Zhang, One Child Nation explores the ripple effects of this devastating social experiment, uncovering one shocking human rights violation after another — from abandoned newborns (almost always girls), to forced sterilizations and abortions to government abductions. (Independent Lens)
Senior Prom celebrates our eldest LGBTQ+ generation who spent a lifetime fighting for the right to love openly and, via rich personal archives, retraces lives and legacies of resistance that helped change the course of civil rights. (Independent Lens)
Acclaimed director Rodney Evans (Brother to Brother and The Happy Sad) takes viewers on a personal journey as he ponders how the deterioration of his vision will impact his life and work as a filmmaker. Interviewing blind and low vision artists — a photographer, a dancer and a writer— Evans embarks on a quest to learn how other artists have continued to create art and how their journeys might serve as inspiration for his own. (America ReFramed)
What is INPUT?
This unique event — held in a different country each year — encourages the development of public media by screening and debating the most outstanding programs and multi-platform media from around the world. It also organizes many other activities throughout the year in dozens of countries. In doing so, INPUT provides a unique professional development opportunity for producers, directors, writers and all those — including independent producers — who contribute to public broadcasting around the world.
History of INPUT
In 1977, the Rockefeller Foundation brought together in Bellagio, Italy, a group of concerned public service broadcasters from ten European and North American countries. Not satisfied with the images carried across national borders by the popular entertainment programs, the group sought a new channel on international communication, one that would foster the exchange of programs and ideas. They sought a means to address their concerns: to vary the images we have of each other—through an exchange of our television programs—and to present to each other a more accurate representation of our respective cultures. The objective was a deeper understanding created through the celebration of our differences and a closer working relationship built upon our commonalities.
INPUT's purpose is to seek and open international channels of communication so that public service television professionals throughout the world can understand each other's work and develop relationships to improve their art, craft, and purpose. INPUT is a unique opportunity for working professionals to look beyond national borders and local horizons to find new perspectives, techniques, and ideas. It is not a market, a festival, or an awards competition. It is, rather, an immersion in ideas of professional excellence directed towards the ideals of understanding the impact of television programs on the people of all places.
The INPUT conference, held once a year alternately in Europe and North America, is now an established institution within public service broadcasting. The INPUT conferences since 1984 have opened the door for many American delegates with varying backgrounds and experiences to new production techniques, new points of view, new ideas for programming, and new perceptions of how other nations view America.
INPUT has no full-time paid staff. It is organized and conducted entirely through the voluntary efforts of the INPUT Secretary, its International Board of Directors and its many friends and supporters.
Historically the costs of INPUT have been borne primarily by the public broadcasting organizations of Europe, Canada, and—to some extent—the United States through subsidizing the travel costs for their producers and programmers to attend the Conference, absorbing the costs of subtitling the programs in English (the official language of INPUT), granting time and expenses to their executives who organize the conferences, assisting in program collection and selection, and hosting the various conferences to date.
Since 1984, the South Carolina Educational Television Commission (ETV) has served as the U.S. INPUT Secretariat.
Past INPUT Conferences

The annual INPUT Screening conferences have been held in the following locations:

INPUT 1977 - Bellagio, Italy
INPUT 1978 - Milan, Italy
INPUT 1979 - Milan, Italy
INPUT 1980 - Washington DC, USA
INPUT 1981 - Venice, Italy
INPUT 1982 - Toronto, Canada
INPUT 1983 - Liège - Belgium
INPUT 1984 - Charleston SC, USA
INPUT 1985 - Marseille, France
INPUT 1986 - Montreal, Canada
INPUT 1987 - Granada, Spain
INPUT 1988 - Philadelphia PA, USA
INPUT 1989 - Stockholm, Sweden
INPUT 1990 - Edmonton, Canada
INPUT 1991 - Dublin, Ireland
INPUT 1992 - Baltimore MD, USA
INPUT 1993 - Bristol, United Kingdom
INPUT 1994 - Montreal, Canada
INPUT 1995 - San Sebastian, Spain
INPUT 1996 - Guadalajara, Mexico
INPUT 1997 - Nantes, France
INPUT 1998 - Stuttgart, Germany
INPUT 1999 - Ft. Worth, USA
INPUT 2000 - Halifax, Canada
INPUT 2001 - Cape Town, South Africa
INPUT 2002 - Rotterdam, The Netherlands
INPUT 2003 - Aarhus, Denmark
INPUT 2004 - Barcelona, Spain
INPUT 2005 - San Francisco CA, USA
INPUT 2006 - Taipei, Taiwan
INPUT 2007 - Lugano, Switzerland
INPUT 2008 - Johannesburg, South Africa
INPUT 2009 - Warsaw, Poland
INPUT 2010 - Budapest, Hungary
INPUT 2011 - Seoul, South Korea
INPUT 2012 - Sydney, Australia
INPUT 2013 - San Salvador, El Salvador
INPUT 2014 - Helsinki, Finland
INPUT 2015 - Tokyo, Japan
INPUT 2016 - Calgary, Canada
INPUT 2017 – Thessaloniki, Greece
INPUT 2018 – Brooklyn, NY
INPUT 2019 – Bangkok, Thailand

Countries Represented

During these thirty or more years, delegates from many public television organizations as well as independent film and television professionals from all corners of the world have attended INPUT.

Countries represented in past years include the following:

Argentina
Armenia
Australia
Austria
Belgium
Benin
Bosnia/Herzegovina
Brazil
Bulgaria
Burkina Faso
Cameroon
Canada Central
African Republic
Chile
China
Colombia
Czech Republic
Denmark
Dominican Republic
Eastonia
Finland
France
Georgia
Germany
Ghana
Greece
Hungary
Iceland
India
Indonesia
Ireland
Japan
Kazakhstan
Kirghizia
Latvia
Lithuania
Luxembourg
Malaysia
Mexico
Moldavia
Mongolia
Nepal
Netherlands
Northern Ireland
Norway
Pakistan
Palestine
Panama
Poland
Russian Federation
Senegal
Slovakia
Slovenia
South Africa
South Korea
Spain
SriLanka
Sweden
Switzerland
Taiwan
Tanzania Togo
Trinidad/Tobago
Ukraine
United Kingdom
USA
Venezuela
Yugoslavia
Zimbabwe