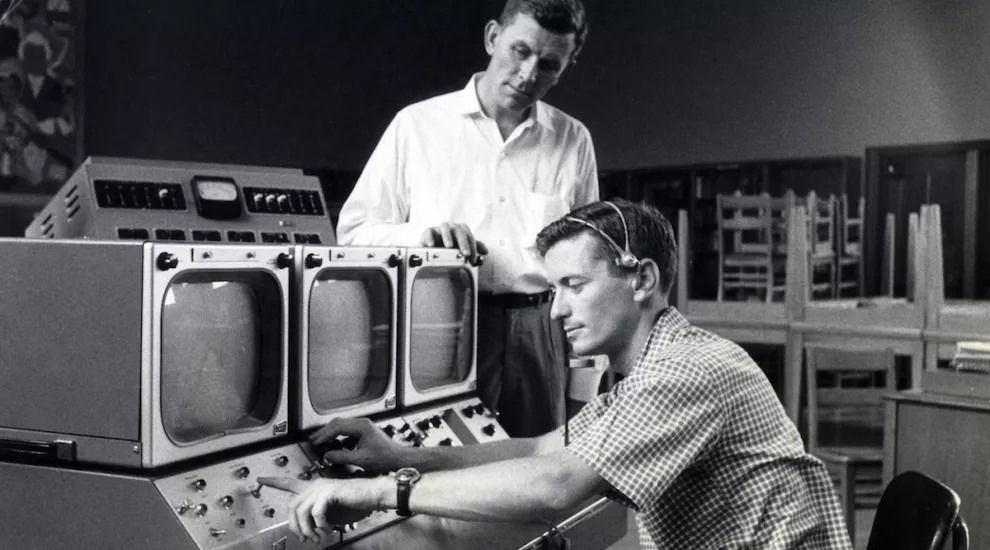 Today the Public Broadcasting Act turns 50! The law created the Corporation for Public Broadcasting and later led to the creation of both PBS and NPR.
From our first classes in the library of a high school to our multi-platform national presence, South Carolina ETV and South Carolina Public Radio continue to be a place where talented educators and producers bring current events, history, and the culture of South Carolina to light for all generations. Now let's celebrate! #PubMedia50
Understand the History Behind the Act
November 7, 1967- The Public Broadcasting Act is signed into law, paving the way for the Corporation for Public Broadcasting, PBS, and NPR.
SCETV is given one of the pens used to sign the act into law.
Learn About SCETV and SC Public Radio's Early Days
A studio is built at Dreher High School in Columbia and the first telecast is transmitted via closed-circuit September 8, 1958. One hundred and fifty students are enrolled in each of the daily classes.
In 1969, Job Man Caravan garners SCETV its first Emmy Award.
The same year, PBS is created and SCETV becomes the "feeder" station for all southern public TV stations.
Color studio production begins in 1971. The General Assembly approves $3.6 million in bonds to extend SCETV broadcasts to the entire state. 
In 1972, The South Carolina Educational Radio Network (SCERN, later ETV Radio and then SC Public Radio) is born and All Things Considered is the first program aired. 
In 1976, because of SCETV's tower network, South Carolina becomes the second state in the nation to use NOAA's new weather radio system. Learn more about how we serve the Palmetto State.
In 1977, The ETV Endowment is created as the nonprofit entity that supports the educational programs of SCETV and SCERN. They are celebrating 40 years!
In 1981, SCETV is selected as the National Center for Instructional Television to transmit programming by satellite to public schools nationwide.
SCETV presents The World of James Joyce, hosted by Peter O'Toole, and Reel Journeys, hosted by Christopher Reeve, who tapes his introductions in our studio in 1983.
In 1989, SCETV ranks as the busiest teleconferencing center in the nation.
In 1990, President Henry Cauthen is nominated to the Corporation for Public Broadcasting board by President George H. Bush.
Making It Grow! debuts from WRJA with host Rowland Alston in 1993. To date, the Making It Grow team has won 6 Emmys and 15 Telly Awards!
In 1992, SCETV's mascot Lindsay the Leopard makes a dramatic transformation into Smart Cat.
In 2000, Beryl Dakers receives the Verner Award for Individual in Arts Education.
The South Carolina Channel, ETV's first digital channel, launches at the State Fair in 2003.
Carolina Stories: Carolina Caught is SCETV's first HD documentary. It debuted in 2009.
Head Into the Archives
Find Stuff to Watch and Listen To
Check out South Carolina's Programming That Transcended Location
NatureScene launched in 1986 and is broadcast nationally. Did you know NatureScene has been airing continuously for 32 years?!
In 1979, Marian McPartland's Piano Jazz is produced by the SC Educational Radio Network for national broadcast.
In 1980, SCETV's classic series To Life! Yoga with Priscilla Patrick debuts.
In 2014, SCETV wins its fourth Peabody award for A Chef's Life on PBS.
SCETV hosts PBS' Antiques Roadshow for a third time (this time in Charleston), and co-produces America After Charleston for PBS in 2015.
Get Involved with South Carolina ETV and South Carolina Public Radio
Check out all of our Educational Resources
Get Ready for Things to Come at SCETV and SC Public Radio
Sea Change airs November 15 at 7:00 p.m. on SCETV.
Between the Waters, a documentary about the Native American and African American history of Hobcaw, airs November 16. Check out the immersive transmedia documentary here.
A documentary, in partnership with the South Carolina National Heritage Corridor, about the influence of the tiny island of Barbados on the history of the Carolinas.
Yoga In Practice, a 13-part series led by master instructor Stacey Millner-Collins, debuts nationally, early 2018!
Season 5 of A Chef's Life premiered in October, 2017.  Using a chef's modern sensibilities, Vivian Howard, 2016 James Beard Award for Outstanding Personality/Host recipient, explores Southern cuisine, past and present—one ingredient at a time. A celebration of true farm to table food, the 13-week series combines the action and drama of a high-pressure business with the joys and stresses of family life.
For more SCETV and South Carolina Public Radio facts, check out our history page.
Facebook us your favorite SCETV or SC Public Radio memory!