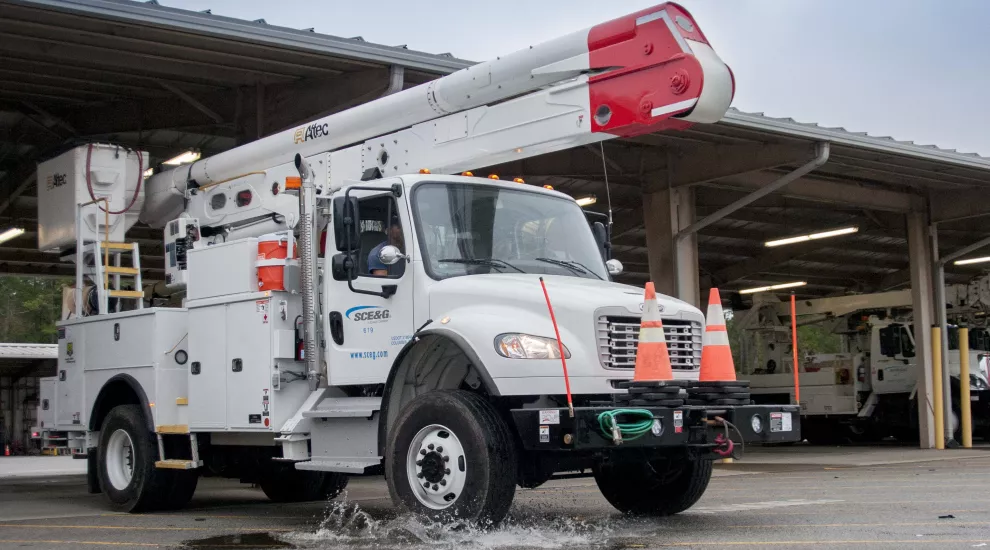 "I want to assure you, we are prepared." That's what Keller Kissam, SCE&G president of retail operations, said about efforts by the company to prepare for Hurricane Matthew.
The company has taken added measures to prepare in advance of the storm, securing an additional 250 off-system crew members to supplement the more than 2,000 employees responding to the storm. SCE&G also will continue to post information about its storm response efforts on its website, sceg.com, and through social media.
"We have off-system crews that are already in our service territory from as far away as Texas, Oklahoma and Mississippi… So, the focus has been on preparation before the storm. After the storm, we will be working around the clock until power has been restored to all our customers," said Kissam.
Kissam emphasized that SCE&G has no plan to shut off power or natural gas before the storm.
SCE&G offers the following safety and storm preparedness tips for customers:
Report outages:
By text: Register for SCE&G's text option online at www.sceg.com. Simply log in to your account and look for the "Activate Text Options" under the "Account Options" feature and then follow the instructions. Once you are registered, if you are experiencing an outage, simply text the word "OUT" to 467234 (gosceg).
By phone: 1-888-333-4465.
By mobile device: Report and check the status of your power outage online from your internet-ready mobile device or phone by visiting www.sceg.com/mobile and clicking on "Outages & Emergencies."
Stay away from downed power lines – Storms can cause tree limbs and entire trees to break and fall, sometimes taking power lines and even meter boxes down with them. Always assume any downed power line you see is live and stay away. To report a downed line, call 1-888-333-4465.
Stay informed – Keeping customers safe and up-to-date with timely information is a top priority. Follow SCE&G on Twitter at @scegnews or on Facebook at www.facebook.com/scegnews for the latest storm-related information and safety tips.
Learn more at SCE&G's storm center: www.sceg.com/storm. The storm center includes additional important safety tips, as well as information about SCE&G's process for restoring service to customers.