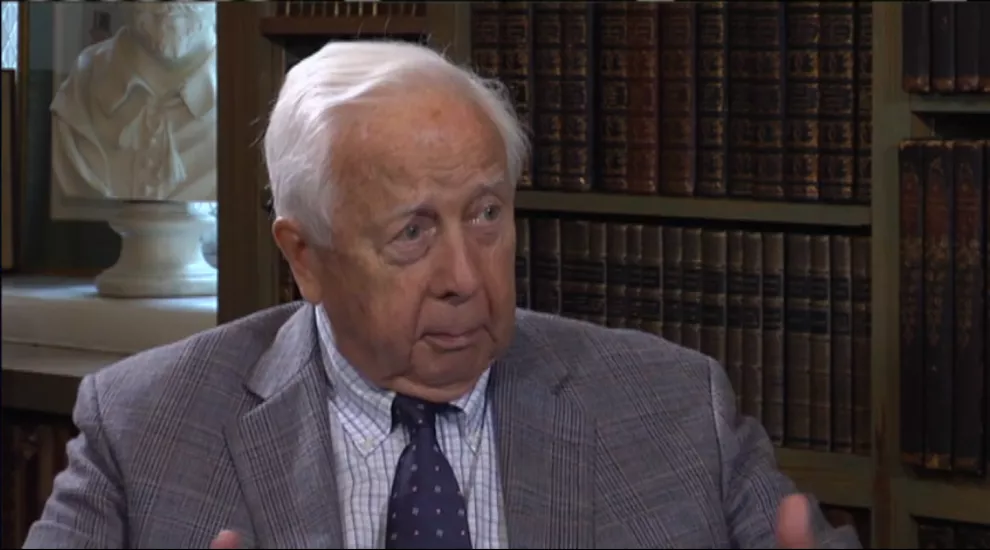 In the above Palmetto Scene episode, ETV's Beryl Dakers interviewed David McCullough in 2015. 
"To me history ought to be a source of pleasure. It isn't just part of our civic responsibility. To me it's an enlargement of the experience of being alive, just the way literature or art or music is." - David McCullough
David McCullough, the familiar voice who narrated numerous PBS programs, including Ken Burns' The Civil War, passed away on August 7, 2022.
A Pulitzer Prize-winning author and historian, David Gaub McCullough, whose most well-known works were about significant events and figures in American history, was also the long-time host of American Experience. McCullough wrote works about the Wright Brothers, the Panama Canal,  Harry S. Truman, and John Adams - the latter two works being adapted by HBO into a TV film and television series, respectively. 
David McCullough was born in Pittsburgh, Pennsylvania on July 7, 1933.  During his childhood, he had a penchant for drawing cartoons and sports, but those interests became overshadowed by a love of books and history, thanks to his parents and grandparents, who introduced him to both at an early age. While attending Yale University McCullough drew inspiration from famed author and playwright Thornton Wilder. He graduated from Yale in 1955 with honors in English literature. Faced with many career options, McCullough ultimately decided to pursue a career as a writer. At first, he had no intention of writing history, but while working for American Experience, he came across a story "very worth telling," and in 1968 his book The Johnstown Flood was published; receiving high praise from critics. Following the success of The Johnstown Flood, McCullough received contracts to write about the Great Chicago Fire and the San Francisco Earthquake, but he turned them down - not wanting to earn the reputation as "Bad News McCullough." Instead, his next few books were architectural works about the Brooklyn Bridge and the Panama Canal. The Path Between the Seas: The Creation of the Panama Canal earned numerous awards and citations. The book even impressed President Jimmy Carter - so much so that McCullough himself was asked to assist with the Torrijos-Carter Treaties, which gave ownership of the canal to Panama. 
In the following decades, McCullough wrote many critically acclaimed books, including Mornings on Horseback, which chronicled seventeen years in the life of Theodore Roosevelt, and Brave Companions - a collection of essays. He earned his first Pulitzer Prize in "Best Biography or Autobiography" for his 1993 work Truman, a book about the life of America's 33rd President: Harry Truman. Truman was adapted into a television movie for HBO in 1995, starring Gary Sinise as Truman. Next, McCullough published John Adams for which he won his second Pulitzer Prize in "Best Biography or Autobiography" in 2002. John Adams, like Truman before it, was also adapted by HBO - a seven-part miniseries released in 2008, starring Paul Giamatti in the titular role of America's second president. A two-time winner of the National Book Award, McCullough received the Presidential Medal of Freedom in 2006.
Following these phenomenal successes, McCullough continued to write. His 1776 tells the story of the founding year of the United States. The Greater Journey, published in 2011 chronicled the lives of 19th-century Americans, such as Mark Twain and Samuel Morse, who migrated to Paris, France and later went on to achieve prominence in innovation or culture. McCullough's last work The Pioneers told the story of the first European American settlers who journeyed into the wilderness of America's northwest territory.
In addition to his writing talents, McCullough was a much-sought narrator, lending his voice to a myriad of television programs and documentaries. Working with Ken Burns, in addition to The Civil War, he narrated the Academy Award-nominated Brooklyn Bridge, The Congress, and The Statue of Liberty, along with the 2003 movie, Sea Biscuit.