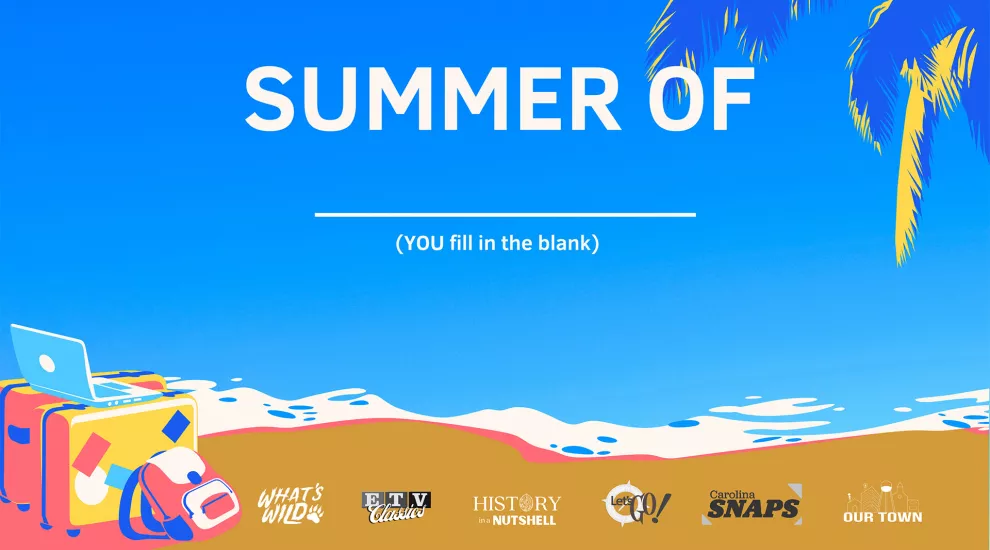 The Summer of _________!
That's right!
After you look at what ETV Digital has going on this summer, we look forward to YOU filling in the blanks. Check out our recommended line-up for YOUR summer activities below. 
Summer of Learning
We hope you take some time to enjoy the summer, but don't forget about using your vacation time for learning.
Carolina Snaps returns for Season Two on Tuesday, June 21, bringing you even more South Carolina people, places, and notable events in history...all in a snap!  Watch these 60 second episodes on Tuesdays on Instagram Reels, Facebook, YouTube, scetv.org and the SCETV App.
Are you a history buff?  The KnowItAll.org digital series, History in a Nutshell, will roll out over the summer on scetv.org. Learn about World War I, the Birth of the Constitution, the Space Race, and much more. These episodes have been rolling out on Fridays.
Summer of Exploration
Are you itching to take a road trip but not quite sure where to go? With the high gas prices, you don't have to travel too far. You can visit the next county or explore your own town.  Our digital series, Our Town, is the perfect way to discover more about places in the Palmetto State. Season Two premieres Thursday, July 14. Watch these episodes on Thursdays on Facebook, YouTube, scetv.org and the SCETV App.
If you don't want to travel in the hot weather, no problem. Enjoy the Let's Go! tours on any of your devices or experience the virtual reality environment with a pair of VR goggles. Check recently featured tours and upcoming tours on Mondays.
We also invite you to tour the state by region by checking out our handy Stories by Regions map.
Do you want to explore nature, but avoid mosquitoes? Season One of  What's Wild is available now. 
Have you taken a quiz recently on scetv.org? We have tons of quizzes covering topics like South Carolina Culture, South Carolina History, General History and more. Take a quiz today!
Summer of Nostalgia
We were so excited about digging into the vault that ETV Classics became a 13-episode series featuring some of your favorite shows from South Carolina ETV. These hand-picked classics are available now at scetv.org and on the SCETV App. 
Choose one of these paths or all of them at www.scetv.org/summer.
#scetvdigital Summer Schedule: