Bette Jamison
and
Sharla Brown
February 28, 2021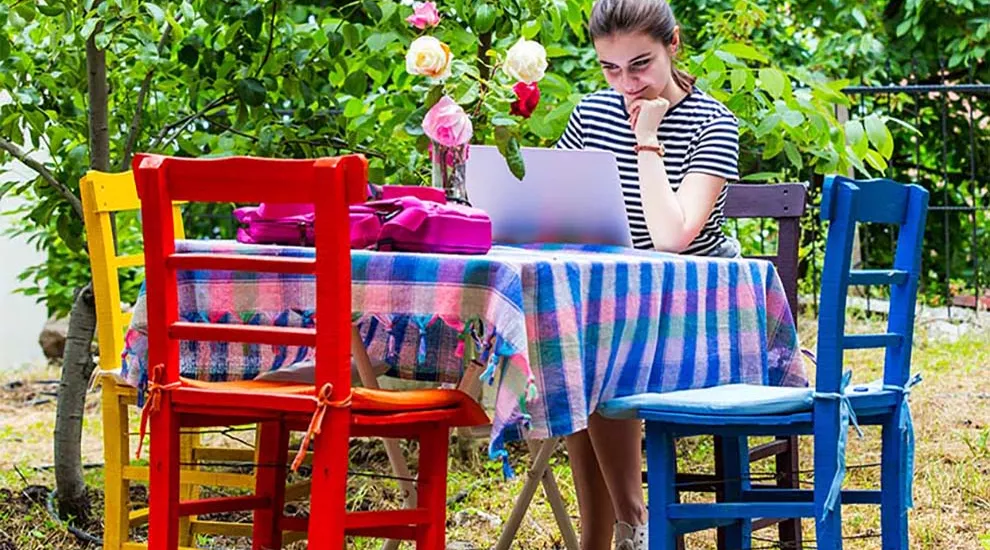 Spring sunshine, flowers budding. Grow your learning with ETV Teacher Recertification online, self-paced 20 renewal credit courses approved by the SC Department of Education for SC teachers.
Cost: $75 each.
Enroll now for Spring I session - starts March 22 and ends May 4.
Try our new Women Vision: Changes, Careers & Leadership, Series II course, popular Project-Based Learning: Engaging the 21st Century Learner, Part 1 course or inspiring Natural History in North America & Beyond courses with Naturalist Rudy Mancke. Plus, access free offer!
20 Renewal Credit courses:
Approved by SCDE for SC teachers (NO graduate credit)
Facilitated online/self-paced; $75 each
Registration begins March 1 / Start work March 22 / Must complete by May 4
Women Vision SC: Changes, Careers & Leadership, Series I and II (20 renewal credits each)
The 19th Amendment granted women the long-awaited right to vote in 1919. These two courses relate the history and feature SC women who have made an impact on our state and nation, providing inspiring career and life-lesson advice for students. Educators in all subject areas (especially social studies, career education, guidance) and all grade levels found the first WVSC Series I eye opening, valuable and worth their time! The NEW Series II course continues our look at ETV's Women Vision SC, SC Hall of Fame, Sisterhood: SC Suffragists programs + more. (NOT required that Series I be taken before Series II, but is recommended.)
Project-Based Learning: Engaging the 21st Century Learner, Part 1 (20 renewal credits)
PBL is a teaching strategy wherein students learn by actively engaging in meaningful projects with real-world applicability. This course guides participants through the development and implementation of project-based lessons as we take an in-depth look at the four core benefits of PBL, including student-centered learning, a sense of relevancy for students, the role of teacher as facilitator and inspiring life-long learning for students. Participants gain understanding of the differences between project based learning and conventional teaching methods, and will design collaborative learning activities that support student learning in the project-based learning process.
Natural History in North America & Beyond (Series I, II, III & IV) (20 renewal credits each)
In these courses with renowned Naturalist Rudy Mancke, host of ETV/PBS NatureScene for 25 years, participants learn about the biodiversity of the area, looking at the distinctive geography and the great variety of plant and animal life forms along with their remarkable habitats to understand how they are connected. Award-winning NatureScene programs produced on location provide a rich, up-close experience with unprecedented access.
Series I and Series II highlight regions in USA – the Northeast, Northwest, Southeast and Southwest. Series III focuses on regions in SC only. Series IV features areas in USA + some in Canada, Russia, Costa Rica.
Other popular 20 renewal credit courses
Connecting with Literacy Through Storytelling, SC Chronicles (Series I – VII), Between the Water: History Across the Curriculum at Hobcaw Barony (Series I & II), Teaching and Learning in Carolina Classrooms (Series I & II), A Literary Tour of SC (Series I, II & III), Making Connections with Natural History featuring Rudy Mancke (Series I & II), SC Teachers on Teaching (Series I & II), Career Education for Student Success (Series I), The Arts and Career Connections (Series I), Take on the South with Dr. Walter Edgar. Go to site below to find course descriptions!
FREE Offer: First 20 educators to register/pay for PBL course OR one of WVSC courses may request another ETV Teacher Recertification 20 renewal credit course of your choice to take FREE this session. To receive FREE offer, register/pay for ONE of three courses (PBL, WVSC I or WVSC II), then email title of that course + title of course want free + your name, school, district: bjamison@scetv.org
REGISTER beginning March 1: Course descriptions/register/pay: http://www.scetv.org/teacher-recertification
Questions/Help: sokonek@scetv.org / 1-888-761-8132 / (local) 803-737-9915 or 737-3245