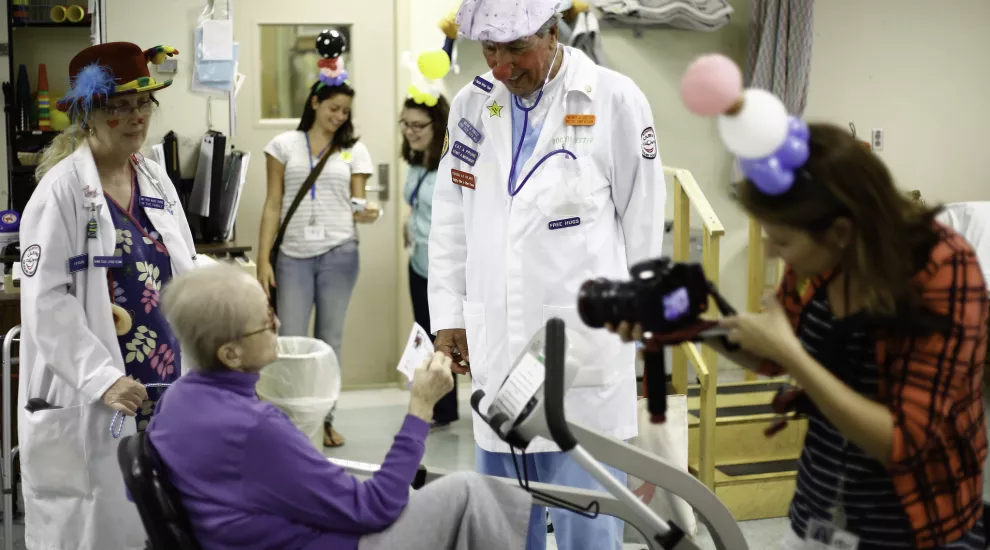 "The most precious gift one person can give to another is attention." That's what Robert Mason, a.k.a. DOCTOR GEEZER, says about his work through the volunteer organization Bumper T Caring Clowns.  
The program uses therapeutic clowning as a tool to promote the healing process through laughter. According to the website, these clowns are "Hospital Caring Clowns with a mission—volunteers dedicated to making a positive difference in the lives of hospitalized patients, their families, friends and caregivers." Mason spends his time between hospitals in the Charleston area with hopes to grow the program throughout South Carolina.
Behind the Scene for Original SC
Going to the doctor, for most of us, is not a funny experience. Arriving at the Roper St. Francis Hospital in Charleston, I wasn't sure what to expect. I was swiftly written a prescription by the attending "doctor." It read, "Take one SMILE before breakfast, two HUGS before lunch and one KISS at bedtime." This "doctor" wasn't a normal doctor but a volunteer Caring Clown. His job: to promote the healing process through laughter. The patients lit up the moment they met DOCTOR GEEZER. It was amazing to see those smiles. And it wasn't just the smiles on the patients' faces, but the nurses and physicans, that made the day even more special. So it just may be true that a smile a day can keep the doctor away.