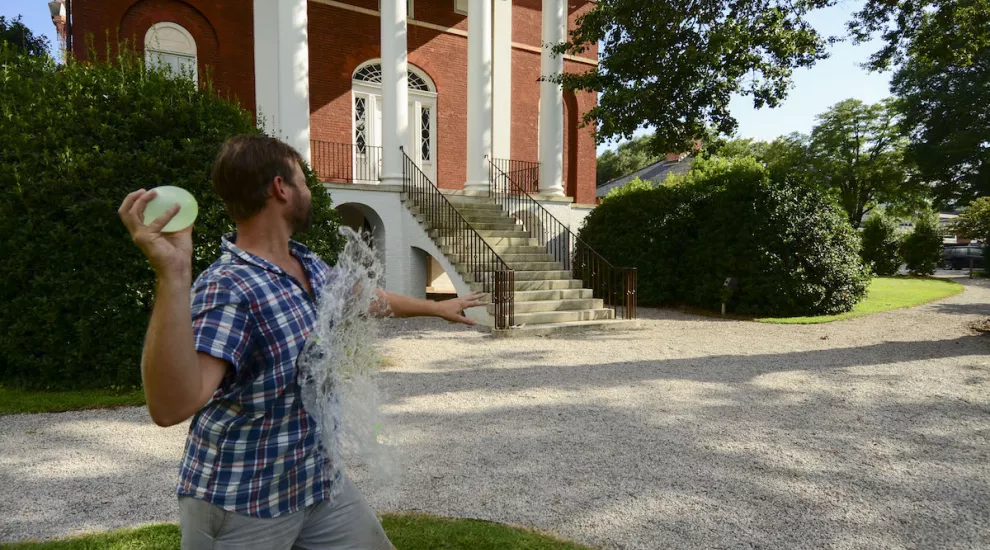 South Carolina is famously hot for its warm temperatures this time of year and Historic Columbia wants to help folks beat the heat. Historic Columbia's second annual Happy Hour Water Balloon Battle is from 5:30 – 7:00 p.m. on Friday, Aug. 19 on the grounds of Robert Mills House & Gardens.
Active drill sergeants lead the event, and participants break into two teams and will use more than 1,700 water balloons to recreate epic battles throughout history. Focusing on the evolution of military strategies, participants will learn and incorporate tactics from three different time periods – ranging from rigid formations in the Revolutionary War, to trench warfare in World War I, to guerilla warfare in the Vietnam and Korean Wars.
"It was one of our most exciting events last year," says Historic Columbia's director of education James Quint. "We are always looking for unique ways to bring history to life through experiential, hands-on programming. What better way to learn about military tactics than to battle it out with more that 1,700 water balloons on the grounds of a historic site?"
The Robert Mills House is one of only five National Historic Landmarks in Columbia. Robert Mills was born and trained within the United States. He also designed some of the nation's most prominent buildings, including the Washington Monument. Today, the structure stands as a testament to its designer's architectural ability and the preservation efforts of generations of Columbians.
About Historic Columbia:
In November 1961, a small group of individuals intent on saving the Ainsley Hall House from demolition, officially incorporated as the Historic Columbia Foundation. Over the next five decades, the organization, which was founded on the premise of preservation and education, would take on the stewardship of seven historic properties in Richland County. Today, the organization serves as a model for local preservation efforts and interpretation of local history.