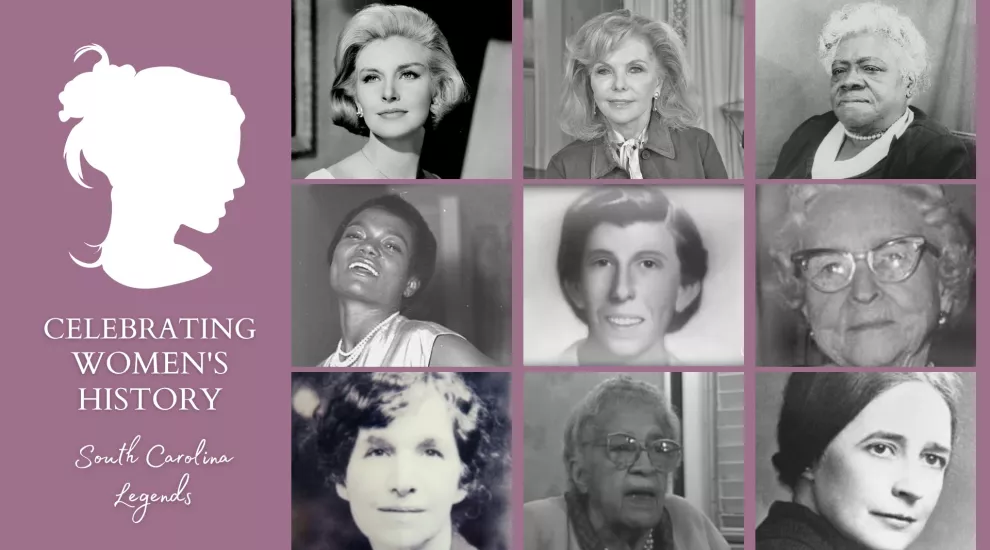 This month, ETV Classics: Season 2 and Carolina Snaps: Season 3 continue from the Digital team. We're celebrating Women's History Month by showcasing legendary female South Carolinians who were entertainers, educators, athletes, activists, and much more.
Test Your Knowledge
Fill in the blank below to see if you can guess some of the featured women. Answers are below. No peeking! 
__________________ , a Greenville High School graduate, had a stellar acting career with one of her most prominent roles being in the film, The Three Faces of Eve in 1957. 
________________, a native South Carolinian, played Catwoman on the third and final season of the Batman TV series. 
________________, was known as the First Lady of Education and founded the South Carolina Opportunity School in 1921. 
________________, a Laurens County native, won the Pulitzer Prize for Novel/Literature in 1929 for her novel Scarlet Sister Mary. 
Below check out the full list of women we will be featuring this month.
ETV Classics: Season 2 
As we wrap up the last month for ETV Classics: Season 2, learn more about famous women from South Carolina each Tuesday and Friday in March. 
Academy Award winning actress Joanne Woodward returns to the Little Theatre of Greenville where she studied acting in the 1940s.
Follow the sultry performer, Eartha Kitt, during her long-awaited return home to South Carolina.
Learn more about Dr. Wil Lou Gray, founder of the South Carolina Opportunity School.
Meet Lucile "Ludy" Godbold, a distinguished American athlete and educator from Estill, South Carolina.
Watch an in-depth documentary about Modjeska Monteith Simkins, the "matriarch of civil rights activists" in South Carolina.
Find out about Anne Worsham Richardson, a renowned wildlife artist known as the "Charleston Bird Lady."
Carolina Snaps: Season 3 
Thursdays in March on Carolina Snaps, our line-up includes:
Businesswoman Darla Moore, the first woman featured on the cover of Fortune Magazine and listed as one of Fortune's "50 Most Powerful Women in Business."
Mary McLeod Bethune, hailed as one of the most influential African American educators and civil rights figures during the first half of the 20th century.
Historian and social studies textbook author, Mary Simms Oliphant, the first woman to receive the Order of the Palmetto.
Author Julia Mood Peterkin, whose stories of plantation life and realistic African American characters captured the world's attention, earning her a Pulitzer Prize in 1929.
Elizabeth Evelyn Wright, whose dream of establishing a school in South Carolina would come true in 1897.
To WATCH all of these interviews and profiles, visit the Women's History collection.
------
Did you guess correctly? Here are the answers to the above fill-in-the-blank. 
Joanne Woodward, Eartha Kitt, Dr. Wil Lou Gray, Julia Peterkin