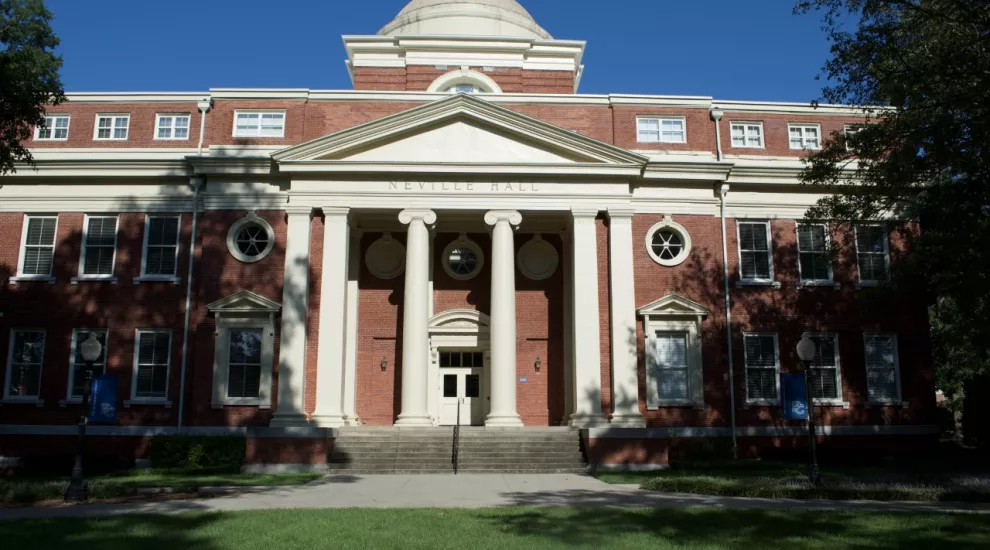 Through the rural lands of Laurens County, one can find a school with small-town charm and a sense of family in the city of Clinton. 
Presbyterian College has been the heart of Clinton's history since 1880, where Dr. William Plumer Jacobs dreamed of opening a school to support the children of the Thornwell Orphanage nearby, providing an opportunity to continue their education. 
Since then, the school has seen its growth through the foundation of a strong liberal arts degree, providing students with a broad understanding of the social sciences and their impact on the world around them. Additionally, the school focuses on small-classroom sizes, where students can build continuous relationships with their professors in the post-college world. 
"I discovered PC when I was senior in college and my family and I came up to Clinton for the day to visit. I made the decision to go there when I first came up to tour and I loved the campus," Colin McCarl, a senior Business Administration major from Greenville said. "PC is very unique because it is a very small and friendly campus." 
In 1906, the College completed its landmark building of Neville Hall and in 1915, established the Honor Code system where students, faculty, and staff are expected to fulfill a promise of honor and dignity throughout the community. 
"At Presbyterian College, the Honor Code is the standard to which we hold ourselves and peers accountable throughout our time as members of the college. By committing to uphold this standard, the quality of education received at Presbyterian College is of the utmost value," Avery Milhorn, Vice Chair of the PC Honor Council and a History/Psychology double major said. 
"The Honor Code is so important to PC's community and tradition because it signifies everything it means to be a Blue Hose - to have honor both in and outside the classroom. Each new member of PC's community signs the Honor Code at the beginning of that school year. By signing this code, members make the pledge and commitment to seek honor above all else during their time at PC." 
In addition to honor, the college also expects its members to help and serve others. The college's motto, Dum Vivimus Servimus (while we live, we serve), reflects strongly on the value of service, including the college's annual service day event at the beginning of each academic year.  
The college's athletic teams have been known as the Blue Hose since the 1950s with 15 teams competing in Division I. Previously, they were known as the "Blue Stockings" since they wore blue socks in many athletic contests. Both team names give recognition and heritage to the school's Scottish marks. 
"I have loved competing for PC because I am really proud of the people and institution I get to represent when I walk out to compete," Ainslie Lane, a member of the Blue Hose women's wrestling team and a Political Science major said. Even though wrestling is a part of athletics, I feel like all the adult mentors at PC have helped me both on and off the mat because they constantly push me to improve myself. All of this carries over to the competition and having success." 
As of today, the school has an enrollment of approximately 1,000 students with postgraduate programs in pharmacy, physician assistant, and occupational therapy. The school also has a grand total of 107 majors, minors, and programs combined. 
"It is easy to say that at PC, you will be surrounding yourself with amazing people in your classes and in your social life. I constantly get to learn from the people I am around, and college is all about bettering yourself," Lane said. 
With student enrollment increasing and new initiatives in place to help the school improve, the college is continuing to build on its strong legacy of a liberal arts education and relationships that will last a lifetime for all PC students. 
"PC has best prepared me for being a responsible and productive citizen in the community. I would tell a future student to go here if they want to join a unique culture," McCarl said.