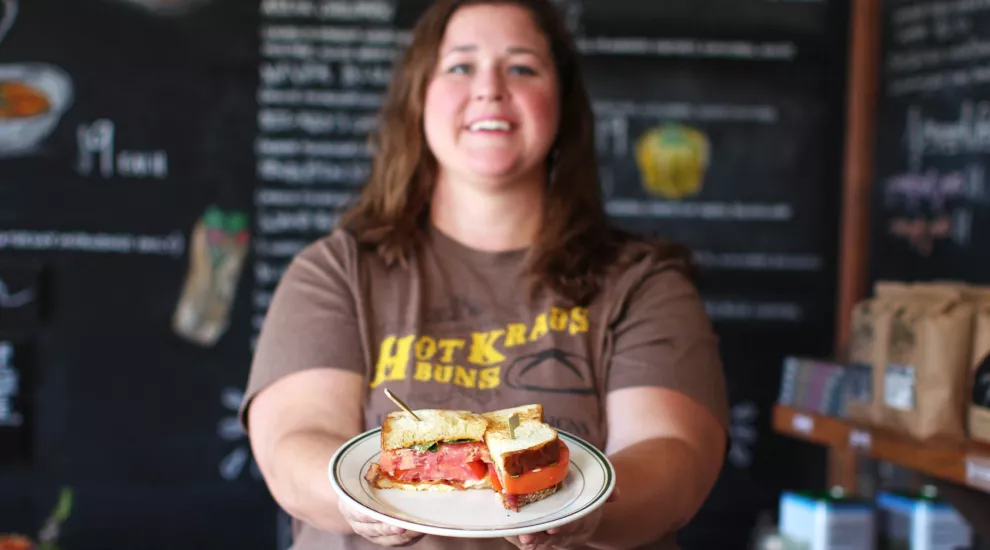 South Carolina is home to several restaurants that offer a variety of strong menu options, most notably sandwiches. 
From barbecue to catfish sandwiches, residents and visitors to the Palmetto State will have a nice group of options to pick from, when it comes to figuring out their next sandwich meal. 
Through our Backroad Bites digital series, here are the best spots to get a sandwich in South Carolina! 
Juniper  
In Ridge Spring, Juniper offers a variety of sandwiches through a sense of southern food, tasty recipes, and a sense of family. Open to Ridge Spring's community for 14 years, Juniper is sure to leave a smile on each customer's face after their meal! 
Boots' and Sonny's  
Boots' and Sonny's in Landrum offers a number of sandwich options on its menu, including ham, chicken, and BLT sandwiches. Additionally, all the restaurant's food items are homemade, creating a strong family bond inside the business. 
Upcountry Provisions 
In Travelers Rest, Upcountry Provisions is well-known for its fresh vegetables combined into its highly acclaimed sandwiches. With popular items such as the tomato sandwich, this upstate South Carolina business has become a stopping point for visitors enjoying the mountains! 
A Peace of Soul Vegan Kitchen 
In Columbia, A Peace of Soul Vegan Kitchen is one of the most popular vegetarian restaurants in all of South Carolina! Known for its wide range of sandwiches mixed in with fresh vegetables, such as collards, this is a place that will make customers return numerous times after their initial visit! 
Janette's Super Burger 
Janette's Super Burger has been serving the Georgetown community since its inception in 1972. Known for its fresh products in making sandwiches and burgers, Janette's has received well-acclaimed reviews for its priority of serving exceptional food to its customers. 
Scott's Bar-B-Que 
With the Palmetto State being known as a stronghold for barbeque sandwiches, people can experience the tastiness at Scott's Bar-B-Que in the small town of Hemingway. With a first-come, first-served motto, this is one of the few restaurants that offers the highest quality of food out there. 
Sumter Cut Rate 
Known as South Carolina's second oldest restaurant, the Sumter Cut Rate has been providing old-fashioned and tasty sandwiches to customers since 1935. While eating, customers can also experience the history of Sumter inside the restaurant. 
Northwest Grill 
In Travelers Rest, the Northwest Grill has been well-known for producing highly acclaimed sandwiches for the past ten years. With a strong emphasis on using fresh and local products, this restaurant has seen several visitors dine in from various areas across the country every year. 
The Barnwood Grill 
In Anderson, the Barnwood Grill has been providing sandwiches, wraps, and bakery items to this area of South Carolina for quite some time. Known as a food truck underneath a building, this restaurant also provides local products from the area for people to shop for, while eating.  
Antique Mall Café 
Open for seven days a week, the Antique Mall Café offers fresh to-go options with a strong emphasis on no fried products. Well-known for its southern peanut butter & jelly sandwich, as well as its smoked bacon jalapeño jam sandwich, this restaurant takes strong pride in providing fresh products to its customers. 
Park Row Market #1 
In Edgefield, Park Row Market #1 has been a strong stable in the community due to its presence downtown. As a deli sandwich shop, Park Row is best known for its wide variety of sandwiches, including the popular nutty turkey sandwich. 
Blacks Camp 
By the Santee Cooper Lakes, Blacks Camp is well known not only for its catfish sandwiches but also for its wide range of unique menu items. Using fresh fish ingredients from the nearby water source, Blacks Camp is sure to leave a customer happy while fishing on the lakes.