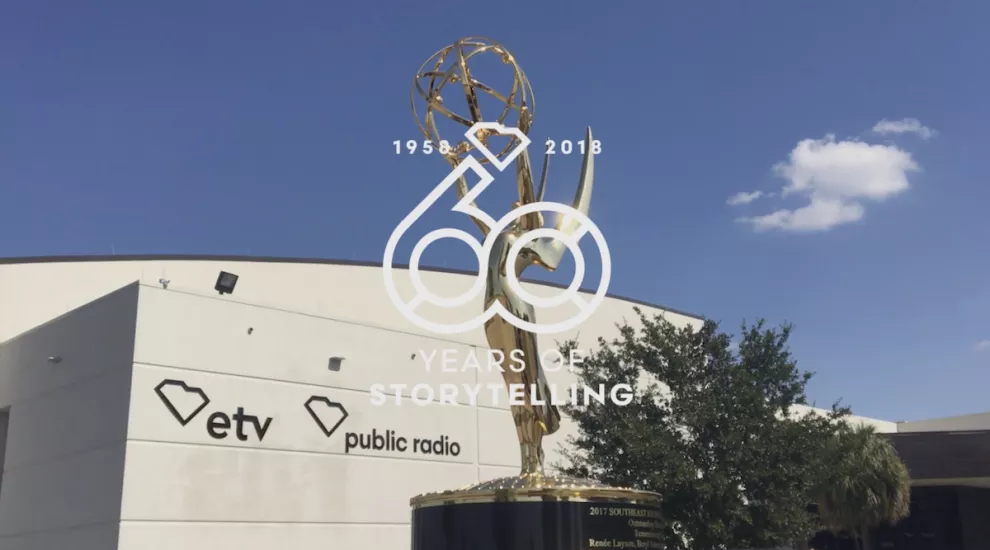 For 60 years, South Carolina ETV has been bringing education, connections, and engagement to the people of South Carolina. Below we reflect on SCETV's coverage of South Carolina's history and the network's promise for the future.   
Get ready… here are 60 reasons to love SCETV!
We Are YOUR Public Media Station!

1. There's so much to watch: Each week, South Carolina ETV reaches 1.8 million households in the state with 504 hours of content through four different television schedules.
2. And so much to listen to: Each week South Carolina Public Radio reaches 300,000 listeners with 336 hours of content!
3. In a school, you say?! The first SCETV studio was built at Dreher High School in Columbia! The first telecast was transmitted via closed-circuit on Sept. 8, 1958. 
4. Humble beginnings: Did you know that the first SCETV broadcast center was in a former grocery store on Millwood Avenue in Columbia? The studio would remain there, slowly expanding down the street until 1996.
5. And the award goes to: Jobman Caravan, which won SCETV its first Emmy award. The show was groundbreaking. It educated audiences about career opportunities and job interview techniques, traveled to a different town every week with a mobile TV unit, and featured popular musical acts.
6. Just sign on the dotted line: SCETV has one of the pens that Lyndon B. Johnson used to sign the Public Broadcasting Act into law in 1967.
7. And we're live! The first live domestic satellite transmission in the nation was transmitted by SCETV from Columbia, South Carolina to Los Angeles, California in 1969.
8. SCETV is for everyone! For those without TV services through cable or satellite, ETV is the only noncommercial television network that reaches the entire state.
9. Four corners: SCETV operates four fully equipped regional community stations: ETV Lowcountry in Beaufort, ETV Carolinas in Rock Hill, ETV Sumter and ETV Upstate in Spartanburg.

10. Smart Cat Seal of Approval: SCETV's first mascot was Lindsay the Leopard, but in 1992 he made a dramatic transformation into Smart Cat. Smart Cat changed his image once again in the 2000's when he made a promise to get fit. You can stream PBS Kids 24 hours a day on our website!

11. A Storied History: South Carolina ETV and South Carolina Public Radio have a rich history of teaching, in both formal and informal settings. From our first classes at Dreher High School to our multi-platform national presence, SCETV and South Carolina Public Radio continue to be a place where talented educators and producers bring current events, history, and the culture of South Carolina to light for all generations. Read our whole history here.
We Are South Carolina's History Keepers!

12. South Carolina's Keeper of Public Record: ETV serves as the repository for the state's wealth of historic, cultural, and iconic moments.

13. In the Archives: SCETV maintains an irreplaceable archive of almost 41,000 hours of television and radio recordings that span more than 60 years. 

14. #TBT: SCETV has an entire playlist of "Throwback Content" on our YouTube channel.
We Are Home to National Programming!

15. And stretch! A classic program, in 1980, SCETV's classic series To Life! Yoga with Priscilla Patrick debuted.

16. And ohm: For modern viewers, Yoga In Practice, a 13-part series led by master instructor Stacey Millner-Collins, debuted nationally in early 2018!

17. Everyone loves Rudy Man>A Chef's Life. Using a chef's modern sensibilities, Vivian Howard, 2016 James Beard Award for Outstanding Personality/Host recipient, explores Southern cuisine, past and present—one ingredient at a time.
We Are Your South Carolina Connection!

19. Ready, Set, GROW! Tune in live on Tuesdays at 7 p.m. and even call in to the award-winning Making it Grow every week with host Amanda McNulty from Clemson Extension, along with fellow Clemson Extension Agent Terasa Lott, and featured guests, including Extension Agents and horticulturists who focus on gardening topics, while highlighting interesting places and products from around the state.
20. We know South Carolina: Hosted by SCETV broadcasting legend Beryl Dakers, Palmetto Scene explores issues on art, food, health, technology, and culture in the state of South Carolina. Tune in Thursdays at 7:30 p.m.

21. We know its people: Our state is truly unique, but what really makes South Carolina sweet is its amazing people. Our digital series Original SC features stories of everyday South Carolinians living, working and experiencing all that the Palmetto State has to offer. Watch it on YouTube!
22. And we know its hidden treasures: Join the digital team with the series Our Town, where we explore the small towns of South Carolina, and learn about the people and places that make them thrive.

23. We're there when it matters: When emergencies like the Historic 2015 Flood or hurricanes hit, we are there with updates and the stories that matter to you. We honor and remember the nine lost in the Mother Emanuel A.M.E. Tragedy, and shortly after, when the Confederate Flag was lowered from the South Carolina State House, we were the only team behind the gate during its removal.

24. Cannons, fire! You can learn about The South's importance in the American Revolutionary War in The Southern Campaign for the American Revolution. The National Park Service celebrated its centennial in 2016, and collaborated with SCETV and the Sons of the American Revolution collaborated to tell the stories of the Southern Campaign of the American Revolution.

25. On an Island: Stay tuned for a new documentary, in partnership with the South Carolina National Heritage Corridor, about the influence of the tiny island of Barbados on the history of the Carolinas.

26. It's so REAL: Did you know that SCETV has multiple Virtual Reality (VR) tours of important places around our state? Take a virtual tour of the South Carolina Statehouse, the Old Exchange & Provost Dungeon and more, on your desktop or with your VR headset.
27. Keep Calm and Telehealth On: Our digital series, My Telehealth, explores South Carolina's innovations in technology in healthcare. Learn more about how healthcare providers are working to keep South Carolinians well. 
We Are Education Innovators!
28. We're educators, it's in our name: SCETV provides content, technology resources, and professional development training to S.C.'s 50,000+ teachers in all 81 school districts and other special schools, and their students.

29. Access for all students: We want access for all schools, particularly those in rural areas: ETV reaches teachers and students throughout the learning environment: PreK-12, universities, colleges, technical colleges, home and private schools, and child-care providers.

30. If you went to school or you've been a teacher in S.C. you've seen us: SCETV Education collaborates with the Department of Education, the Education Oversight Committee and the S.C. K-12 School Technology Initiative to provide a variety of content services, including PBS LearningMedia, Knowitall.org, LearningWhy.org, and PBS Kids. 

31. And it's free! These education services are made available at no charge to every public, private and homeschool student, regardless of economic status. 

32. Here to Help: SCETV's annual teacher survey reports that over 95% of applicable respondents say the ETV Education services employed, including content and/or professional development, helped better facilitate learning to improve student performance and engagement.

33. More to Know with Knowitall: SCETV's Knowitall.org PreK-12 educational portal was the state's first educational portal designed to present students with a safe, standards-based, interactive learning experience. In 2015, Knowitall.org was re-launched with much of the media content (video, audio, photos) optimized for tablets and mobile devices.

34. Ready to Learn: SCETV's early learning service and literacy programming are provided through its "Ready to Learn" schedule of programming, through which ETV airs over 4,200 hours of safe-haven, noncommercial, curriculum-based children's programs for our youngest learners. 

35. Wireless for everyone: Serving the First Steps, Head Start and Afterschool communities, ETV offers free wireless broadband hotspots to over 200 facilities bundled with PBS reading and STEAM content training.

36. Education for Public Servants, too: SCETV's educational initiatives also serve the state's public service officers by providing online training and recertification. The Criminal Justice Academy has access to timely videos on-demand, and online course services for 13,000 S.C. law enforcement officers throughout the state. 

37. Even First Responders: SCETV's online training delivery includes helping first-responders understand the variety of emergency systems, and how local and state public safety officials react in emergencies across South Carolina.
We Are the One-Stop Shop for Legislative Coverage

38. State Agency: SCETV's Public Affairs Team is dedicated to covering the state legislature, providing the public with key information, live as it happens. From live web streaming to half-hour public affairs programs, Public Affairs supports and reports on important legislative issues.

39. Under the Dome: ETV staff manages the Statehouse TV system and, in partnership with Legislative Services Agency (LSA), manages the streaming of select House and Senate committees. You can watch many meetings live on SCETV.org to stay up to date on State House issues.

40. And on the air: State House Today, SCETV's flagship legislative program, carries live coverage of the House and Senate on ETV World, as long as legislators are in Session.

41.TWISC: This Week In South Carolina is SCETV's weekly public affairs program, and is hosted by Gavin Jackson. This half-hour program allows lawmakers to go beyond the "sound bite" to explain in detail legislation that is important to us all.

42. Rebuttal? In election years, SCETV Public Affairs produces debates for statewide and national office. Stay tuned for Gubernatorial Debates coming this Fall.

43. State of our State: SCETV broadcasts the Governor's State of the State address each year. When the governor addresses everyone in the State House, SCETV ensures he is also addressing everyone in the state across platforms. We even broadcast legislator's responses to the address.

44. Bury the Lede: In this past season, SCETV and South Carolina Public Radio united to create a podcast, South Carolina Lede. ("Lede" is the old-school term for the introductory section of a news story.) South Carolina Lede is a fun and informative podcast about the people and issues shaping South Carolina state politics. 
We Are Your Public Radio Station!

45. What do you listen to? South Carolina Public Radio has ten radio transmitters across the state that broadcast one of two formats: News & Talk and News & Music. South Carolina public Radio brings you South Carolina news and programs, as well as NPR staples.

46. On the web: Want to listen at work? South Carolina Public Radio also offers live Internet streamsof each format. You can also listen to all of our podcasts here.
47. "I'm Walter Edgar…" If you're from South Carolina, you know the voice of historian Dr. Walter Edgar! Learn about South Carolina from A-Z, an original South Carolina Radio production.

48. Music to your ears: Did you know that the longest-running music programs distributed nationally on public radio come from South Carolina Public Radio? Marian McPartland's Piano Jazz and Spoleto Festival USA.

We Are a Happening Place!

49. Host an event here! Did you know that you can host an event at SCETV? The "Idea Lab" in the ETV Telecommunications Center is a high tech, remodeled facility that features a wall of windows looking out to the Columbia cityscape. 

50. Have your party here or host a meeting! SCETV's high-tech Bank of America HD Conference Room is available for medium-sized facility for corporate retreats, training sessions, seminars, luncheons, or any other meeting or special event. For informal gatherings, such as receptions or buffets, the Main Lobby of ETV's Telecommunications Center is available. 

51. See someone from SC on TV? The Quick Response Studio is a three-camera high-def studio. When you see an uplink on national news sites, often they're seated right here at SCETV. Notable Quick Response uplinks have included Gwen Ifill, Cory Booker, Hogan Gidley, Curtis Loftis and more.
We LOVE Our Audience!

52. Viewers like you: You can always watch our work on YouTube, and check out years of educational content on Knowitall. But whether you're looking for kids' programs, our programs, or PBS national shows, you can visit our TV Schedule to find out what's on across all of our channels.

53. More to Watch: When you become a Member at the $75 level, you unlock a world of programming with public television's on-demand library. Become a Sustaining Star by making an ongoing, monthly contribution.

54. Join our newsletter: You can sign-up to get SCETV and South Carolina Public Radio Programming Highlights, or learn about the latest in SCETV Education. 

55. Join the family: Volunteer and become a part of the public broadcasting family. The highly competitive ETV Endowment Internship program for college students has been in existence since 1980. See what the 2018 interns learned and saw this year!

56. There's an app for that! Download our App in iTunes or Google Play. It's all of our programming at your fingertips!

57. Want to check us out? Did you know you can tour our station? Sign up for a station tour today.

58. Want to hang with us? Check out our events page to stay up- to-date on SCETV and South Carolina Public Radio events, as well as community, family and educational events happening across our state. If you have an event that we should promote, please let us know!

59. We're everywhere! "Like" SCETV on Facebook, follow us on Twitter, and follow us on Instagram for South Carolina stories, and "like" South Carolina Public Radio on Facebook, and follow on Twitter.

60. And we want to hear from you! We've launched The SCoop! It's a way for you to share your stories and vote on others' ideas you want to hear.

These are just 60 reasons to love SCETV, but we hope there are a million more. What's your reason for loving SCETV?
Here's to our next 60 years!