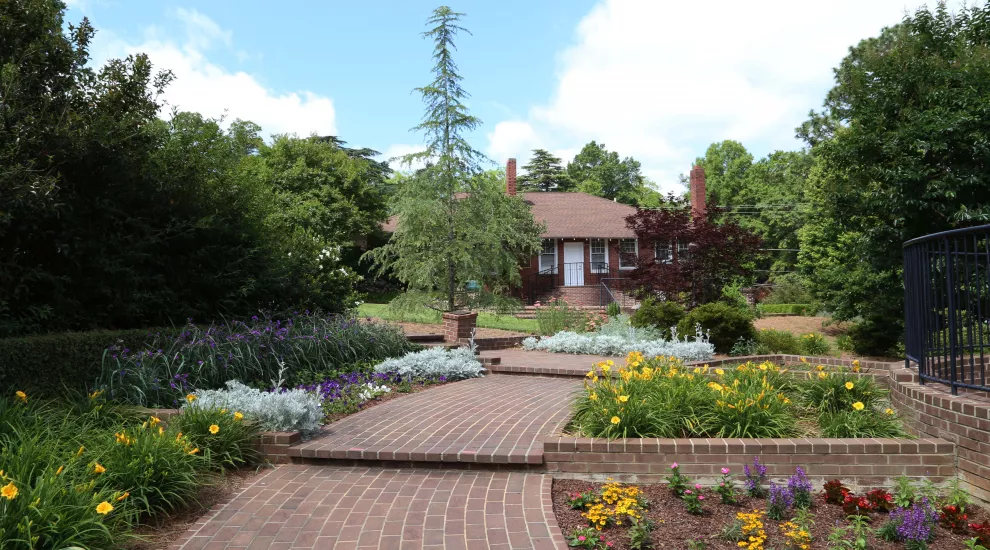 It's warm and sunny out.  Bees are collecting nectar as flowers start to bloom at Glencairn Garden.  Visitors are enjoying the spring day, while the turtles and ducks cool off in the ponds of the garden.  It is the perfect place to spend a couple of hours of your day in Rock Hill, South Carolina. When you come and experience the beauty of Glencairn Garden, it's like stepping into a land from a fairy tale. 
Glencairn Garden was once the backyard garden of David and Hazel Bigger, who were the former owners of the bungalow-style house that sits on the corner of Crest Street and Charlotte Avenue, located on the grounds of the garden.  Before the transformed botanical garden was open to the public, the garden started out as a gift from a friend of David and Hazel Bigger. The garden dates back to 1928, when it had just a couple of azaleas. When Mrs. Hazel's husband died in 1958, she decided to deed out Glencairn Garden to the city of Rock Hill, South Carolina.  Robert Marvin, a landscape architect, added many features that allow people to come and enjoy the beautiful sites.  The features he added included trees, flowers, fountain ponds, along with walking paths and small bridges to cross over the ponds.
Lisa, a resident of Chesterfield, South Carolina, visits the garden regularly with her two kids, after discovering it for the first time a few years ago. She says, "We spend our lunch down here every day for a couple of hours.  We love this place; it's just great.  It is just a nice, peaceful place in the middle of everything.  We love the animals, even the snakes." She laughs, and then continues, "It's fun, the kids love it.  We love nature."  She also shared how she and her children love feeding the baby ducks at Glencairn Garden.