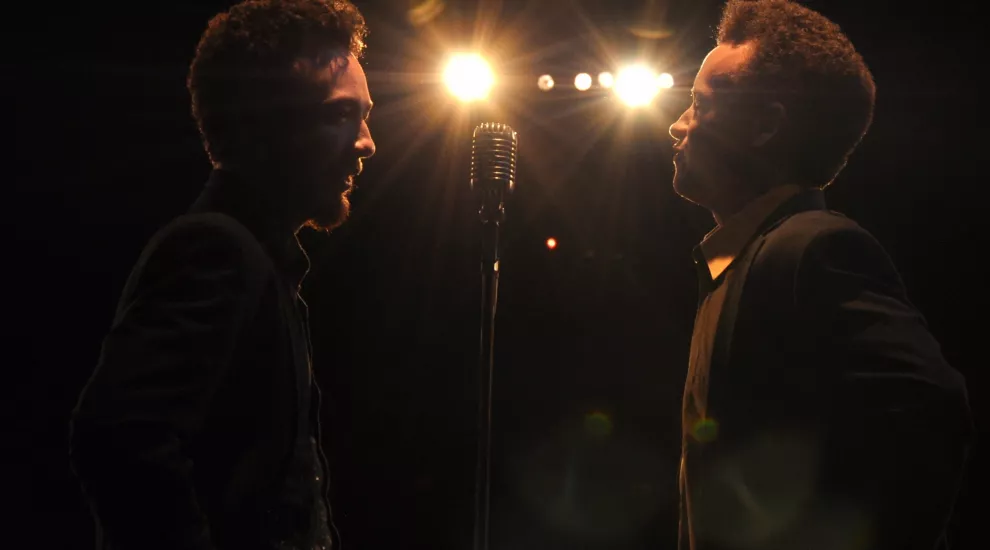 With a catalog that wakes the spirits of the likes of Otis Redding and Sam Cooke, vibrant harmonies, a lush wall of sound and often haunting lyrics, it is not surprising that the past few years have been good to the genre bending Mobros. Since 2013, the group was hand-selected by B.B. King to be the opener for his Southeastern Summer tour dates, released an album, "Walking With a Different Stride" in 2014, lived in Chicago for a stint, and went on several cross-country tours, traveling just about 12,000 miles.
The group consists of brothers Kelly and Patrick Morris, guitarist and drummer respectively. Their current bassist is Canaan Peeples of Barnwell, South Carolina.
"I met him in the Classical Guitar program at USC. Canaan is very much like a brother because of the rural upbringing. He had been on most of our tours just along for the ride. One day we decided to give him a bass and now he's our official bass player." Kelly laughs.
But despite their travels across the continental United States, the Morris Brothers find themselves content to be on the porch of their parents' home in Camden on an afternoon in mid-April. This porch becomes the perfect setting for the brothers to ruminate on their roots in the historical, Southern hamlet that is Camden—the oldest inland city of S.C. and the Steeplechase Capital of the World.
"There's old Camden, historic Camden, but where we grew up is right near the Wateree River. Our school would take us down there where there were these Indian burial mounds—I feel like we always knew this was an old place, people have been here for a long time. King Hagler, who was the Catawba chief; he met with Kershaw, one of the first settlers. Our town's symbol is him shooting his arrow." Patrick reflects.
"Through all of these music towns, there's always the river. Memphis, Nashville, Muscle Shoals, all these essential towns for music have a river. We grew up next to a river. There's something to that. There's something about being next to a river."
From an early age, both Kelly and Patrick felt compelled to become musicians, a pursuit that their parents encouraged. Kelly was inspired by a front desk manager at his Montessori school in Camden to begin playing guitar at age seven. "She kept a guitar in her office…she was a hippie-like lady who lived out in the woods," Kelly recollects. He would later study under Rusty Davis, father to acclaimed signer-songwriter, Patrick Davis. Kelly credits Rusty with introducing him to artists like Crwam, BB King, Derek and the Dominoes and Led Zeppelin.
Patrick began with piano at age four, then graduated to classical piano, but as he looked to his older brothers, Kelly and Casey, who played bass, he decided he wanted something "more fun" and "stumbled upon" the drums.
Patrick remembers his first group in middle school trying for the school talent show—they did not place. At the suggestion of some classmates, and specifically, the brothers both remember, the cheerleaders at Cardinal Newman, the Morris Brothers finally united their musical efforts and became their own group. They would win the talent show that year.
Cardinal Newman and its faculty and students would become facilitators for the young artists in many ways. "Cardinal Newman was very crucial," Kelly states. "It made us more close-knit. We were at the right place at the right time, doing the right thing I think. They jump-started us."
Students would pass around burned copies of the group's first attempts at home recordings; their Jazz Band teacher would encourage listening to and practicing obscure standards that would greatly influence the Mobros' style. Their drama teacher Patrick Boos would serve as their bassist for a period of time. Their first real t-shirt was from a piece of artwork a classmate drew. Both brothers were surprised when the advanced physics teacher, a nun at the parochial school, bought one of the shirts.
"We were pulled aside by this disciplinarian...he was feared...everyone was afraid of this dude, Mike Bolchoz. I thought I was in trouble. He calls me in and says, 'Hey Kelly, come in here for a second. I want to show you something.' I'm thinking I'm in trouble, and he says, 'I used to own this bar in Charleston for fifteen years, come on in. I want to introduce you to this guy I used to book at my bar.'" Kelly recounts.
Patrick adds, "He pulled me in once and I was freaking out, and he had a stack of CDs, just a stack of CDs that he handed me and said, 'Check these guys out.' It was strange—we had a certain dynamic with these teachers. They were really into what we were doing, but we were also students there."
The soccer coach, Coach Eudy, would secure their first "real gig" at the since-closed Hard Knox Grill on Knox Abbot Drive in West Columbia, where they would also meet their first manager. They opened for D.B. Bryant, a rock guitar player with a wild following.
"I remember we were terrified because we were opening for our first show, and there were all of these bikers, and all of the Cardinal Newman kids were coming out. A lot of them were still in their outfits from the football game. It's a packed house and all we had to play were some of our originals and then Ray Charles, Sam Cooke and Otis Redding covers, and they just ate it up." Kelly muses.
Columbia would become a sort of launch pad for the brothers: a catalyst to hone their craft and draw inspiration. The brothers would meet Carrie Ann Hearst of Shovels & Rope and Samuel Beam of Iron & Wine at (the also since-closed) White Mule, a music venue on Main Street in downtown Columbia.
"I think Papa Jazz is a huge influence, too. I was just saying to someone the other day, it's a real gem for Columbia. People will travel to go to that store. They have a huge collection. That was a huge thing, being young and being introduced to records through that store." Patrick says. The brothers would make their pilgrimage to the Columbia music fixture for rare finds in their repertoire and fellowship with others in the Columbia music scene.
The brothers remember when local radio station 93.5 was Rock 93.5 and one of their singles, "Shake," recorded in their bedroom, was featured on the Local Hour, Sunday at 12 a.m.
"We were asleep! But our friends all heard it and came to school and were so overwhelmed. It was so neat that Columbia, to us in high school, a Charlotte-sized city, was playing our music and a local DJ had found us."
As time continued for the group, they would, as many do, feel the desire to leave home. Their song "Mississippi Woman" likens the constraints of your surroundings to a "state wide penitentiary." The brothers would go on their first real tour, move to Chicago, then complete two other tours. But being back at home in Camden, they see that although they may have left South Carolina, the South would come to breathe through their music, and is what has given them their distinctive sound and style.
The two recall an instance where a stranger approached them in Colorado. The man had moved across the country from South Carolina and expressed that their music had made him feel less homesick for the state.

"We have spent our whole lives in South Carolina. We grew up running through the fields and forests around Camden. It was sort of this majestic upbringing. Our songwriting reflects the landscape, people, foliage, and a plethora of different fragrances from the area." Kelly considers.
"The way that I see it, we were collecting pollen the whole time. We imagined ourselves as bees when we swam in the Wateree River, rolled around in the horse fields, when we were climbing trees, catching lizards, and running wild through the bamboo. Many childhood journeys were had in Camden. When it was time to write, we poured all five senses into our literature over the kitchen table. I believe that without the pollen, we wouldn't have anything to write."
The Mobros will begin working on their next album in 2016, with plans to potentially move somewhere in the South. For the first time since their 2014 Album Release show, The Mobros will appear at the New Brookland Tavern on Friday, April 15, with openers Watson Village, and Gardener and the Willow.
Some quotes have been edited for length and clarity