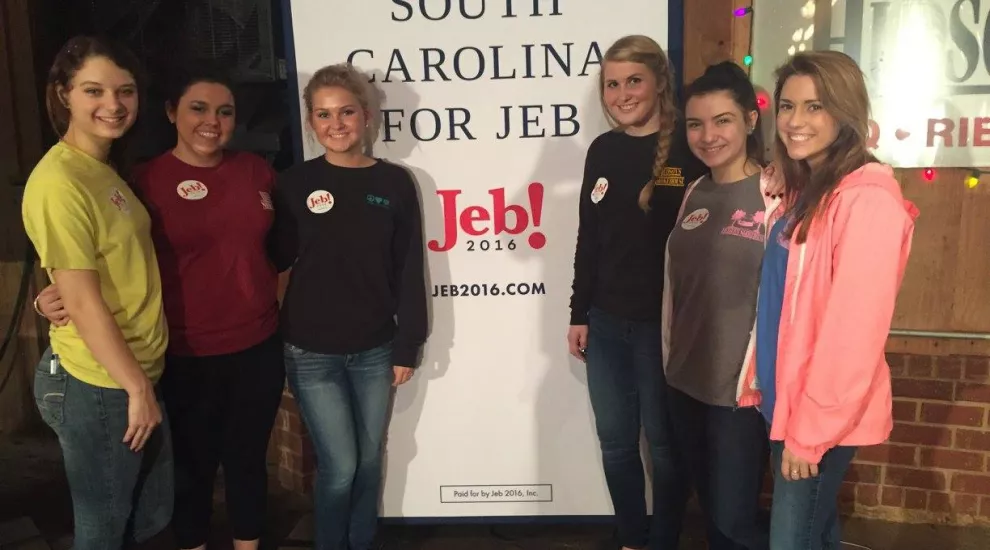 As the Republican and Democratic primaries, Feb. 20 and Feb. 27 respectively, draw near; the visibility of Presidential candidates has increased more and more, from posters to canvassing, and even candidate visits to local forums and restaurants.
One restaurant, in particular, is that of Hudson's Smokehouse, primarily among GOP candidates. The Lexington barbecue beacon has hosted Chris Christie on June 2 with Attorney General Alan Wilson. Mike Huckabee visited July 7, Scott Walker July 15, Carly Fiorina September 23, Jeb Bush December 30 and Marco Rubio, most recently, on January 2. Donald Trump was also scheduled to visit Hudson's, but due to the size of the event, which grew to thousands, the event was moved to Harmon's Tree Farm.
"Politics and BBQ just go together, right? What better place than Hudson's to come eat some great Southern food in a predominantly conservative area of Lexington to spread their message." owner, Clint Hudson says. "We don't publicly support any one candidate and welcome any party, but haven't received any calls outside the GOP." 
A typical visit from a politician usually involves the restaurant's outdoor patio, which provides ample seating, with the sliding glass doors that serve as windows open, so that visitors inside can also listen to the candidate. Others, like Chris Christie, used the restaurant's bar for a more informal and personal question and answer session. Sometimes candidates have had more private events on Mondays, when the restaurants are closed. However, candidates do usually try the varying southern items on Hudson's menu, whether they dine in the restaurant or take their food to go.
Hudson says sometimes the candidates draw huge crowds, others smaller and more intimate, and timing can also vary significantly. Some give notice weeks ahead of time and others have given only 2 to 3 days notice. Not always do the visits go quite as planned.
"Earlier this year Jeb Bush was in town and it was storming cats and dogs outside. We have been trying to fix a couple problematic leaks in the roof that only appear when it pours," Hudson says. "While everyone was waiting for him to appear on the patio, he waited in the hallway between our restrooms, and of course that is where the worst leak was. A little embarrassing to say the least, but Jeb was a good sport." 
Robin Hudson founded the barbecue house, located on U.S. 378, known for its North Carolina style pork barbecue and ribs and daily buffet. The proprietor passed away in 2014, but his legacy lives on through sons Clint and Clay Hudson. Clint Hudson attributes the popularity of the restaurant to the campaign, in part, and to his father.
"It's something that started way back with our father, Robin.  He always loved discussing politics and was involved to some degree," Hudson says.  "It can give us good exposure, at times, but honestly, we are just happy we can provide a venue for people to listen to the candidates and actually get to see and meet them.  It's always a much different experience, rather than listening to them on TV."