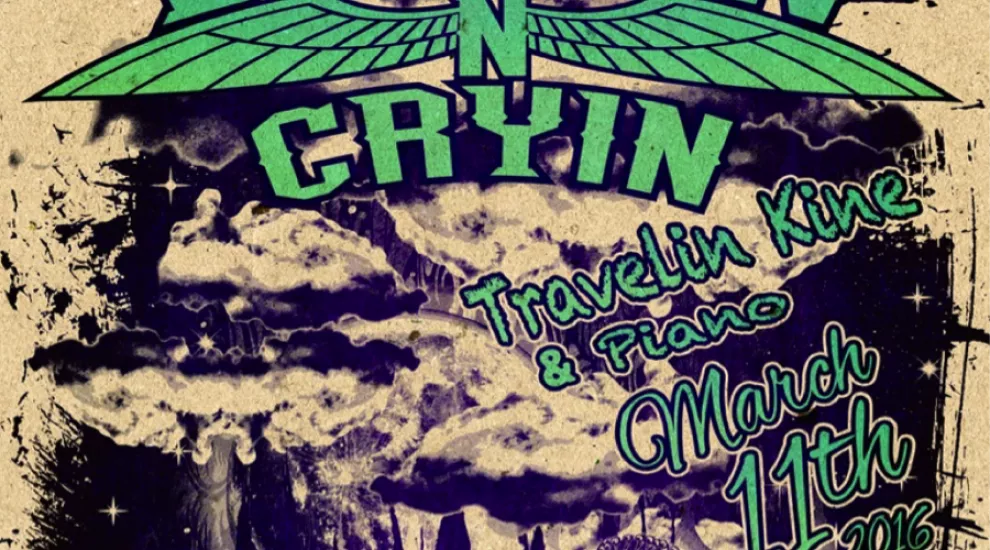 The words southern rock can evoke a myriad of emotions, reflections and sounds, depending on whom you speak to. Swells of wailing guitars at a concert, dulcet tones and harmonies from the radio on an afternoon drive, or even just a feeling you get; access to a memory when you hear a particular verse. It can be argued southern rock veteran Drivin' n' Cryin' has a bit of all of that in a career that spans decades.
The band started with the meeting of Tim Nielsen and Kevin Kinney, two Northern implants who found themselves in Atlanta, Georgia in the 1980s
"We started off 1985. Kevin is from up north too, he moved down from Wisconsin, Milwaukee in '82, or something." Nielsen says. "So, I was playing in a band called the Nightporters in Atlanta, and we were a pretty happening local band. Kevin had a punk band called The Prosecutors in Milwaukee. When we met, I was kind of exiting The Nightporters, and Kevin and I formed a band."
Drivin' n' Cryin' quickly gained a following in the South, and that has remained loyal throughout a 30-year career in the music industry, something Nielsen credits to their start.
"We just started playing locally in Atlanta, and getting write-ups in the newspapers and stuff. As we started doing recordings, we started our fan-base through CMJ, college music radio with our first record, Scarred but Smarter." Nielsen recalls.
"Then when we got signed to Island [records], we toured with R.E.M. We toured with Neil Young. We toured with Lynyrd Skynyrd. We toured with a lot of big national groups over the first four or five years of our career, and most of those tours started in the Southeast. We were very regionally known in the Southeast within colleges and the SEC."
Part of the enduring appeal of the band is its ability to adapt while remaining true to its influences, including the South and its approach to rock music.
"'Around that same time, R.E.M. was getting big, so we kind of equated southern rock with the new southern rock, [you have] more like Allman Brothers. Then R.E.M. is like the new southern rock, so we were influenced by both," Nielsen reflects.
"Being southern, I guess, immigrants, we said well, we're in the South now, this is where we want to be and we love it. We're staying. Don't like the cold."
In looking at the South's up and coming music scene, Nielsen sees significant promise in the "local sound" coming out of downtown Charleston.
"I've really gotten very interested in the local music scene here. It's just really new and fresh." Nielsen says.
"I hear these younger bands and I don't even know who influences them. I hear influences that they might not even know who they are. I listen to bands like Brave Baby and Susto, Travelin' Kine, there's a great sound coming out of Charleston."
Travelin' Kine has come to have a successful working relationship with the band. The duo sold out a show at the Charleston Pour House in December 2015.
"We match really well with them. They are more southern rock than we are. We're more roots rock. instrumentalization really gets people into it, and when Drivin' n' Cryin' comes on, something about the energy really works. They show up," Scottie Frier, guitarist for Travelin' Kine notes.
"I grew up a big fan of Drivin' n' Cryin' in the first place. To [work with these] people you really look up to, as musicians, is awesome. To call them friends is a great thing, but to really put a show on with them and participate with them, that's just kind of a dream come true."
Another innovation in the Drivin' n' Cryin's style and format has been showcasing a rotating group of well-known Southern rock lead guitarists. Sadler Vaden, the band's former lead guitarist now plays with Jason Isbell, formerly of the Drive-By Truckers. The band has recently featured Warner Hodges of Jason and the Scorchers, a group out of Nashville, Aaron Lee Tasjan, a flourishing solo artist who will be featured at Willie Nelson's Luck Reunion Tour in Spicewood, Texas, alongside Jenny Lewis, Lucius, Blitzen Trapper and more.
Taking the stage on Friday with Drivin' n' Cryin' will be Mark Bryan of Hootie and the Blowfish.
"I think this is gonna be really fun. He's been woodshedding all of the Drivin' n' Cryin' tunes. I think he's gonna add a lot to it—style and energy." Nielsen notes.
Drivin' n' Cryin' with openers Travelin' Kine and Piano will play Columbia's Music Farm on Friday, March 11.