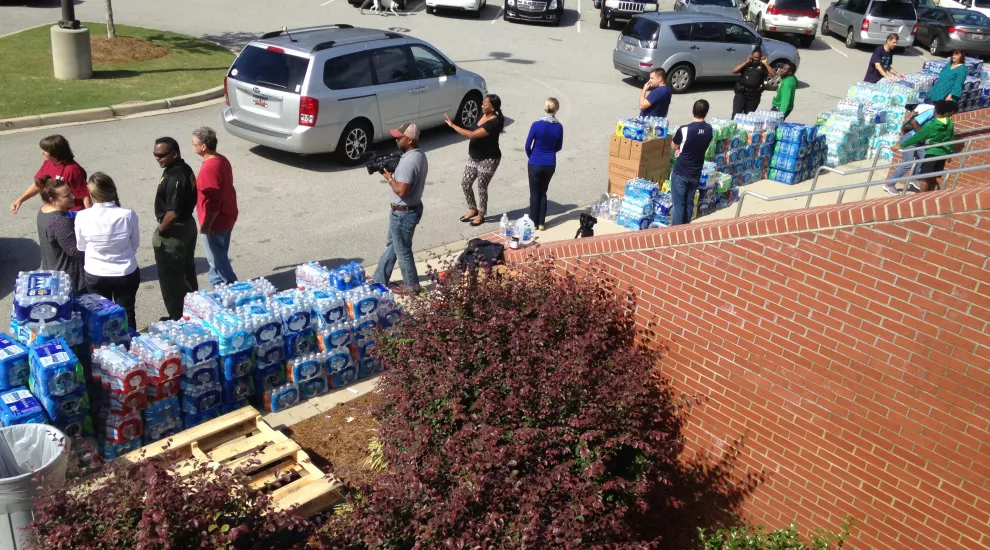 As South Carolinians continue to cope with the aftermath of disastrous flooding throughout the state, many have been inquiring ways they can help and offer aid.
Palmetto Scene has found several groups looking for volunteers and locations where donations are being accepted.
Items of extreme necessity are pillows, towels, sheets and blankets, personal care and hygiene products, baby formula, diapers, pet food, water, cleaning supplies, socks and undergarments. Many groups are also looking for volunteers.
Look to Social Media like Twitter and Facebook with the #SCStrong #FloodSCWithLove or #SouthCarolinaStrong for additional efforts.
STATEWIDE EFFORTS
American Red Cross is looking for volunteers at www.redcross.org/sc for their manned shelters at A.C. Flora High School, 7 Oaks Complex in Irmo and Lexington Leisure center. If you wish to make a donation you can text the word REDCROSS to 90999 to make a $10 donation.
Central Carolina Community Foundation is looking for volunteers. You can also make financial donations to assist the needs of flood victims at www.yourfoundation.org. Click "Give Now" choose "Donate to the Community Fund" under "Please Make Selection" choose "In Honor Of" or "In Memory Of" and type "SC Flood". You may also include the name of a specific county. The group has worked for 31 years in the midlands and will distribute 100 percent of monies donated to organizations helping flood victims.
The United Way has launched efforts for individuals to donate and register to volunteer at their site here. The United Way will also provide assistance for those seeking help and federal aid.
The Salvation Army is providing food, water and shelter to flood victims and to flood shelters across the state. You can donate to the Salvation Army's relief efforts here or by texting STORM to 51555.
New Spring church at all of its locations will accept donations from 8 a.m. to 8 p.m. with New Spring's Columbia location acting as a hub distribution center. New Spring will also accept donations to their website to the #FloodSCWithLove campaign. 100 percent of donations will be given to flood relief efforts. New Spring also plans to create volunteer teams to make repairs and restorations in some areas.
As Palmetto Scene previously reported, there is a Facebook group Lost & Found Pets of South Carolina is looking to reunite displaced and stranded pets with their owners. 
The South Carolina Baptist Convention has assembled food and childcare units to assist flood victims, as well as a group with chainsaws ready to remove fallen trees and limbs affecting power lines. Visit here to donate and learn more.
MIDLANDS
AC Flora High School at 1 Falcon Dr, Columbia, SC 29204 is accepting donations of non-perishable food items, water, clothing, diapers, etc. Extra donations at this location are being distributed to other areas of need.
Conquest Brewing Co. has partnered with all Mattress Firm locations to take donations for the Harvest Hope Food Bank, which is low on food supplies. Items dropped at the brewery will be delivered by Conquest, and those who donate are offered a free pint of beer. #ConquestandColumbiaStrong
There is a Facebook group that has been created specifically organizing to help clean up and aid the Forest Acres/Lake Katherine area. The group is looking for volunteers.
Lexington Interfaith Community Services opened at 9 a.m., Oct 6 to provide assistance. Learn more here.
Pawmetto Lifeline and Pets Inc. are asking for water at their sites and accepting donations for pets.
UPSTATE
​Boiling Springs High School and Dorman High School are accepting water donations.
Craft & Draft and River Rat Brewery have partnered with The Community Tap in Greenville. The Community Tap in Greenville will be accepting water donations until 8 p.m. Wednesday Oct. 7th at 217 Wade Hampton Blvd, Greenville SC, 29609, where all donations will then be delivered to Craft & Draft at 2706 Devine St, Columbia SC, 29205 Thursday morning.
Greenville County Sheriff's Office is collecting water bottles. Anyone can donate sealed, bottled water at Greenville County LEC front lot (4 McGee St.), Northern Area Command (4900 Old Buncombe Road) or the Southern Area Command (5 Chapel Drive) between 8 a.m. and 5 p.m. The water will be given to victims in the Midlands and the Lowcountry.
Spartanburg High School Freshman Academy's Anchor Club will hold a fundraiser Tuesday night at Bronco on Union Street in Spartanburg, where 10 percent of all sales will be given to the club, who will use it to buy water. The Spartanburg County Sheriff's Office will then bring the water to Columbia.
WYFF News 4 in Greenville is teaming with the American Red Cross for the "4 Flood Relief" telethon to bolster efforts to raise money to aid flood victims. The telethon will begin Wed. Oct. 7 at 4:30 a.m. with a special from 7 to 8 p.m. that will feature exclusive content on the storm, its impact, and how funds can help victims.
LOWCOUNTRY
The Francis R. Willis SPCA shelter experienced significant flooding in their kennel areas. The shelter is currently seeking donations and assistance to restore their facilities. Visit GoFundMe and donate to the FRW SPCA Emergency Flooding Fund