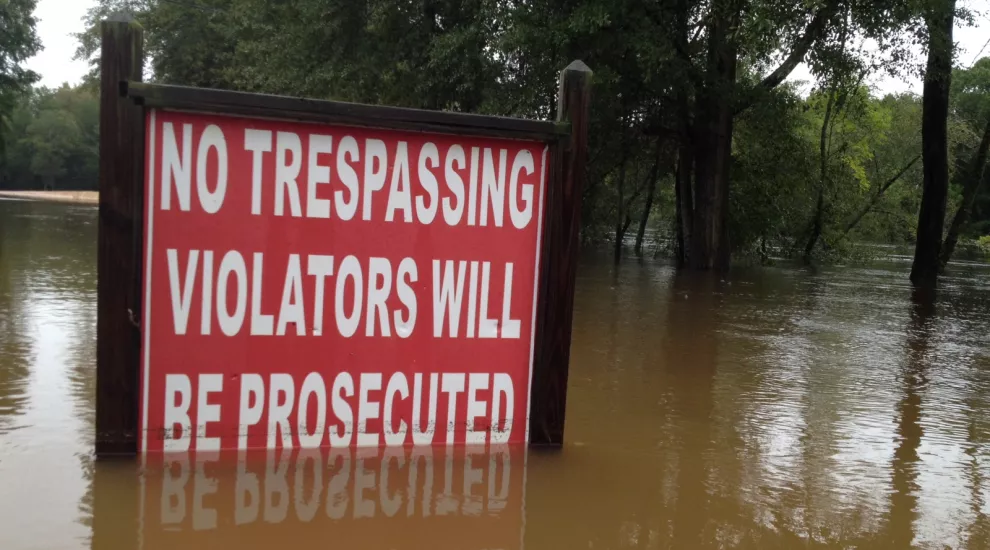 Governor Nikki Haley held a press conference at the Emergency Operations Center this morning to give updates on the state's emergency response to the historic flooding.
Haley explained that as rain is beginning to lighten up, the state is moving from assessment to recovery mode.
Forty-thousand people remain without water and 26,000 are without power. Haley stressed this issue and the roads are of top concern. Four water distribution sites will be set up in Richland County, one at 3700 Landmark Drive and another at Lower Richland High School. The other two sites will be announced at a later date; with hopes that all sites will be available by 5 p.m., and six more sites open tomorrow. Wal-Mart generously donated 80,000 bottles of water.
Haley spoke of a phone call with President Obama who relayed his concern and that he and his family's thoughts and prayers were with the state, and Haley has gone ahead with a verbal request to federal authorities as opposed to a written request for declaration of a major disaster, which means that national efforts would be focused on recovery in eleven counties in South Carolina. The declaration has not yet been approved, and the major declaration paper work is currently being filed.
A representative from the federal government explained what this declaration would mean for the state. Federal intervention would mean that these efforts would include individual assistance, which would provide aid to individual households, public assistance, which includes infrastructure, meaning that costs of relief efforts would be bolstered by federal aid of 75 percent and 25 percent of the cost going to the local municipalities. The third area of assistance would provide future aid and funding for efforts to protect the affected areas. Federal agents from FEMA will be on the ground soon to help citizens assess and repair their homes, and therefore citizens should be taking inventory of damage.
In regards to the future, Haley reminded citizens that even though rain is slowing, this situation is not over and citizens should be on guard. Engineers are assessing and testing roads ensuring they are safe before they are reopened, and roads that are currently open may not be open later today. Roadways that may appear safe could have damage underneath and to the sides of the road.
550 roads and bridges are closed, 100 of which are in the Columbia area. As water shifts and flows this number should rise.
"When in doubt, we are evacuating," Haley said. Evacuations and city closures are expected to be announced later today, most likely in Kingstree where water continues to flow.
The SCDOT representative announced that the water is expected to shift toward the low country. It was also relayed that interstates are the first priority, followed by primary highways, causeways and routes, then heavy traffic streets, followed by smaller two lane roads. Highway 126 and I-20 closures created significant issues and these are being assessed.
A representative, Director Smith, from the Department of Public Safety has responded to over 2,000 calls since the flooding began, with almost half of those being vehicular incidents. Traffic is light, except for I-77, which is acting as a detour for many of the closed areas. Many Charleston streets remain closed. Traffic in the Pee Dee is also light, but citizens are still reminded to stay off of the roads and to not let their guard down.
Two-hundred and fifty three officers are on the roads, and SLED is providing extra assistance in Lexington and Clarendon counties. Over a hundred rescue missions have been performed by DNR.
Thirteen hundred National Guard crewmembers have performed 25 aerial rescues and reserve crews remain on standby.
Haley confirmed nine weather related fatalities, five drownings and four vehicular accidents. The governor reminded South Carolinians to stay in their home, and that no picture or video is worth losing a life or creating a situation in which a rescue is necessary.
Haley thanked DSS and The American Red Cross and the Salvation Army who have all worked together to set up 25 shelters across the state and keep those in the shelters safe with clothing, food and water.
Haley also thanked the Columbia Fire Department, who throughout the night delivered bulk water to hospitals, which allowed all hospitals to remain open.
There are no major cell outages at this time.
"South Carolina has gone through a storm of historic proportions," Haley said, telling citizens to thank emergency responders who have done an exceptional job keeping South Carolinians safe, and also remembering an SCDOT member who was lost in relief efforts.
"This is a state where all hands are on deck," Haley continued, saying that citizens should still be on guard and that is they see something that appears incorrect or dangerous to alert the necessary authorities, and not to assume they are aware of any situations.
Stay tuned to Palmetto Scene for more information on this catastrophic weather event.