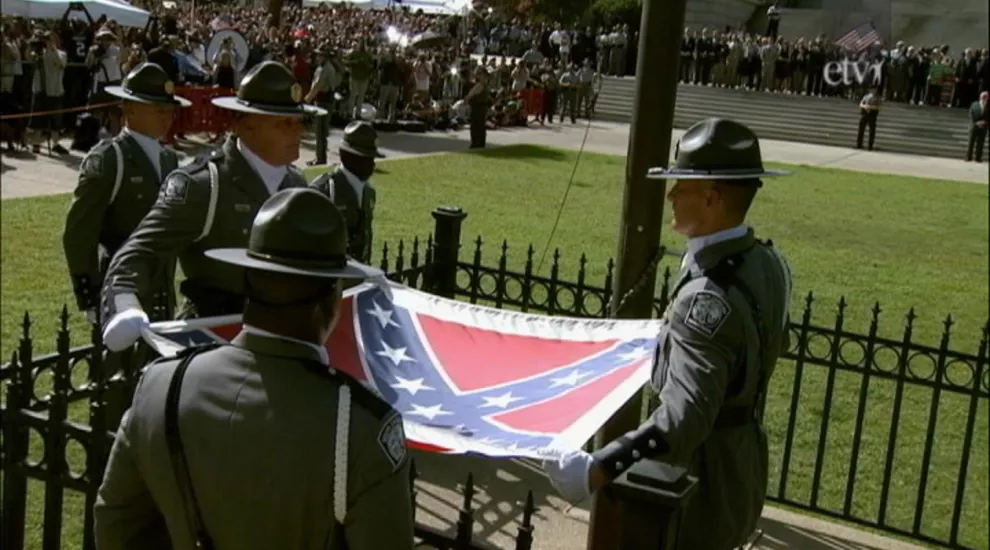 After years of debate, South Carolina state troopers removed the Confederate battle flag from the State House grounds in seven minutes. An estimated 8,000 to 10,000 people flooded downtown Columbia on Friday in order to witness the historic moment. Emotional onlookers chanted "USA! USA! USA!" and sang "Na, na, na, na. Na, na, na, na. Hey-ey, goodbye" when the flag was lowered.
Although the crowd remained peaceful, law enforcement officials had prepared for any possibility. On Thursday, Columbia City Council enacted a special ban on weapons in the immediate vicinity of the State House, lasting for 30 days. The flag left the grounds in an armored van.
The state troopers cranked the flag down its poll and carefully furled it. They then handed it to Allen Roberson, director of the Confederate Relic Room and Military Museum, which will serve as the flag's new home. Museum staff plan to display the flag along a memorial wall with the names of over 20,000 South Carolina soldiers who died in the Civil War.
The flag flew on the state house grounds since the 100th anniversary of the war, when resistance to the Civil Rights movement gave it a place atop the State House dome. In 2000, the flag moved to its final location behind the South Carolina Monument to the Confederate Dead.
For more coverage of the flag, read on at The State.