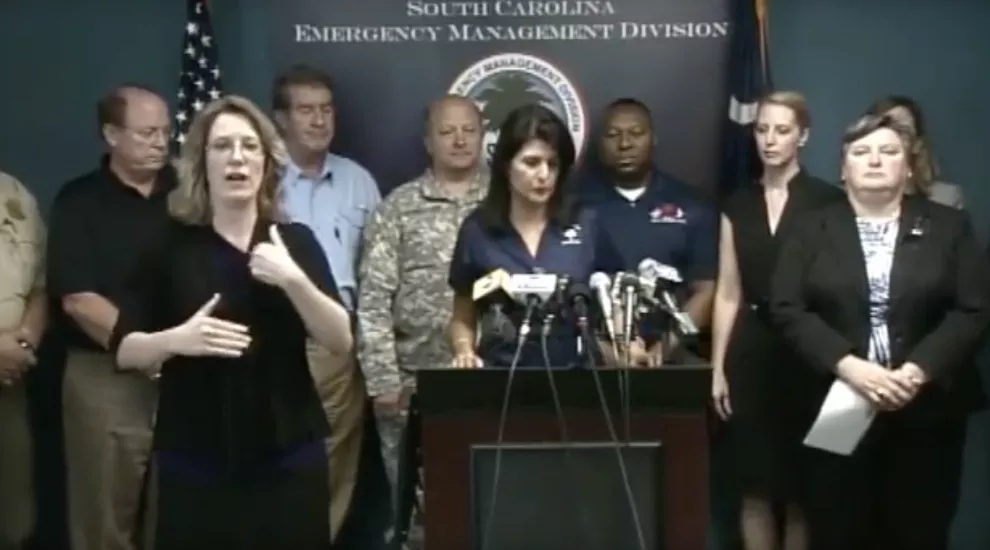 Governor Nikki Haley spoke again in a press conference Wednesday afternoon at the South Carolina Emergency Management Division.
"It's a new day," Haley said as she expressed her gratitude for the verbal declaration of disaster that has allowed Federal aid to become available to flood victims faster in South Carolina.
Haley restated, "This is a story of addition," clarifying that since the verbal declaration, three counties have been added to the declaration since the original eight: Berkley, Clarendon and Sumter. The Governor said that FEMA assesors are now on the ground and are surveying Newberry, Florence and Darlington counties to potentially also be annexed under the declaration, and complimented their speed and resourcefulness. Haley commented further that the FEMA team has been incredibly helpful in their partnership, ensuring that as many people are helped, as quickly as possible.
Craig Fugate, the FEMA administrator who was on the ground Wednesday morning, gave an update saying, "We're adding as quickly as we can, but we wanted to go with the information we had to get the Governor's request acted on. But anybody that's suffering impacts in the state of South Carolina from the floods, homeowners, we just encourage to go ahead and get registered, and this is something you can help us with, is get people to call us at 1-800-621-FEMA and get registered." Flood victims can also go online to disasterassistance.gov. Fugate ensured, "We're going to come to you," adding that FEMA is working with the Governor's team, continuing in a partnership, in responding to individual need within the state, and that South Carolinians can expect to see the FEMA team here for quite some time.
Haley responded to Fugate by addressing FEMA's approach, thankful that the team was in shelters actively speaking to victims, helping with aid, rather than waiting for victims to register. "We are very much in action mode." Haley said.
The Governor then explained the plan for the next 24 hours, expressing that her team would now be looking at specific places, with potential localized evacuations in: Colleton, Dorchester, Horry, Charleston, Georgetown, Berkeley and Williamsburg counties. Water continues to flow, and Haley advised being cautious and looking for mandatory and voluntary evacuations for people in these areas, and particularly in Conway, Andrews, and the area around Givens Ferry, Jamestown and Georgetown.
Haley reported that two other areas of concern were the Columbia Canal and Beaver Dam. Operations at the canal are ongoing, and the main issue to be addressed is water outages. Already 400 1-ton sandbags have been placed, working to get to 750 1-ton sandbags, with a rock dam already in place that has helped return water service. Haley added that Beaver Dam is stabilized, and will continue to be monitored throughout the night. Haley said this particular dam is a "moving situation" and promised that information will be released as it is given, ensuring that safety is the number one priority.
Haley then thanked SCE&G, not only for restoring power to their customers, but also for their labor and equipment in securing Beaver Dam, and their help in other areas, as well. Haley said they have essentially provided all of their resources, and called the company a partner for South Carolina.
Haley announced all Lake Murray Gates are closed, and said there would be no more release off of Lake Murray to cause concern. Sixty-two dams are being monitored and 13 of those have failed.
The fatality count is now at fifteen in the Palmetto State. Haley stated again, that "while the sun is out, this event is not over." Citizens are reminded not to remove or move barricades or barriers or drive around them. To remind South Carolinians of the danger, Haley then relayed the story of five people traveling in a car who moved around a barrier. Because of the incident, the vehicle became compromised and three of the people were rescued, two are currently missing. Haley requested self-responsibility in these situations, so that the fatality number does not rise.
There remain 409 closures in the state, with 141 of those being bridge numbers. That number is expected to go up as water flows downstream, in order to ensure safety and road stability. There is still a 13-mile stretch, between mile-marker 19 and 32, along Manning on I-95 that remains closed and will continue to be evaluated. As water moves, Haley explained, the soil shrinkage causes damage to the road and loss of road shoulders.
Up to 2,000 Department of Transportation maintenance workers are on the roads, with numbers rising, as crews complete repair work, assessment and pre-positioning for water flow. There are 31 assessment teams able to survey damage, and over 200 engineers determining if roads are safe for travel. There have been 4,926 service calls made with 2,122 of those being collision related. Hundreds of law enforcement officers have responded to these calls as quickly as possible. There are now 3,000 National Guardsmen deployed, a number that is expected to increase to 5,000, in order to keep things moving swiftly. DNR has completed over 600 rescues for people and animals, and will continue to do so.
Twenty-three shelters remain open with 330 occupants in those shelters. This number is also expected to rise in the Lowcountry in the coming days, and shelters in this area are preparing for larger numbers.
Haley said that the state has been "inundated" with donations from individuals, groups and business, and a Donate Goods Call Center has now been activated. The number is 1-888-585-9643, for those looking to volunteer or donate. Haley also offered thanks to the Trucking Association and the Advertising Association who have offered road assistance and billboard assistance.
"Things are getting better in the Midlands. Things are about to get worse on the coast, and so we are going to continue to watch as the waters are moving. We have been through this entire process pre-positioning 48 hours in advance, so we are constantly 48 hours ahead of what's going to happen." Haley said in her closing remarks. The Governor promised that groundsmen, first responders and crews were in place to minimize damage, but that this event is not quite over.
"This is not over yet, but we need to continue our prayers, we need to continue to be responsible and diligent as we move forward. We need to continue to remember that it is all hands on deck," Haley added.
Though the days of work continue, the Governor promised that morale is good and passion is strong. "You can push South Carolina, but boy, does South Carolina push back."