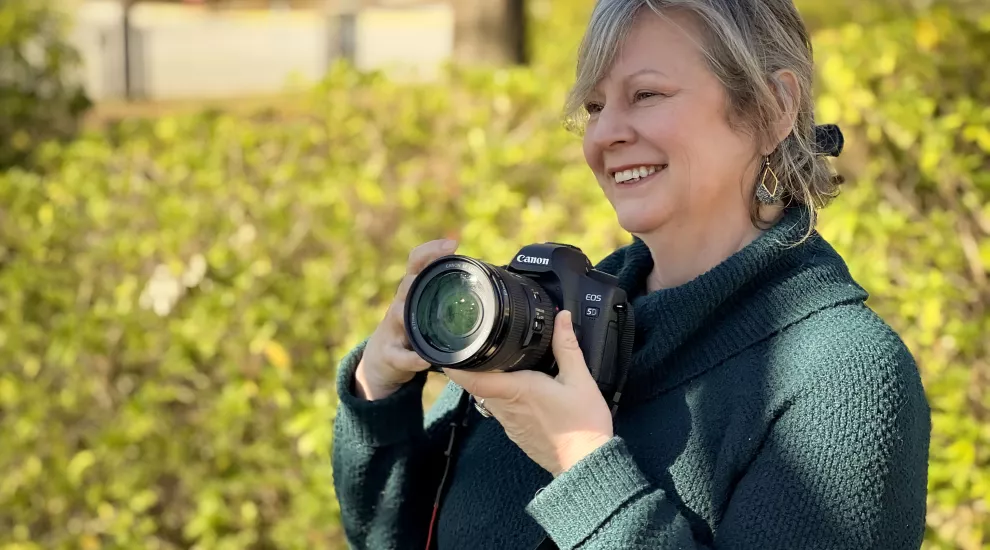 We are excited to welcome Ginger Cassell as ETV's new eLearning Designer!
Ginger, an alumna of the University of South Carolina, with a B.A. in Media Arts, will develop and create digital learning resources for online training and work with the Education team to plan and develop multimedia projects. Ginger has hit the ground running by already developing a training presentation for the SCETV finance department and also produced and photographed learning materials for the SC Division of Operations Interoperability Training.
With decades of experience as a producer/editor, Ginger has worked on both large-scale productions and small team learning projects. Her experience includes broadcast production, editing the national show "Good Eats" for the Food Network, graphic design, motion graphics, photography, and programming interactive projects.
Get to know Ginger with these fun facts:
Favorite book: To Kill a Mockingbird by Harper Lee
Favorite subject in school: English (because she's a storyteller at heart!)
Favorite snack: Chocolate covered almonds
Favorite celebrity: Morgan Freeman
Favorite movie: Out of Africa
Favorite hobby: Nature photography
Favorite quote: 
"Never forget that you are one of a kind. Never forget that if there weren't any need for you in all your uniqueness to be on this earth, you wouldn't be here in the first place. And never forget, no matter how overwhelming life's challenges and problems seem to be, that one person can make a difference in the world. In fact, it is always because of one person that all the changes that matter in the world come about. So be that one person." ― R. Buckminster Fuller
Ginger is excited about working on the Education team and creating new education assets; reach her at vcassell@scetv.org.