Bloom! Grow your career and earn renewal credit around YOUR schedule with 24/7 access to ETV LEARN online courses - all approved by the SC Department of Education for 20 renewal credits each, self-paced and costing only $75!

Earn renewal credits by June 30, 2022, the SCDE renewal cycle deadline, with a course in one of our two spring sessions:
SPRING I:   
Hurry, enroll now through April 4, 2022. Coursework must be completed by May 2, 2022.
 
SPRING II: 
Enrollment opens April 29, 2022. Coursework is allowed from May 9 - June 14, 2022.
Each course earns 20 renewal credits; all are offered in both sessions! 
Teaching and Learning in Carolina Classrooms (like SC Teachers on Teaching, newer TOTYs & discussions)
Effectively Using Media in the Classroom (ways to be more creative, prompt students to think critically)
Project-Based Learning: Engaging the 21st Century Learner (student centered, real-word applicability)
Connecting with Literacy through Storytelling (good telling tips and stories from talented tellers) 
A Literary Tour of SC (conveys key steps of writing process with a variety of SC-connected authors) 
The Arts and Career Connections and Career Education for Student Success (good info for all teachers) 
Take on the South with Dr. Walter Edgar (debates on key issues, incl. Southern lit, music, sports & foods) 
SC Chronicles (also with Dr. Edgar, walks thru SC history early to current, discussions on people & places) 
Between the Waters: History Across the Curriculum at Hobcaw Barony (innovative, hist./natural hist.+)
Making Connections with Natural History Featuring Rudy Mancke (learning thru nature, all subjects) 
Natural History in North America & Beyond (also with Rudy, all areas of USA, uses NatureScene + more!)
Key information … approved, accessible and affordable!
•    Approved by the SC Department of Education for 20 renewal credits (NO graduate credit) 
•    Online/self-paced; work anytime 24/7; complete work by session end date 
•    Cost: $75 each (pay online by credit card or mail check)
Enroll for Spring I session courses through April 4:  scetv.org/teacher-recertification
Save the date to enroll for Spring II session courses starting April 29. 
** Looking for a Read to Succeed course?
View our post at scetv.org/stories/2022/spring-summer-r2s-courses for spring and summer course information.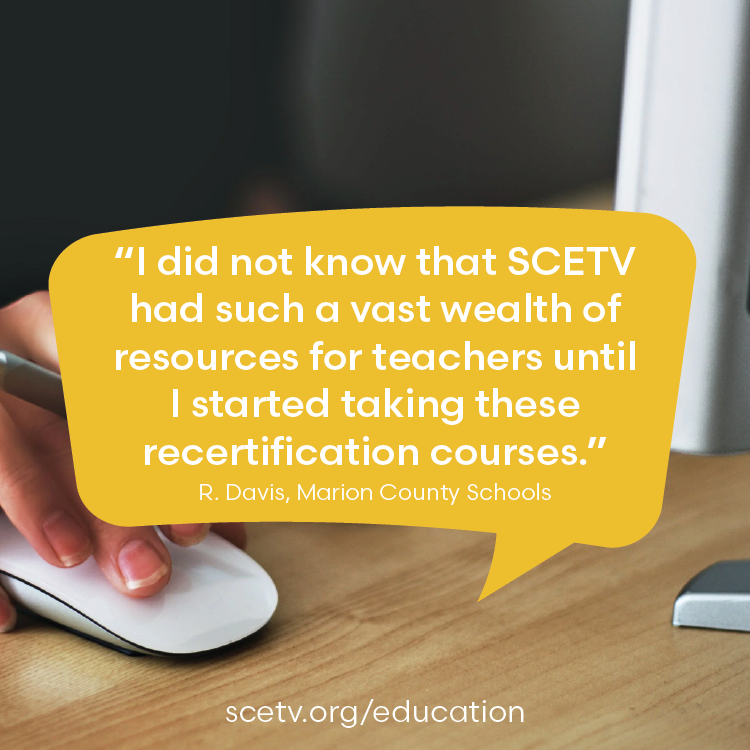 Questions/Help: sokonek@scetv.org  1-888-761-8132  (or local 803-737-9915 or 803-737-3245)