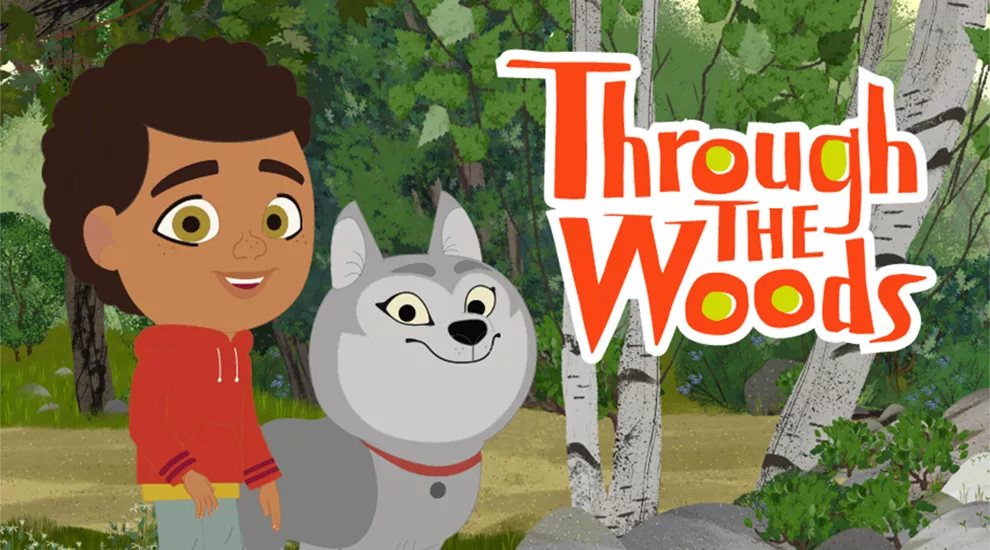 Beginning Friday, June 4, the Emmy® award-winning short form series Through the Woods, which is created and produced by Fred Rogers Productions, will join the PBS KIDS schedule, airing after episodes of Donkey Hodie. 
Through the Woods nurtures respect for nature and models a variety of essential lessons for kids and families, from the importance of self-guided play and curiosity to the power that loving relationships (with family, friends, and pets!) have to support a child's blooming confidence and sense of self. Each 3-minute episode follows a young boy named Rider and his beloved dog Wolfie as they venture into their backyard woods in search of adventures. As they meet the animals that live there, they observe, ask questions, and ultimately inspire kids to make discoveries of their own in their neighborhoods and communities.
Upcoming EPISODES
Rider the Spider (premieres 6/4/21)
A discovery in the woods prompts the question: "Why do spiders spin webs?"
Rider & The Woodpecker (premieres 6/7/21)
Rider and Wolfie investigate a strange tapping sound in the trees. What could it be?
Roly Poly Rider (premieres 6/8/21)
Looking closely at the ground near a rock, Rider and Wolfie find a family of roly poly bugs. Rider tries to roll up just like them!
Fairies and Fireflies (premieres 6/9/21)
Rider, Dad, and Wolfie discover glowing "fairies" while walking to Grammie's house on a beautiful summer evening. But there's no such thing as fairies!
A Snowy Morning (premieres 6/10/21)
On their way to Grammie's, Rider and Wolfie find animal tracks in the snow. Some are bigger than Wolfie's! What could have made them?
Squirrel Treasure (premieres 6/11/21)
Rider and Wolfie discover a squirrel burying acorns all over the forest floor. But why?
A Froggy Day (premieres 6/14/21)
A symphony of sounds greets Rider and Wolfie as they walk through the woods on a spring day. It's an orchestra of little frogs called peepers!
Berries and Brambles (premieres 6/15/21)
While taking a birthday present to Grammie, Rider and Wolfie discover some berries in the woods. But are they safe to eat?
Hiya, Butterfly! (premieres 6/16/21)
As Rider and Wolfie watch a butterfly drink from a flower, they wonder about that skinny, pointy thing coming from its mouth.
Hush Little Bunny (premieres 6/17/21)
Bunnies are so small, and Rider and Wolfie are so big. They have to be quiet like little bunnies to watch the rabbit visit her babies.