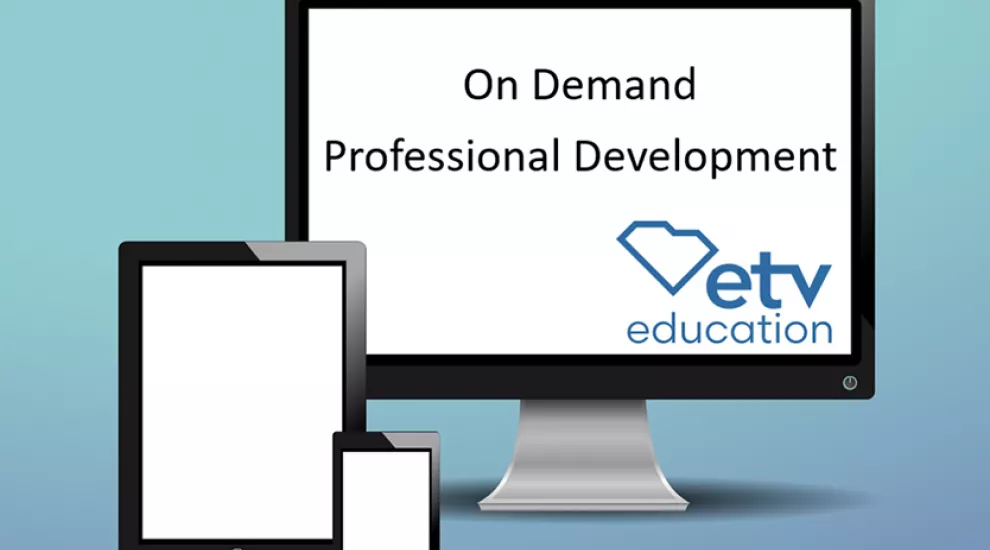 Over the past twelve weeks, SCETV Education offered more than 30 free professional development webinars.
These webinars cover SCETV/PBS Resources for teaching and learning, tools for integrating technology in teaching and learning, several special topics, and include features from state partners like the SC Aquarium and the SC State Museum.
For the next six weeks, we will pause virtual professional development to regroup and plan PD opportunities that will be available to educators preparing for the upcoming academic year.
Our PD return is set for mid-July. If you would like to suggest topics for future PD, email us at etveducation@scetv.org and follow us on social media for announcements.
In the meantime, we've made the Virtual PD webinars available on-demand. Our At Home Learning site is home base for all on-demand options.  See the options below:
Option 1: If you attended the live webinar and would like to watch it again/ access the presentation materials or if you would like to watch the recordings and do not need a certificate of participation for PD credit, visit the At Home Learning site and access the content in the collapsible menus under Free Virtual PD Sessions for Educators via Zoom. You will need to click the plus signs to access the list of webinars in each section.
Option 2: If you missed a live webinar and would like to watch to earn a one-hour certificate of participation for professional development credit, visit the At Home Learning site and click Register under Free Virtual PD Sessions for Educators via Zoom. This link will take you to the Professional Development at Home learning management system for on-demand webinars.     To receive a certificate of participation, users will need to watch the desired recording in its entirety and complete the webinar evaluation. Certificates of participation are automatically generated. Users may watch as many recordings as desired. Instructions for navigating the LMS are also available on the At Home Learning page.
A special thank you to all educators, agency partners, parents and lifelong learners participating professional development powered by SC ETV Education. We look forward to engaging you all again in July!