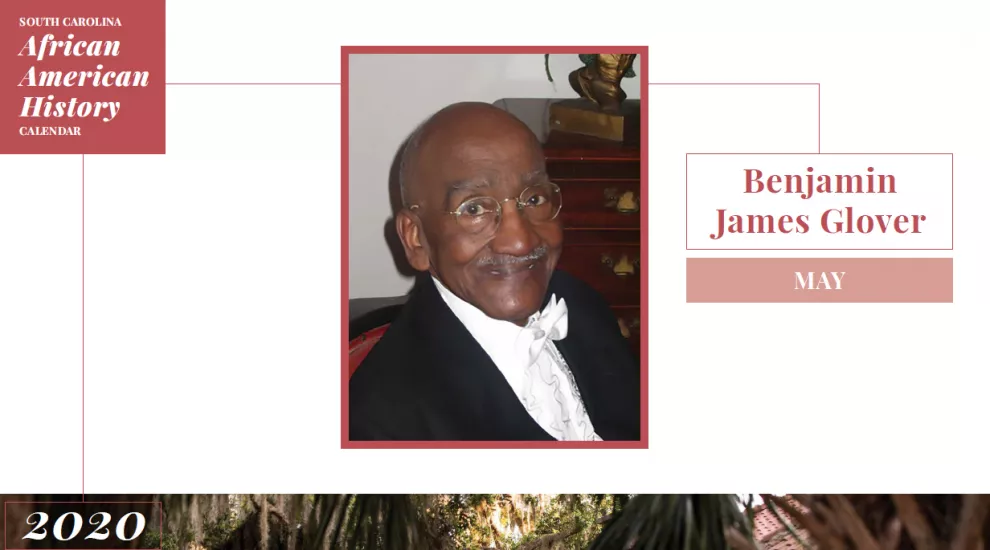 Rev. Dr. Benjamin James Glover was born in the Promised Land community near Greenwood, S.C., on October 26, 1915. From the age of seven, he was inspired to accept the calling of becoming a pastor and prepared himself for a lifetime of teaching and educating people about God. He attended the public schools of Greenwood, S.C., Gastonia, N.C., and Cincinnati, Ohio. He received his theology education from Wilberforce University and Payne Theological Seminary.
Dr. Glover served as a Pastor in the A.M.E. church until his retirement at age 89. He was a public school teacher in Due West, S.C. and a professor of Bible literature and psychology at Allen University, where he was the department head. He was also the department head of Practical Theology at Dickerson Theological Seminary, including the Charleston extension. He was the longest serving pastor in the history of Mother Emanuel A.M.E. Church in Charleston, S.C.
Dr. Glover served actively in community leadership as president of the Charleston and Columbia branches of the NAACP, president of the interdenominational minister's Union of Charleston, founder and president of the Beta Mu Chapter of Phi Beta Sigma Fraternity, and a member of the board of trustees at Allen University. As a staunch advocate for civil rights, Dr. Glover led many marches and sit-ins in the 1960s and joined a lawsuit challenging racial segregation in public schools in S.C. His daughter Oveta was among a group of eleven African American students who integrated the public schools of Charleston in 1963.
Dr. Glover served twice as the president of Allen University. He had the honor of having the highest student attendance and bringing in the most financial contributions in the school's history. In 1976, he founded King Memorial College in Columbia.
Dr. "BJ" was the devoted husband of Lydia Wright Glover. Upon Dr. Glover's death in 2010, he was survived by his six children, Madrian G. Garrick, Oveta Glover, Akli Khalif, Gail Glover, Shawn (Juanita) Glover and Dewey Glover, and nine grandchildren and four great-grandchildren.
As a servant leader committed to a life with integrity and love, Dr. Glover admonished all to "be encouraged and keep the faith."
*** Please note: The production schedule for our Knowitall videos has been delayed due to concerns about the Coronavirus. We hope to provide the videos on each month's honoree soon. Thank you for your patience.
Presented through a partnership between the South Carolina Department of Education and South Carolina ETV. 
View the video on Knowitall.org  (Coming soon) 
View the video on YouTube (Coming soon)
Download the SC African American History Calendar here. 
Video produced by Andrew Davis. ​