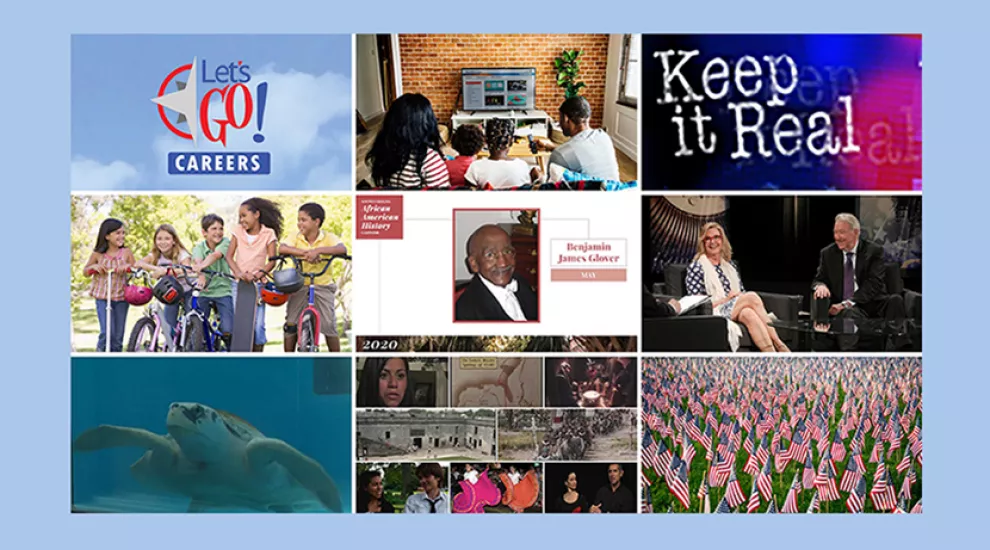 At-Home Learning - We want to be sure that you're aware of the content and resources that are available to parents, teachers and students throughout our state from South Carolina ETV and the South Carolina Department of Education. Information about the broadcast schedule, learning activities and links to the programs online, plus Professional Development webinars for Educators are located here.
Keep it Real - We want to remind teens 14 and above of the importance of staying safe, especially at this time of year. Keep It Real educates teens about the consequences of inappropriate risk-taking behavior.
Knowitall Healthy! - We'd also like to encourage you to live your healthiest life, especially now that the days are a little longer! Make use of the time and find fun ways to be well and fit! Visit Knowitall Healthy!
National Teacher Day / National Teacher Appreciation Week - In this month in which we show appreciation for our teachers, we encourage everyone—at every age—to honor your teachers by committing to learn something new every day! For starters, visit our May Factoids!
NEW ON KNOWITALL.ORG!
Using career profiles and 360 video, Let's Go! CAREERS brings students virtually inside the work environment, especially in areas that need skilled workers.
SC AFRICAN AMERICAN HISTORY CALENDAR
MAY HONOREE: BENJAMIN JAMES GLOVER
Rev. Dr. Benjamin James Glover was born in the Promised Land community near Greenwood, S.C., on October 26, 1915. From the age of seven, he was inspired to accept the calling of becoming a pastor and prepared himself for a lifetime of teaching and educating people about God. He attended the public schools of Greenwood, S.C., Gastonia, N.C., and Cincinnati, Ohio. He received his theology education from Wilberforce University and Payne Theological Seminary.
Dr. Glover served as a Pastor in the A.M.E. church until his retirement at age 89. He was a public school teacher in Due West, S.C. and a professor of Bible literature and psychology at Allen University, where he was the department head. He was also the department head of Practical Theology at Dickerson Theological Seminary, including the Charleston extension. He was the longest serving pastor in the history of Mother Emanuel A.M.E. Church in Charleston, S.C.
Dr. Glover served actively in community leadership as president of the Charleston and Columbia branches of the NAACP, president of the interdenominational minister's Union of Charleston, founder and president of the Beta Mu Chapter of Phi Beta Sigma Fraternity, and a member of the board of trustees at Allen University. As a staunch advocate for civil rights, Dr. Glover led many marches and sit-ins in the 1960s and joined a lawsuit challenging racial segregation in public schools in S.C. His daughter Oveta was among a group of eleven African American students who integrated the public schools of Charleston in 1963.
Dr. Glover served twice as the president of Allen University. He had the honor of having the highest student attendance and bringing in the most financial contributions in the school's history. In 1976, he founded King Memorial College in Columbia.
Dr. "BJ" was the devoted husband of Lydia Wright Glover. Upon Dr. Glover's death in 2010, he was survived by his six children, Madrian G. Garrick, Oveta Glover, Akli Khalif, Gail Glover, Shawn (Juanita) Glover and Dewey Glover, and nine grandchildren and four great-grandchildren.
As a servant leader committed to a life with integrity and love, Dr. Glover admonished all to "be encouraged and keep the faith."
*** Please note: The production schedule for our Knowitall videos has been delayed due to concerns about the Coronavirus. We hope to provide the videos on each month's honoree soon. Thank you for your patience.
Presented through a partnership between the South Carolina Department of Education and South Carolina ETV. 
View the video on Knowitall.org  (Coming soon) 
View the video on YouTube (Coming soon)
Download the SC African American History Calendar here. 
Video produced by Andrew Davis. ​
FEATURED CONTENT FOR MAY
At a time when traffic deaths among teens typically spike, we encourage teens 14 and above to view our series, Keep It Real, which emphasizes the importance of avoiding risky behavior and provides an up-close look at consequences. Please encourage teens you know and care about to view them. We also feature our Knowitall Healthy resources, which provide important pointers for living healthy, active lives—as well as some inspiring stories!   
As this time of year, our thoughts traditionally turn to proms, graduations and the start of summer vacations. Almost in an instant, this joyous, celebratory time of year can become a time of immense heartbreak and tragedy when a young person's life is taken all too soon, as a result of risky behavior or inexperience.  South Carolina ETV encourages you to influence a teen in your life, age 14 or above, to view Keep It Real and consider the possibility that such a tragedy could occur in their life or the life of a friend or family member. These videos offer a reality check that may serve as a valuable lesson in avoiding risky behavior. But it won't work unless they actually view them! Please encourage teens in your life to do so and give them fair warning that the videos are difficult to watch.
Now is a great time to consider small steps we can all take toward being more physically fit and eating healthier foods! View the resources here and make the changes that you can—even in small increments. It all adds up to a healthier you! 
These videos are inspiring! Take a look!
Important viewing for adults who want to influence the children in their lives to Eat Smart, Move More!
Four key illness prevention tips are highlighted in English and with Spanish subtitles, along with the Wash Hands Song with Danielle Howle!
Twenty short videos that are engaging and fun to watch! This series helps to inspire young people to take the lead in living and enjoying a healthy lifestyle!
 Series produced to help educate teens about the consequences of inappropriate risk-taking behavior. 
In this Collection, we also feature content that informs students on various ways to stay safe and healthy, including these series:
Please note that all of the content in Knowitall Healthy is organized into these Topics:
DATES & RESOURCES FOR MAY
May is Jewish American Heritage Month.
View the Holocaust Remembrance Collection:
Seared Souls: South Carolina Voices of the Holocaust: Trace the events of the Holocaust through the testimony of survivors who settled in South Carolina. Interviews are combined with dramatic archival footage for a powerful and moving record of the inhumanity that was experienced during the Holocaust.
S.C. Voices: Lessons from the Holocaust: Full interviews with South Carolinians who survived the Holocaust and those who liberated the concentration camps or witnessed the atrocities that took place. 
May 3 – World Press Freedom Day – Journalism, Broadcasting & Communications Collection
Two Washington Post columnists who have South Carolina connections discuss writing for their columns.
Journalists Natalie Caula-Hauff, Jennifer Berry Hawes, and Glenn Smith of the Charleston Post and Courier discuss the series, Till Death Do Us Part, published in August 2014. The series won the Pulitzer Prize in Public Service Journalism in 2015.
Visit the Journalism, Broadcasting & Communications Collection under the Libraries, Literature & Learning Collection for these resources!
May 4-8 - Teacher Appreciation Week
May 5 - National Teacher Day
Let your favorite teacher know how special he or she is and how much you appreciate his or her decision to go into education!  Say thank you!
Learn something new every day from Knowital.org and make your teacher proud! Try out our May Factoids! You may be surprised at what you'll find!
May 5 - Cinco de Mayo – Hispanic Heritage Collection
Cinco de Mayo celebrates the Mexican Army's victory over France during the Franco-Mexican war, but it also celebrates the heritage of the Mexican people. View our Hispanic Heritage Collection. Resources in Spanish are also available in this collection. 
May 5 – Hand Hygiene Day – Illness Prevention Collection | Knowitall Healthy!
Hand Hygiene Day, established by the World Health Organization, is held on May 5 every year. Check out our Flu PSAs - Illness Prevention Tips in English and Spanish & the Wash Hands Song. These videos provide important reminders for everyone, all through the year. Four key illness prevention tips are highlighted in English and with Spanish subtitles, along with the Wash Hands Song with Danielle Howle.
May 6 - National Nurses Day
Maude Callen (1898 - 1990), a Nurse-Midwife, who singlehandedly brought health care to rural Pineville, S.C. and the surrounding area of Berkeley County in the early 1920s, continuing to the 1970s. Maude was orphaned at six and raised in the home of her uncle, the first black doctor in Tallahassee, Florida. Maude studied nursing at Florida A & M, and Tuskegee Institute. Upon graduating, she answered the call to become a medical missionary in Pineville, S.C. in 1923. She delivered some 800 babies, and trained some 400 women as midwives in depressing, treacherous conditions. Many share their memories of Maude Callen and the invaluable medical service she provided as nurse and doctor to thousands in this low income area of South Carolina for generations.
Neonatal nursing is a specialty in the health care profession where nurses provide direct patient care to high-risk newborn babies. They access the patients' health problems and needs, and use mathematics to calculate medication and nutrition based on the patient's very low weight. Knowledge of the sciences is required to understand the function of the human body. Neonatal nurses operate high tech equipment in the neonatal intensive care unit such as ventilators and incubators. Nurses must also keep precise medical records on each infant patient to help the physician provide proper medical care.
In 1917 South Carolinian women saw more opportunity. There were more women in men dominated occupations like doctors, realtors and lawyers. During wartime women not only participated in more jobs so men could go fight; but they also enlisted! They served as nurses and 143 women from South Carolina enlisted to aid the war effort. 1000 uniforms were sent from Charleston and Red Cross Women drove ambulances that transferred supplies and the wounded.
May 8 – V.E. Day – Victory in Europe Day
May 8-9 – Time of Remembrance and Reconciliation Day for Those Who Lost Their Lives in WWII
Visit our Memorial Day Collection and hear the stories of those who served.
May 10 - Mother's Day
As we honor the women who have played such an important part in both their family's lives and in their work, we also honor the outstanding women featured in our Women's History and Women in Leadership Collections.
In a dynamic and growing Southern career landscape, Palmetto Voices looks to female leaders in South Carolina to share the experiences, skills and decisions that have brought them success. These voices of the Palmetto State offer advice and suggestions for excellence in various career clusters and fields of study.
From Middle School to High School, teenage girls face unique pressures every day. Between issues with bullying, body image, boys, friends and "frenemies," life during that awkward transitional period can feel like it's filled with challenges. It's important our girls have role models, people to look up to, think about, and speak with, to help to navigate those land mines. Project Lead South Carolina is a video series for young women, that follows notable women in South Carolina to gather advice for what makes a successful leader. 
A series that focuses on issues affecting women throughout the state and the nation, and a new generation of young people pursuing public service for their communities and the state at large. The program is produced and hosted by former South Carolina ETV president Linda O'Bryon.
When you visit the Women in Leadership Collection, take a moment to scroll down to view the Topics:
May 15 - Bike to Work Day
May 15 - Endangered Species Day
The largest living cat is the Amur, or Siberian, tiger. These cats are known for their orange and white fur with its black stripes. This pattern camouflages them in the tall grasses or forest undergrowth. Amur tigers are found through eastern Russia, Manchuria and Korea. These cats are listed as endangered due to poaching and habitat destruction. 
The Black Rhinoceros is an endangered species. Overhunting, poachers, and poor legal protection are to blame for this species of rhinoceros going into near extinction in African countries.
Hedyotis procumbens; member of coffee family; also called Trailing Bluet or Innocence; perennial herb with shallow roots; low-growing loose tufts 10 - 15 cm tall; white flowers bloom from July to early August; flower produces many-seeded capsules; high elevation habitats include cliffs, outcrops, and steep slopes; threatened by residential and recreational developments; endangered species, Federal Register April 5, 1990.
The Carolina Marsh Tacky is a small horse brought to SC by Spanish explorers. It's an endangered breed.
In 2008, the Catawba River was named the most endangered river in the United States by the advocacy group American Rivers. In this program, The Big Picture looks at the preservation of this river and the citizens that depends on it.
Cheraw Recreation State Park was the first state park built by the Civilian Conservation Corps (CCC). The CCC worked up until 1942-43 until World War II forced many to join the military. The park has wildlife that includes the federally endangered Woodpecker. These birds live in pine trees that are over 60 years old. The woodpeckers like to peck the resin wells. Sap flows from these wells to protect the cavity for any predator that wants to climb the tree.
Located in the Lowcountry of SC. Wildlife that live around the plantation include wild boar, black bear, and the red-cockaded woodpecker, an endangered species. The largest population of these birds are in the Francis Marion National Forest which is adjacent to the plantation.
Jones Gap State Park is located in the Blue Mountain region. Jones Gap had South Carolina's first cold-water hatchery from 1931 until 1963. It currently has several nationally endangered species, such as the green salamander. The greatest diversity of salamanders in the world are right here in the southern Appalachians. There is also an environmental marine center that is used only for education and research. 
Merritt Island National Wildlife Refuge is located on the property of Kennedy Space Center. Over 300 kinds of birds live permanently or seasonally in the refuge. The Refuge has the highest concentration of threatened and endangered species of any facility of its kind in the United States, including manatees. When the Kennedy Space Center acquired the property, they set up a restricted area that prohibited boats.  During the time the manatees have been monitored, the population in those areas that are boat-free has increased dramatically.
Harold O'Connor, director of the Merritt Island Wildlife Refuge discusses the 100,000 acres that exist on the Refuge at this time, and says that another 40,000 acres will be added soon. There are six endangered species on the refuge, including the alligator, the bald eagle, and the dusty seaside sparrow. There about 23 species of ducks that migrate through and about 275 species of birds, plus a variety of mammals and snakes. There are about 4,000 to 5,000 alligators on the Refuge at this time. A bald eagle is shown flying and returning to its nest.
The zoo actively participates in the Species Survival Plan, a program that breeds and manages captive endangered species. Species such as the red wolf have been brought back from near extinction, and are currently being reintroduced into the wild. Captive breeding allows the zoo to access, via computer, the medical records and breeding histories of many zoos in the country. Cameroon, West Africa, is a site that North Carolina Zoo supports for its work with wild elephants. Because elephants can cause a great deal of damage to agriculturally supported villages, humans threaten the populations of the animals in West Africa. The Elephant in Ecology Project, conducted through the World Wildlife Fund, educates villages, protects the elephants, and reduces the damage done during migration.
A number of rare species occur in cove forests, including the endangered persistent trillium, Trillium persistens. The species is found in deeply incised coves and gorges (acidic coves) in South Carolina along Battle Creek. This species is officially considered endangered by the federal government. The main threat to most rare species is loss of habitat due to humans altering the landscape.
More on endangered species may be found here.
May 15 - International Day of Families
Find something new to learn on Knowitall.org and share it with your family! Ask them to do the same and make this a time to enjoy being together and learning more about the interests of your family members!
May 16 - Armed Forces Day
On Armed Forces Day, we honor and thank those who serve in all five branches of the United States Armed Forces including the Army, Navy, Air Force, Marines, and Coast Guard.
Be sure to scroll down to the area below the Series to view the entire collection!
May 17 - World Telecommunication and Information Society Day
Explore the rich content available on Know
itall.org! Search our Series and our Collections to find resources that interest you!
May 20 - National Rescue Dog Day
Tips for keeping safe with dogs, including getting to know a new dog, allowing the dog to smell your hand, and not petting a dog you don't know.
Many view Border-Collie dogs as ideal family pets, but they are also reliable, and very hard working sheep-herding dogs.
Rusty, the Davis family dog, suffered a farming accident which took his two left legs. Miraculously, Rusty survived the accident, and was able to recover and continue riding in Bill Davis' truck. Rusty's dedication to his family is a testament to overcoming hardships.
May 20 - World Bee Day
·Ancel Goolsbey - Beekeeper | 27:Fifty
Ancel Goolsbey leads a "sweet" life as a beekeeper, maintaining bee-hives for the harvesting of honey.
May 22 – International Day for Biodiversity
COLLECTIONS
Habitats Collection | Explore South Carolina
SERIES and Programs
Dolphin Conservation | ETV Shorts
Congaree Swamp (S.C.) Stop 1 - Buffer Zone, And Broad-Headed Skink Lizard
Congaree Swamp (S.C.) Stop 2 - The Edge
Short Takes with Naturalist Rudy Mancke
May 23 - World Turtle Day
Congaree Swamp (S.C.) Stop 3 - Eastern Mud Turtle | NatureScene
Edisto Beach State Park | Destination: SC Parks
Exhibit Allows Visitors to Care for Sea Turtles |Palmetto Scene
Lee State Park (S.C.) Stop 3 | NatureScene
Loggerhead Sea Turtle | Short Takes with Naturalist Rudy Mancke
"L" is for Loggerhead Turtle - State Reptile | SC from A to Z
Santee National Wildlife Refuge (S.C.) Stop 2 - The Trail
Pritchard's Island - Nature Reserve | 27:Fifty
SC Aquarium, Part 2 | Project Discovery
Sea Turtle Rescue Manager | Original SC
 Kelly Thorvalson of the South Carolina Aquarium has one of the most unique jobs in the world, to nurse sick and injured sea turtles back to health. The video includes suggestions about what human beings can do to keep sea turtles safe from risks that are preventable, including the accidental ingestion of plastics that are found in the ocean or on the beach, boat strikes, and being entangled in fishing gear and fishing line. 
May 25 - Memorial Day
On Memorial Day, we'll pay tribute to those who have made the ultimate sacrifice for our freedom, for our country, and for all of us.
Be sure to scroll down to the area below the Series to view the entire collection!
May 27 - World Otter Day
May 29 - International Day of UN Peacekeepers
King Hagler was the leader of the Catawba Indian Nation. He had a reputation as peacekeeper with other tribes and colonists. In 1751, Hagler signed a treaty with the Six Nations. In 1756, Catawba Indians fought alongside George Washington during the French and Indian War. King Hagler signed the Treaty of Pine Tree Hill in 1760, which provided a reservation for the Catawba.
May 31 - World No Tobacco Day
Be sure to lick here often for updates, so you won't miss a thing!
Visit the May Factoids to learn something new every day!
And visit our Knowitall Blog for information on all of our Series, Collections and other content featured in each of our Knowitall Blogs! 
Please Contact Us and share your thoughts, questions, and ideas! We'd love to hear from you!