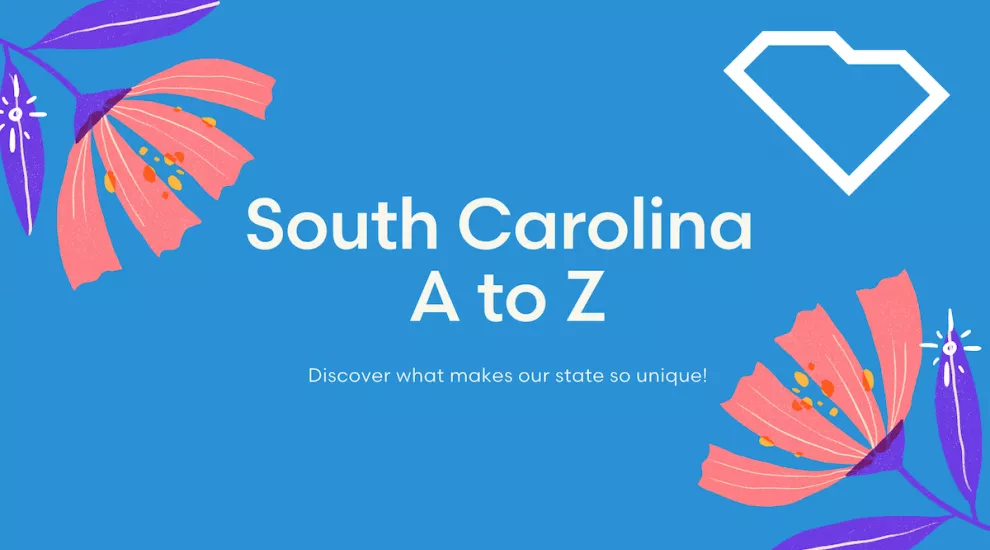 South Carolina is full of places just waiting for you to discover. Take a trip around the Palmetto State to learn a little bit about what makes this state so special ... from A to Z! As you are watching, can you think of something we've missed? Let us know in the comments below!
A is for Ace Basin. 
A is for Ace Basin. Dean Harrigal, wildlife biologist, with the South Carolina Department of Natural Resources (SCDNR) talks about the Ace Basin.
B is for Brookgreen Gardens.
B is for Brookgreen Gardens. Helen Benso, VP of Marketing at Brookgreen Gardens, talks about this wonderful resource.
C is for Cherokee Foothills Scenic Highway. 
C is for Cherokee Foothills Scenic Highway. Narrated by Dennis V. Chastain.
D is for Duke's Mayonnaise.
Joseph F. Collerd, Sr. Director of Marketing for the C.F. Sauer Company, tells us the history of Duke's Mayonnaise
E is for Edgefield Pottery and Edisto Beach.  
Potter Stephen Ferrell talks about the history of Edgefield Pottery. Mayor Burley Lyons of Edisto Beach talks about the rich history and culture surrounding this wonderful area.
F is for Falls Park and Frogmore Stew.
Jordan Franklin, manager at Falls Park in downtown Greenville, South Carolina, talks about this wonderful park. Frogmore Stew, also known as Beaufort Stew or Lowcountry Boil, is a delicious South Carolina meal. Chef Monty White explains the basic ingredients of this Lowcountry recipe.
G is for Gullah. 
What is Gullah? Anita Singleton-Prather and Alphonso Brown explain.
H is for Hunley.
Former South Carolina Senator and Lieutenant Governor, Glenn McConnell, tells us the story of the Confederate submarine H.L. Hunley.
I is for Ironworks. 
Charleston, S.C. blacksmith Jay Close talks about ironworking.
J is for Jockey. 
Racing jockey Matt McCarron talks about the sport of horse racing. South Carolina plays host to several horse racing competitions each year.
K is for Kiawah Island.
Roger Warren, president of the Kiawah Island Golf Resort talks about this golfers' haven.
L is for Lighthouse.
Al Hitchcock talks about the history and preservation efforts of the Morris Island lighthouse.
M is for Myrtle Beach.
Kimberly Miles with the Myrtle Beach area Chamber of Commerce talks about this wonderful vacation destination.
N is for Native American.
South Carolina is home to eleven Native American tribes. Can you name them all?
O is for Oconee Bells and Opera House.
Clemson University biology professor, Patrick McMillan, talks about this amazing plant that grows mostly in upstate South Carolina. The Newberry Opera House is located in Newberry, South Carolina and features quite an assortment of performing artists.
P is for Palmetto Tree.
Chip Prezioso, president of Palmetto Promotions, talks about why the Palmetto tree is the state symbol of South Carolina.
Q is for BBQ.
Lake High, Jr., president of the South Carolina Barbeque Association, explains the four different types of barbeque found in South Carolina. Which is your favorite? Barbecue is South Carolina's State Picnic Cuisine.  
R is for Rice.
Glenn Roberts of Anson Mills talks about the history of rice in South Carolina.
S is for Shag and Sweetgrass Basket.
The Shag is the state dance of South Carolina. Do you know how to Shag? Basket maker Vera Manigault talks about the history and culture of Sweetgrass baskets.
T is for Textile Mills.
Let's look at a brief history and the importance of textile mills in South Carolina.
U is for UFO Center. 
U is for the UFO Welcome Center that put Bowman, South Carolina, on the map. This rare roadside attraction built by Jody Pendarvis has seen better days, but it stands as a monument to the man who believed that aliens would one day make a stop in small-town South Carolina.
V is for Venus Fly Trap. 
The Venus Fly Trap is a carnivorous plant found in South Carolina.
W is for "What did we miss?"
What did we miss?
Can you find the geographic center of South Carolina? Let's take a walk and see.
Y is for Yorktown.
The USS Yorktown, the Fighting Lady, is a floating military museum located at Patriot's Point in Charleston, S.C.
Z is for Zentrum.
Z is for the BMW Z3 and Z4, the roadsters and coupes made exclusively here in South Carolina. Roadster Homecoming is held annually, since 1997, and owners drive thousands of miles to gather each year. Zentrum is the BMW Center and Museum, located outside of Greenville, South Carolina.
What would you add to this list? Comment below and your idea could be the next feature!