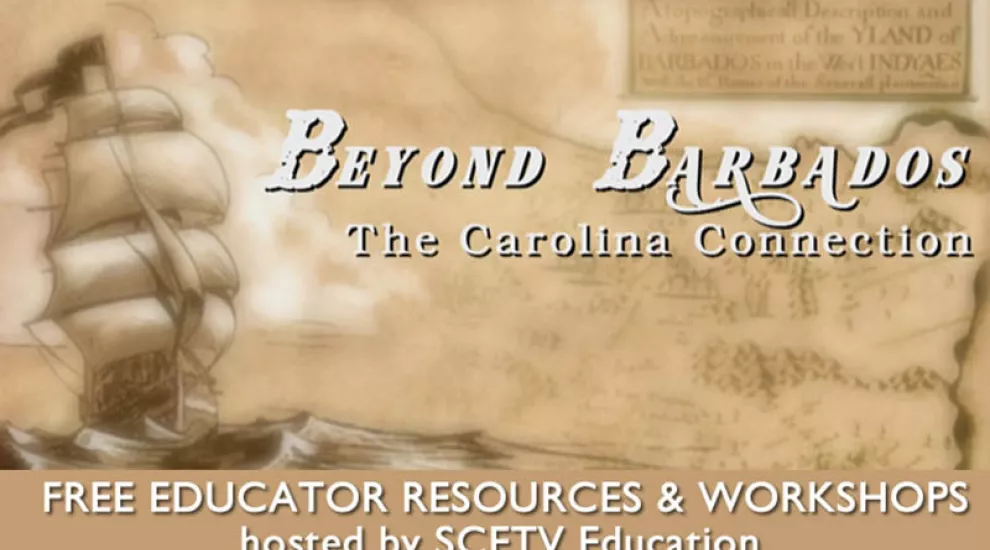 Grant funding for Beyond Barbados: The Carolina Connection supports the following educator workshops. SCETV and partners will showcase a viewing of the documentary along with planned activities. 
Check out upcoming workshops that have been planned across the state of S.C. in Fall 2019 below or download the flyer.
BARBADIAN SOUL FOOD SEMINARS
Charles Town Landing
August 1, 2019
Barbadian Emancipation Day and Crop Over
10am – 3pm
AGENDA
9:30am  
Registration & Pre-Seminar Activities
10:00am – 11:15am
Welcome, Introductions, & Beyond Barbados Screening
11:15am – 12:15pm
Barbadian Soul Food Demonstration with Chef BJ Dennis 
12:15pm - 1:15pm
Culinary Connections of the Atlantic World: South Carolina and Barbadian Foodways
Dr. Andre Key, African American Studies, Claflin University
1:30pm - 2:30pm                            
Cooking in the Classroom
Chef April Mazyck, Burke High School Culinary Arts
SONGVERSATION IN STUDIO: BARBADIAN MUSIC
Claflin University
August 2019
Barbadian Emancipation Day & Crop Over
Featuring a musical performance that includes a Tuk Band (i.e. Barbadian musical ensemble)
The Power of Percussion: Sonic Literacies & Barbadian Instrumentation  - Explore the percussive sounds of Barbadian music and introduce interpretative frameworks for engaging in the art form.
Crop Over/Carnival: Performing & Celebrating Culture - Discuss the connections between music and dance in Barbados and South Carolina.
It's a Vibe: Celebrating Musical & Human Harmony Explore strategies for using music as a teaching tool and as classroom climate control.
BARBADIAN TEACH IN
Lander University & Denmark Technical College
November 2019
BARBADOS INDEPENDENCE MONTH & AMERICAN EDUCATION WEEK
This is the only workshop where educators are expected to view the documentary prior to the session.
Incorporating Arts into the Basic Curriculum - Discuss strategies for integrating arts into core curricula areas depending on the grade level and subject matter.
Paired Curriculum Development - Work with a teaching mentor to create lesson plans using the Barbados documentary.
Direct questions to Dr. Stephanie Frazier VP Education, SCETV 803.737.3528 / sfrazier@scetv.org