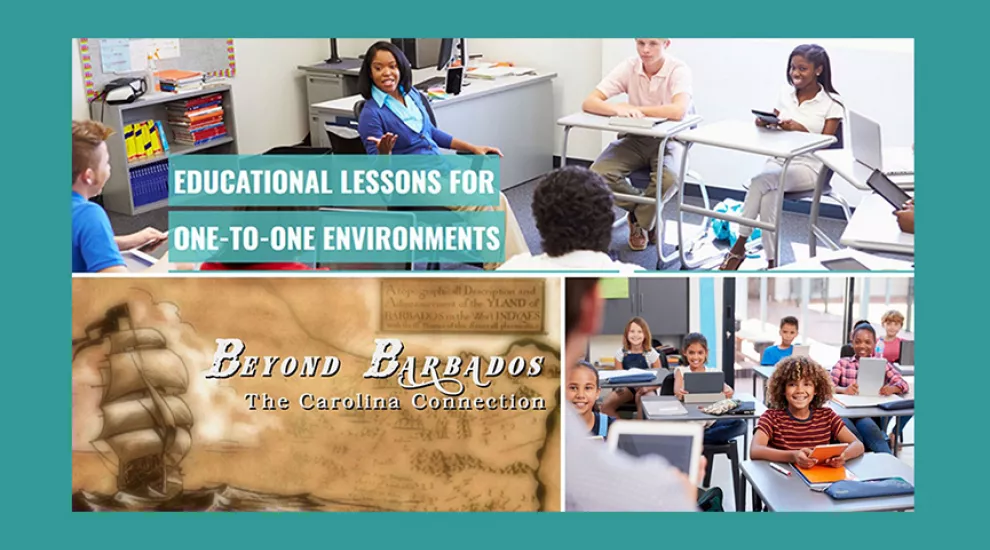 On June 20, ETV premiered a one-hour documentary exploring the history and cultural connections between Barbados and South Carolina. Beyond Barbados: The Carolina Connection traces the extensive ties between the colonization of South Carolina and the West Indian island.
ETV has developed a series of educational resources and workshops to support use of the documentary in the classroom.
A series of one-to-one lesson plans are available on ETV's LearningWhy platform.
The lesson plans support each of the six documentary chapters and are aligned with the South Carolina Social Studies standards. Additional lesson plans are in development to support other curriculum areas.
ETV will incorporate these lesson plans, along with other Barbadian-themed content, into a series of educator workshops throughout the state this Fall.
The first workshop took place on August 1 at Charles Towne Landing in Charleston, S.C. In celebration of the Barbadian Crop Over and Emancipation Day, the sessions focused on Barbadian Soul Food and featured presentations from Chef BJ Dennis, Culinary Chef April Mazyck of Burke High School, and Dr. Andre Key of Claflin University. Attendees were also able to view a screening of the documentary. Remaining workshops are being scheduled throughout the Fall.
ETV is excited to introduce innovative ways to integrate Barbadian culture into South Carolina classrooms.
For more information about the workshops, visit: https://www.scetv.org/stories/education/2019/etv-education-workshops-beyond-barbados-carolina-connection.