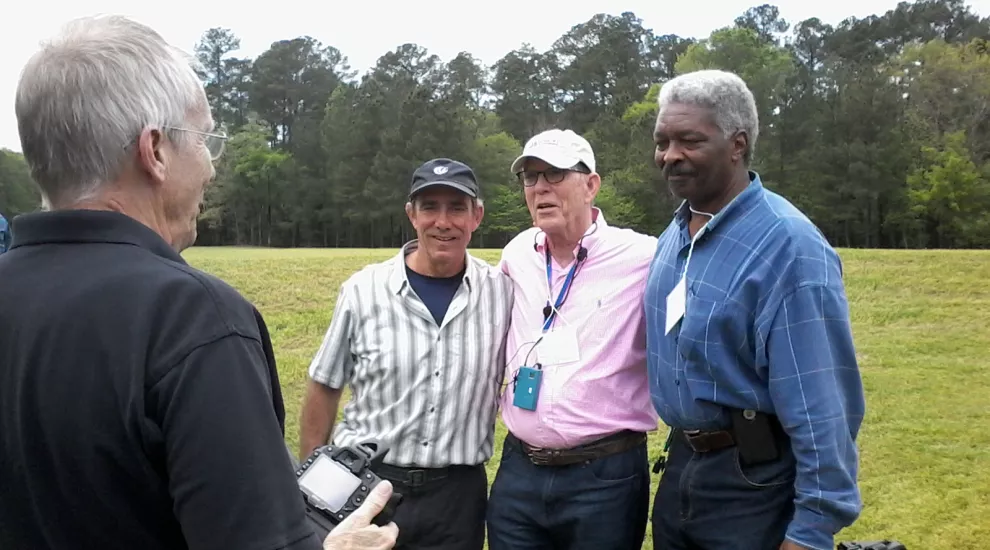 On day two of the ETV Endowment's Southern Campaign Tour, visitors got a chance to see Old Ninety-Six National Historic Site, in present-day Greenwood County, South Carolina. Around the time of the Revolution, Ninety-Six was not just a British stronghold; it was also an important trading post for colonists, and Native Americans, namely the Cherokee. During the tour, Dr. Walter Edgar, and Ranger John Slaughter showed visitors significant features of Old Ninety-Six, including a stockade fort, the site where the old town once stood, the "Star Fort", the trenches dug by General Nathanael Greene's Patriot forces, and the outline of the tunnel dug by patriot soldiers under command of Colonel Thaddeus Kosciuszko, a Polish military engineer. 
The "Star Fort" would be the location of not one, but two major engagements: one in 1775, and another in May through June, 1781. The latter of the two battles was the larger engagement. It was here at this "Star Fort" where South Carolina's first casualty of the American Revolution fell, in 1775: James Birmingham, a member of the Long Cane Militia, under command of Major Andrew Williamson.  The second battle at the "Star Fort" was part of Gen. Nathanael Greene's campaign to clean up the backcountry of British occupied strongholds. From May 22 through June 18, 1781, Gen. Greene laid siege to the "Star Fort." In addition to digging trenches to get closer to the fort, patriot forces also dug an underground tunnel, with the goal of placing explosive charges underneath the fort, to blow it up from the inside. Upon hearing news that British reinforcements were coming, the tunnel was never finished, and Gen. Greene retreated from the "Star Fort." Although Gen. Greene had more troops, the loyalists' defenses held, and the fort was never taken.
Ninety-Six was named a national historic landmark in 1973, and a special re-enactment honoring the 225th anniversary of the battle took place in 2006. 
Coming up next: Historic Brattonsville