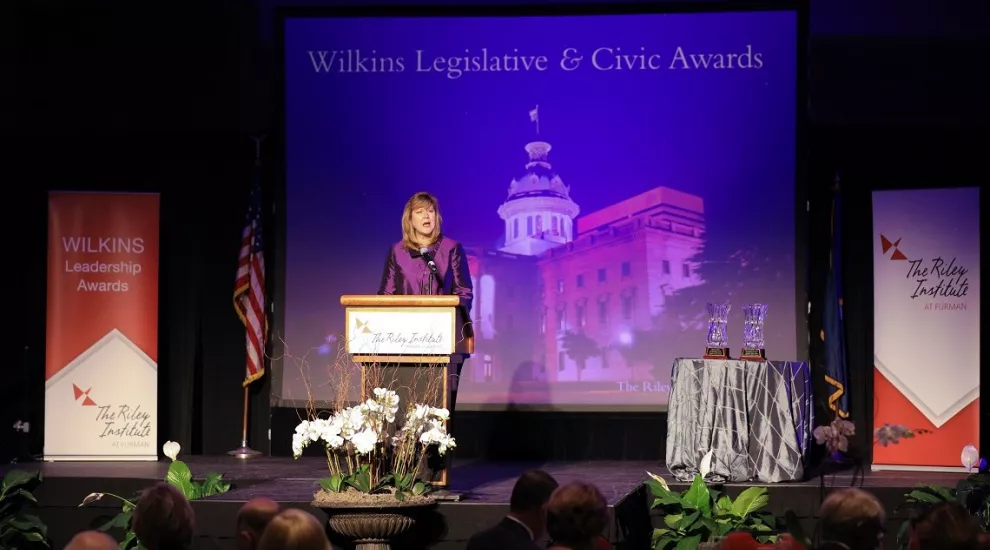 Furman University's Riley Institute has announced that Rep. Weston Newton (R-Beaufort and Jasper Counties) and Maj. Gen. Charles F. Bolden Jr. (USMC-Ret.), former astronaut and head of NASA, are recipients of the David H. Wilkins awards recognizing outstanding legislative and civic leadership in the state.
The winners will be honored at the13th annual awards ceremony and dinner, which takes place at the Metropolitan Convention Center in Columbia on Tuesday, Jan. 9, 2018, the first night of the legislative session. 
Receiving the David H. Wilkins Award for Excellence in Legislative Leadership is Rep. Weston Newton. He was elected to the S.C. House of Representatives in 2013 and is known for working across the aisle on legislation that improves the lives of South Carolinians. He is the chairman of the Legislative Oversight Committee and also serves on the Judiciary Committee.
Maj. Gen. Charles F. Bolden Jr. will be honored with the David H. Wilkins Award for Excellence in Civic Leadership. He served as the 12th Administrator of the National Aeronautics and Space Administration (NASA) under President Obama and was born and raised in Columbia, S.C.
Bolden was an astronaut and naval aviator. He retired from the Marine Corps in 2003, and his many military decorations include the Defense Superior Service Medal and the Distinguished Flying Cross. He was inducted into the U.S. Astronaut Hall of Fame in May 2006.
"At a time when civility in public discourse and cooperative bipartisanship are critical to making progress, South Carolina's citizens look to their leaders to put aside differences and work together for the good of our state," said Don Gordon, executive director of the Riley Institute. "Weston and Charles exemplify the kind of leadership that moves our state forward."
The annual awards are named for David H. Wilkins, who served as speaker of the S.C. House of Representatives and as U.S. Ambassador to Canada. Wilkins will co-host the event with former U.S. Secretary of Education and former two-term Governor of South Carolina Dick Riley and Furman President Elizabeth Davis.
Tickets for the event are available by visiting the Riley Institute website.