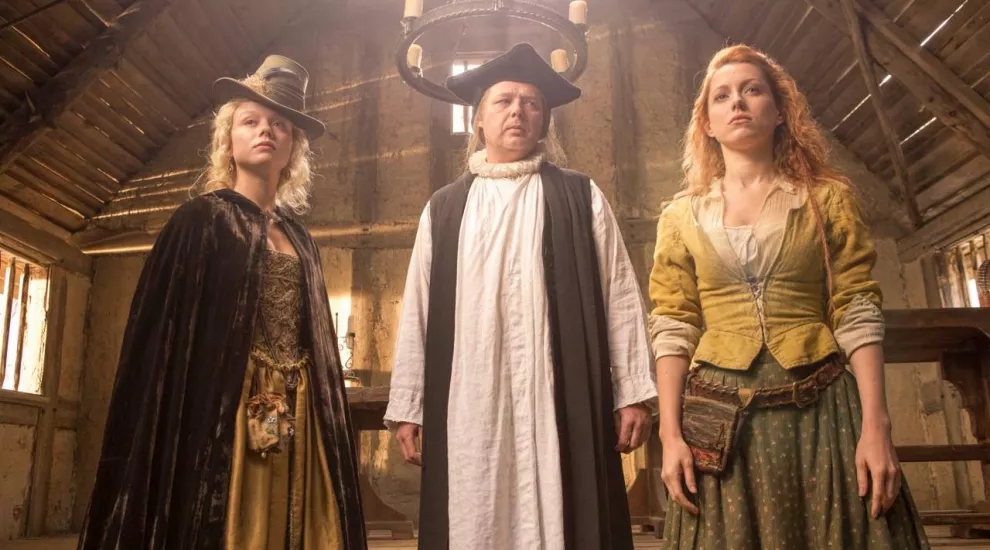 Coming exclusively to PBS Masterpiece Amazon Channel AND SCETV Passport starting this Friday, March 23, 2018 is the new series Jamestown.
From the producers of Downton Abbey this new dramatic series follows the lives of three courageous, dynamic women who decide to leave their dark pasts behind in England, and make the journey of a lifetime across the ocean for a new life in 17th Century America.
Taking viewers back to 1619 Jamestown, Virginia, Alice, Verity and Jocelyn are among the first women to arrive in the English colony. Duty bound to marry the three men who have paid for their passage to the New World, they have little idea of what the future holds or the disruption their arrival is about to bring. Twisting storylines follow the new arrivals as they make an immediate impact and are thrust into a new world of love, desire, power and survival. While love triangles, bitter rivalries and fierce competition cause conflict for the residents, ultimately they are bound together by their resolute will to survive and thrive in their new lives.
The ensemble cast includes: Sophie Rundle, Niamh Walsh and Naomi Battrick as the leading female roles. The male leading roles include Max Beesley, Jason Flemyng, Kalani Queypo and Raoul Trujillo.
Written by Bill Gallagher (Lark Rise to Candleford, The Paradise), a new episode of the series will be available each Friday on PBS MASTERPIECE Amazon channel by subscription.  JAMESTOWN will also be accessible to stream immediately via PBS Passport, a member benefit for PBS station donors that offers extended access to a rich library of public television programming (contact your local PBS station for details).
Jamestown is produced by Carnival Films, an NBCUniversal International Studios company, and executive produced by Gareth Neame, Nigel Marchant (the producers of Downton Abbey), Richard Fell and Gallagher, and produced by Sue de Beauvoir.
"PBS Distribution is thrilled to offer this new drama series from the producers of Downton Abbey to audiences through both PBS Passport and the PBS Masterpiece Amazon Channel," said Co-President of PBS Distribution, Andrea Downing.
The series is distributed worldwide by NBCUniversal International Distribution.
About Passport
SCETV Passport is a member benefit, which provides ETV Endowment donors extended on-demand access to a rich library of quality television programming online and via mobile devices. This is one of many benefits that the ETV Endowment provides its donors, along with the SCENE program guide and the Endowment MemberCard.  Join for Access to SCETV Passport