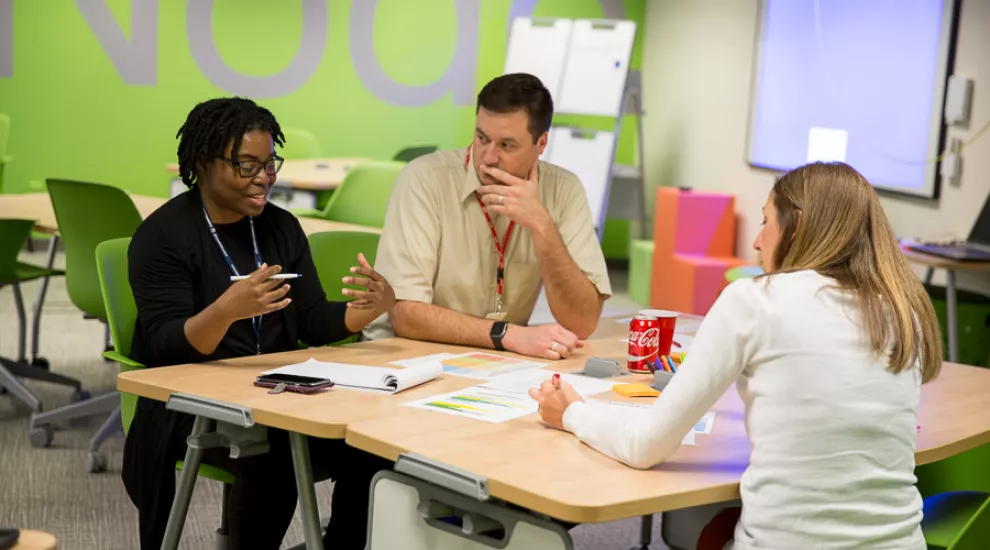 The Digital Immersion Project, developed by PBS Digital with support from the Corporation for Public Broadcasting, is a unique opportunity that mixes in-depth training, hands-on workshops, and collaborative mentorship to improve overall expertise in digital strategies and tactics. The professional development program also focuses on strategic and organizational tactics, with the selected participants being able to draw on the project's learnings and a national network of public media contacts to further digital success at the local level. 
The first year for the project was 2017, during which 25 public television professionals came together from all around the country. All year long, each participant has been working on a Digital Strategy exercise that takes the project's learnings and maps them to the station's goals, complete with tactics and deliverables. 

SCETV's Digital Media Manager Tabitha Safdi shared this interview. Special thanks to McWaters for providing SCETV with an innovative space to take the team's ideas and turn them into goals.  
How did you choose what you wanted to focus on?
For the PBS Digital Immersion Project, I knew I wanted to focus all of my efforts on highlighting SCETV's already existing digital assets, building and establishing new digital avenues, and streamlining other digital assets. I wanted our goal of delivering quality content that educates, informs and enriches the lives of our audience on TV and Radio...to be the same for a digital experience, sprinkled in with some digital engagement. To do all of that, we needed to focus our efforts around establishing concise goals to meet a digital strategic framework.  
What steps did you take toward achieving your goal, or getting close to it?
This goal has many layers. From the beginning, I knew this was something I couldn't do on my own, so with the blessing and trust of SCETV's executive team, we created an agency-wide Digital Strategic Team. The team consists of 16 people from different SCETV departments, a representative from our Endowment, and an outside digital contractor to bring in a fresh perspective. The thought behind making the team agency-wide was that everyone has ideas, and this way, we can all start talking and formulating new concepts, while at the same time breaking down some of the silos that exists in any agency.
The Digital Strategic Team's deliverable is a broad recommendation to the executive team for SCETV and SC Public Radio's overall digital strategy. Brainstorming was a huge part of what the team experienced in its first few meetings, as we identified what was working, what was not working, and also what we are totally missing the boat on. Our focus was completely on our audience…how we engage them and, ultimately, how we can make their lives better.   
What are your most valuable lessons from this process?
There have been so many valuable lessons from this process. I remember that at the first meeting that we had, as a Digital Strategic Team, and looking back, I probably looked funny as I stared around the room and paused…marveling at all of the unique qualities, backgrounds, and combined knowledge of this group of people that, for the most part, have never worked together on a project before. It was amazing, the ideas everyone came up with on that first day.
Another valuable lesson I've learned from the PBS Digital Immersion Project process has got to be…to never underestimate the power of the digital measurement model. Taking ideas and mapping them out through defined tactics, KPIs, and setting target launch dates is something that will clearly turn an idea into a goal with a deadline. There's something empowering about that.
One of my favorite things in the PBS DIP process was that we all got mentors! I feel like I fan girl when I say Colleen Wilson is the most amazing mentor. Simply, she's innovative. I took all of her ideas for brainstorming and lightening demos, and intertwined them into the whole team-building process. Her guidance is something I couldn't have lived without. And despite the crazy time zone difference, she always made herself available. That's something about this experience that I'll always treasure.
Max and Leif have been such an asset to me and to SCETV. Their response rate on emails is like nothing I've ever experienced before…it's got to be over 100%, if that's even possible. They answer every question I have and are always totally excited. They are always ready to lend a hand. They are amazing.
The entire process of the PBS Digital Immersion Project is, on a professional level, completely valuable, but personally, I feel like I have 30 new friends within the PBS network.
How will your station benefit from your participation in the project?
I think that South Carolina ETV has already benefitted from my participation in the project. I say "my participation" very loosely because it's not something I did by myself. These were not all my ideas. It was a complete network-wide participation in a project that forced us to jump out of our comfort zone and to talk about the hard stuff. We had to identify the things that weren't working. We had to identify the things that we were missing the boat on. That's tough stuff. But creating a new digital strategic framework….watching people who don't normally see each other in a day talk about how they can benefit from working with each other…that's the fun part. Because of PBS's Digital Immersion Project we have clearer digital goals. We have a plan of action. We are now building for the future.  
Photos taken at McWaters.