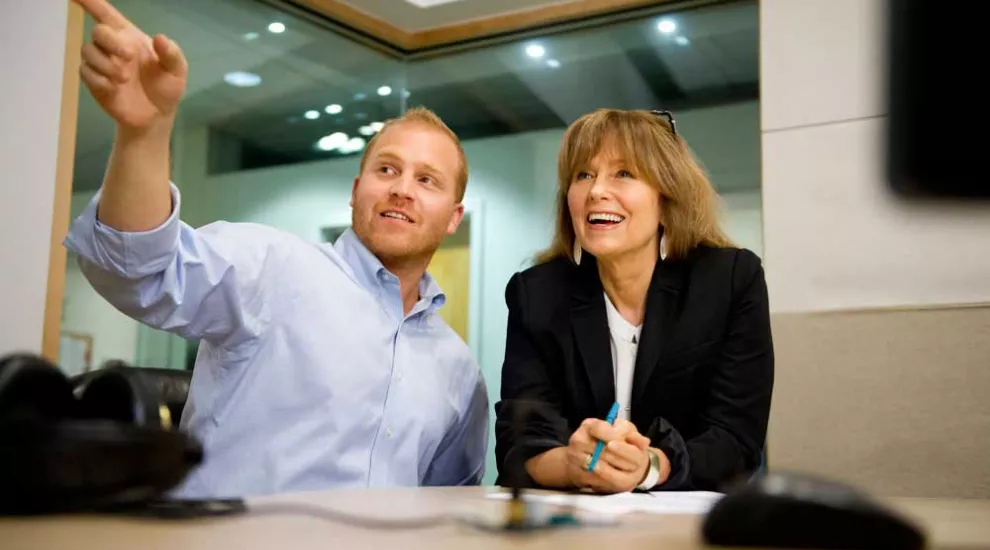 Here and Now, the weekday news program from NPR, will broadcast live from the S.C. Public Radio studios Thursday, Feb. 18 and Friday, Feb. 19.  The program will be covering the day's news, with an emphasis on both upcoming South Carolina primaries.
Co-hosted by award-winning journalists Robin Young and Jeremy Hobson, Here and Now has a daily lineup which includes interviews with NPR reporters, editors and bloggers, as well as leading newsmakers, innovators and artists from across the U.S. and around the globe.  Hobson will be anchoring from our Columbia studios.
Here and Now has been hosted by Young for more than a decade. A Peabody Award-winning journalist, she has reported for NBC, CBS and ABC television.  Before joining Here and Now, Hobson hosted the Marketplace Morning Report, a daily business news program with an audience of more than six million. As host, he interviewed some of the most powerful people in business including Warren Buffett, Bill and Melinda Gates and Richard Branson.
Here and Now reaches an estimated 3.7 million weekly listeners on over 424 stations across the country.  It can be heard weekdays at noon on S.C. Public Radio's news service, and at 1:00 p.m. on the classical service.
On Saturday, Feb. 20, NPR's South Carolina GOP Primary and Nevada Democratic Caucuses Special will air for two hours, from 8:00 p.m. until at least 9:00 p.m.  The Democratic Primary coverage will air one week later at the same time.
Ari Shapiro and Michel Martin will host the South Carolina/Nevada special. NPR's coverage will feature candidate speeches, newsmaker interviews, and analysis from NPR's National Political Correspondent Mara Liasson, Senior Washington Editor and Correspondent Ron Elving and Political Director Domenico Montanaro, along with polling insights from Democratic Pollster Anna Greenberg of Greenberg, Quinlan, Rosner Research and Republican Pollster Patrick Ruffini of Echelon Insights.
NPR's reporters will be joining in from remote sites in both states. Tamara Keith will be reporting from Nevada. Don Gonyea and Sarah McCammon will be in South Carolina.