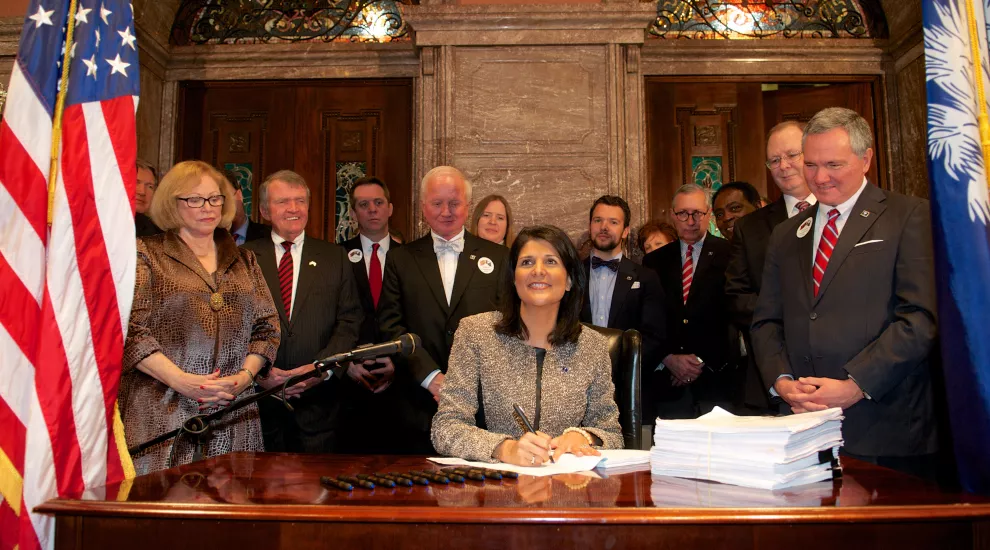 COLUMBIA, S.C. – Governor Nikki Haley joined with former Governor Carroll Campbell's wife, Iris, and his sons Carroll III and Mike, as well as numerous members of the General Assembly, today in a ceremonial bill signing for S.22, the South Carolina Restructuring Act of 2014.
The most comprehensive and important government restructuring in South Carolina in over 20 years, S.22 abolishes the outdated, five-member Budget and Control Board and creates the Department of Administration – streamlining government processes by creating a cabinet agency that is responsible for executive and administrative functions.
"Signing this bill into law has been a long time in the making and when you look at the decades that restructuring has been debated between our two chambers, it is truly amazing that we can say we passed a strong restructuring effort and we did it together," said Gov. Nikki Haley. "This general assembly, this administration, and now the people of this state are witnessing something that I know will make all South Carolinians better off for generations to come."
"Today is representative of everything that Carroll Campbell stood for," said Mike Campbell. "He was dead set against big government. He always felt that government should be a help and not a hindrance to the people. That there needed to be accountability, efficiency and savings of tax dollars. Behind the leadership and tenacity of Governor Haley, these people behind me were able to put politics aside and come together to make a meaningful change to our government." 
Currently, 49 states have a Department of Administration, or something comparable, through which an appointee of the governor oversees the state's back office functions, including human resources, information technology, real estate and facilities, budget development, and fleet management.
The creation of a Department of Administration means that each agency will no longer be its own independent entity but now connected to the other state agencies. By improving coordination across the system – through cooperative purchasing, shared services initiatives, and common technology standards – the Department will improve results and save money.
In addition, a Director of Administration, answerable to the governor, can establish a unified vision for the agency, and is more likely to be held accountable for his or her performance and the agency's performance.
"Fundamentally changing the way government operates by challenging the status quo never comes easy, or quickly. Today's bill signing caps off a monumental reform effort that spanned multiple legislative sessions and two different gubernatorial administrations," said House Speaker Bobby Harrell. "Taxpayers want a smaller, more efficient and more accountable state government, and with DOA now signed into law, that is exactly where South Carolina is headed."
So what does S.22 do? 
Creates a Department of Administration that consists of the Division of State Information Technology, Division of General Services, Office of Human Resources, Nuclear Advisory Council, Office of Executive Policy and Programs, and the new Executive Budget Office (to include portions of the current Office of State Budget).
Replaces the Budget and Control Board with the State Fiscal Accountability Authority (SFAA), to oversee the Insurance Reserve Fund and the Procurement Services Division.
Establishes the Revenue and Fiscal Affairs Office, to consist of the Board of Economic Advisors, Office of Research and Statistics, and elements of the Office of State Budget.
Transfers the State Energy Office to the Office of Regulatory Staff.
Majority of reorganization takes effect July 1, 2015, but the Executive Budget Office and Revenue and Fiscal Affairs Office will launch on July 1, 2014.
Requires that the SFAA begin a strategic sourcing initiative by December 31, 2015.
Directs the SFAA to produce a report to the governor and the General Assembly by June 30, 2016, with recommendations for making additional changes to procurement-related statutes and regulations that would reduce costs and improve services.
Obligates the Director of Administration to submit a report by December 31, 2015 that identifies the most appropriate organizational placement for each component of the Office of Executive Policy and Programs.
Establishes a new legislative oversight process through which the House and Senate will separately review the operations of state agencies on a rotating 7-year schedule.