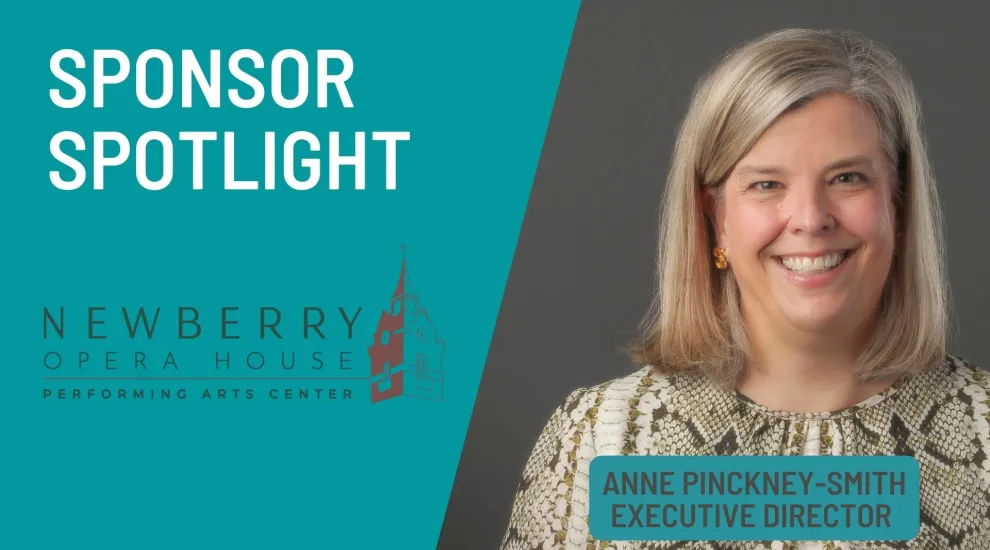 Sponsor
Newberry Opera House
Anne Pinckney-Smith
Executive Director
Newberry Opera House celebrates its 25th season by bringing a variety of acts crossing a range of genres, for which the Opera House is widely known. They kick off September with Scottish singer-songwriter KT Tunstall on September 7, followed by country music artiste The Oak Ridge Boys on September 15 and Ricky Skaggs & Kentucky Thunder on September 16. Jumping genres mid-month, the Opera House will feature a piano concert performed by Newberry College's Dr. Sarah Masterson, who presents a unique look at Philippa Schuyler, an almost-forgotten African-American composer and concert pianist from the early twentieth century. The month closes with humor and comedian Etta May & the Southern Fried Chicks on September 29. With such a wide selection of entertainment to begin the season, it is not surprising the Opera House is generally acclaimed as the "heart of Newberry County."
"Here we are, commemorating the 25th season of the Newberry Opera House!" exclaimed Executive Director Anne Pinckney-Smith. "I'm Continually awed by the journey we've taken and the incredible impact our institution has made on our region. Moving forward, our focus remains on maintaining the vitality of our institution, an integral cornerstone for cultural and economic development. This mission is made possible through the tireless support of our staff, volunteers, board and our wonderfully devoted patrons."
"When presented with the opportunity to support SCETV and Public Radio, we knew it was a perfect match. The parallels between our missions and clear; education, culture and dialogue in South Carolina, which not only aligns with our values, but it also allows us to contribute to the cultural enrichment of all of South Carolina in a broader way," said Pinckney-Smith.
The calendar is online at newberryoperahouse.com/shows-and-events. Look for Rossini's Barber of Seville in January!
1201McKibben St.
Newberry, SC 29108
(803)276-6264
For More information, visit www.newberryoperahouse.com
To become a sponsor contact Melanie Boyer, Corporate Sponsorship Manager, 803-737-3289 or via email at mboyer@scetv.org.