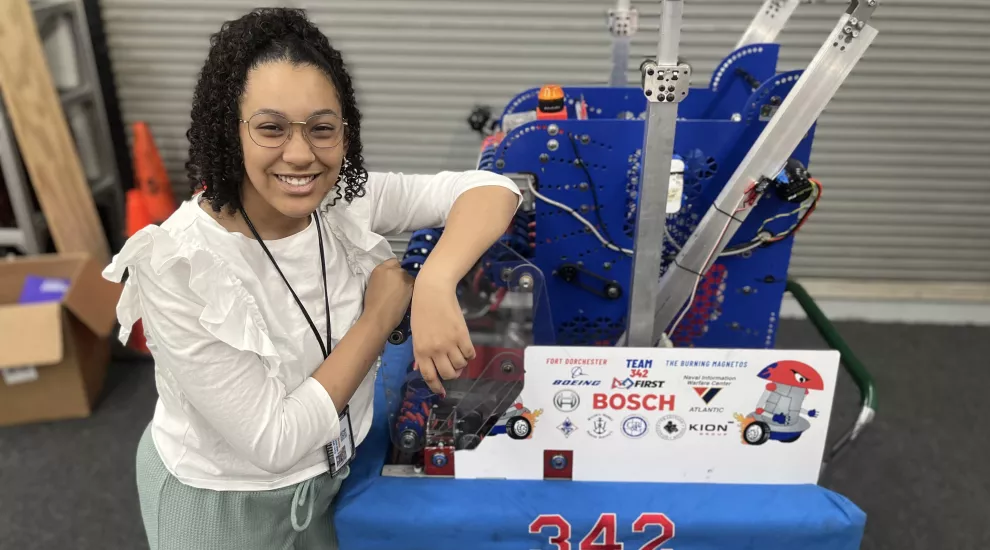 *This is a student guest blog.
"Speak a little louder. Stand tall."
These short phrases encapsulate the strength necessary to succeed in STEM as a woman. They linger in the back of my mind each time I address my team. Each time I answer a question. Each time that I give an opinion. Being a woman requires extra strength, and it has been recently that I made this observation. When I talk, my voice lowers in pitch, yet raises its intensity. My muscles are tense. I command the attention of all who are in my vicinity. A stout young lady of 5 feet 2 inches has to have the boldness of a towering pillar to be seen. My opinions act similarly. Earlier in my life, they crumbled at the appearance of opposing force, but now, it takes a few shoves. This strength doesn't come easily, and it is nowhere near natural for me. Although ambition, perseverance, and a dose of some self-love can take you relatively far. 
Where do I find my strength?
One of my favorite experiences thus far in STEM was attending a program with all girls at the University of Texas at Austin. Talking with other girls about our collective experiences working in various facets of STEM was fascinating. We were humorous and full of ambition. Working with girls was liberating. We all yearned for support, and support we did. I learned about leadership and took those skills with me. The project we created as a team was significant in the way it symbolized our love for STEM. 
Less recently, I took my first computer science course, AP Computer Science Principles, during my freshman year of high school. Of course, knowing my luck, this had to be towards the peak of the pandemic. Our school adopted a hybrid schedule (rightfully so), and we spent more than half of our school time not physically in the school building. Aside from my inability to go back to sleep early in the morning, my interest in CS fought off morning drowsiness and grew with each day. I cannot confidently say that the course taught me much about the details of computer science itself, but I learned what it truly meant to be a computer scientist; moving forward even when there seems to be no end in sight. My final project was littered with moments of uncertainty and blind tenacity. Every change to every line of code brought me closer to both success and breakdown.
That is, until I made it to the end. I spent days venting to my parents about the project. My teacher and I vigorously sought out solutions. In a brief moment of revelation, it all ended. Stress was replaced by euphoric pride. Within the span of a semester, I had seen all that computer science had to offer: creativity, struggle, and victory. It unearthed strength that was always inside of me, but I could not have found that strength on my own.
Thank you, Mom, Dad, and Shaniya. I understand that none of you are computer scientists, and most of what I say probably sounds like a dead language. Thank you for sticking with me during the process of developing my abilities as a programmer. I love and appreciate you all.
Thank you, Jack. Today, I feel your love in every text that checks up on me during a lengthy robotics meeting. You're always by my side when I need you. You illuminate my life, and I love you. 
Thank you, Wren. You were one of the only girls in our class, and I am glad we became friends and teammates. Continue being your jovial self.
Thank you, Connell. I didn't know you at the time, but you were busy making a mark on robotics that inspires me to match your sheer intellect. You have contributed to a space where your succeeding programming captain will be a girl.
Thank you, Mr. Neal. I have a feeling that I didn't always take your guidance, but I'm sure it stimulated my thought process anyway. You always believed in me and have lifted me to greater opportunities. Your dedication to STEM education is crucial to the future of South Carolina's students.
So, what does it take to enter STEM? It takes time combined with patience. What does it take for a woman to enter STEM? It takes all the courage in the world to step into a space and own it. Speak a little louder. Stand a little taller.
My journey in STEM has only just begun, and I implore everyone with any passion to chase theirs to the very end. May we all find joy in our field.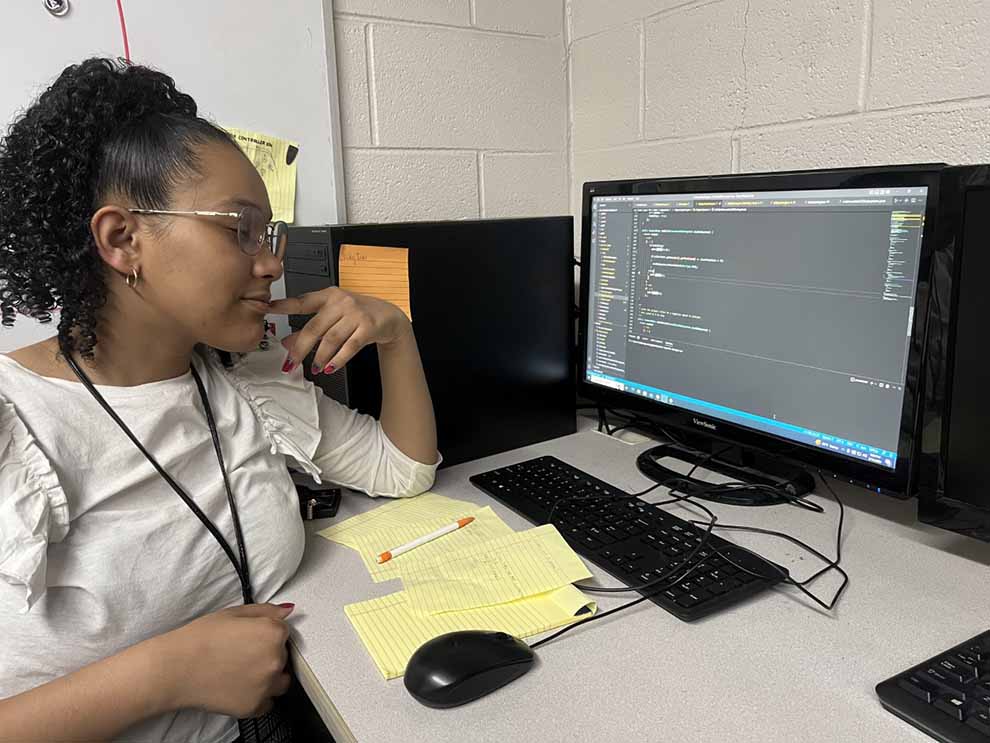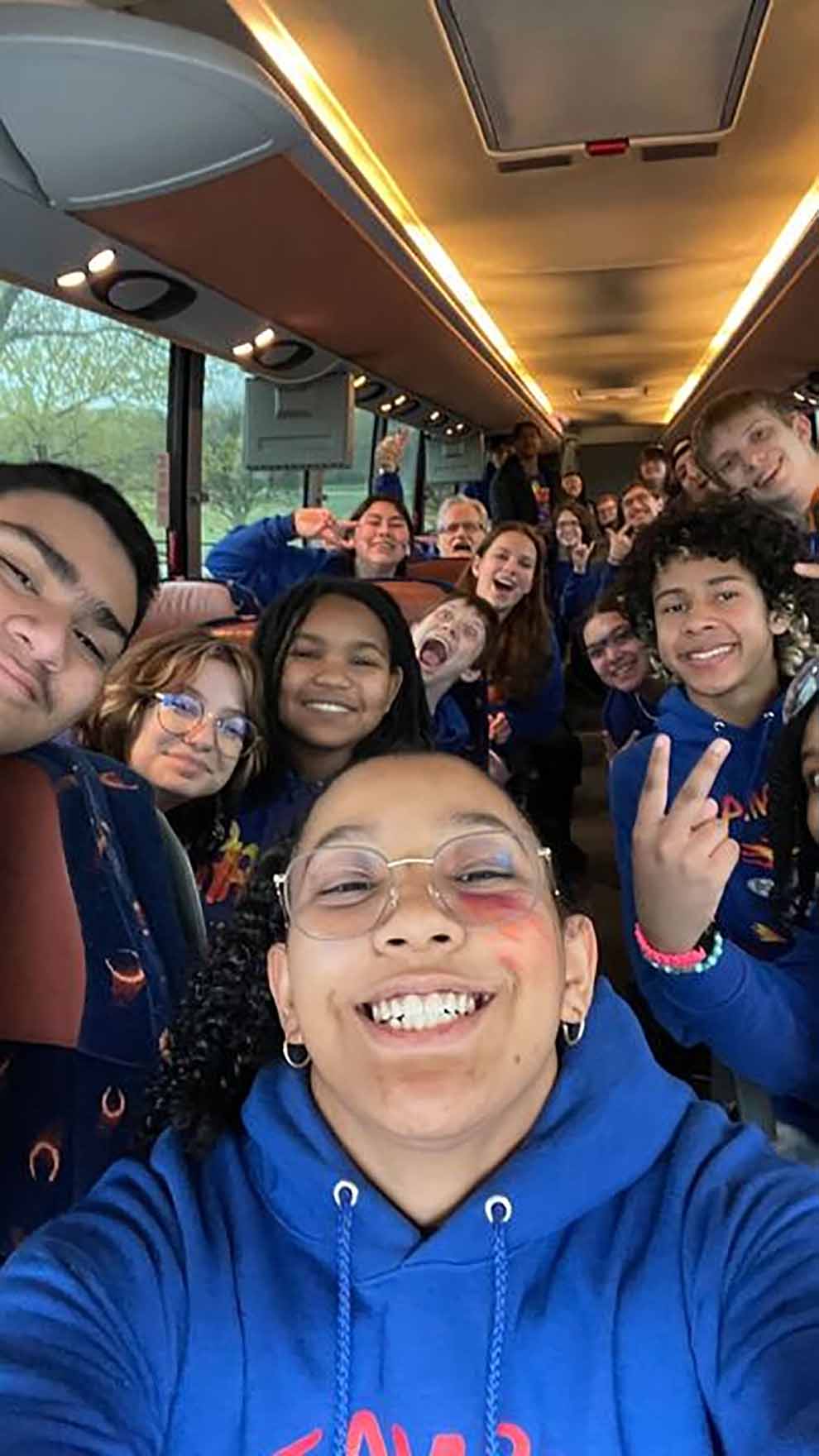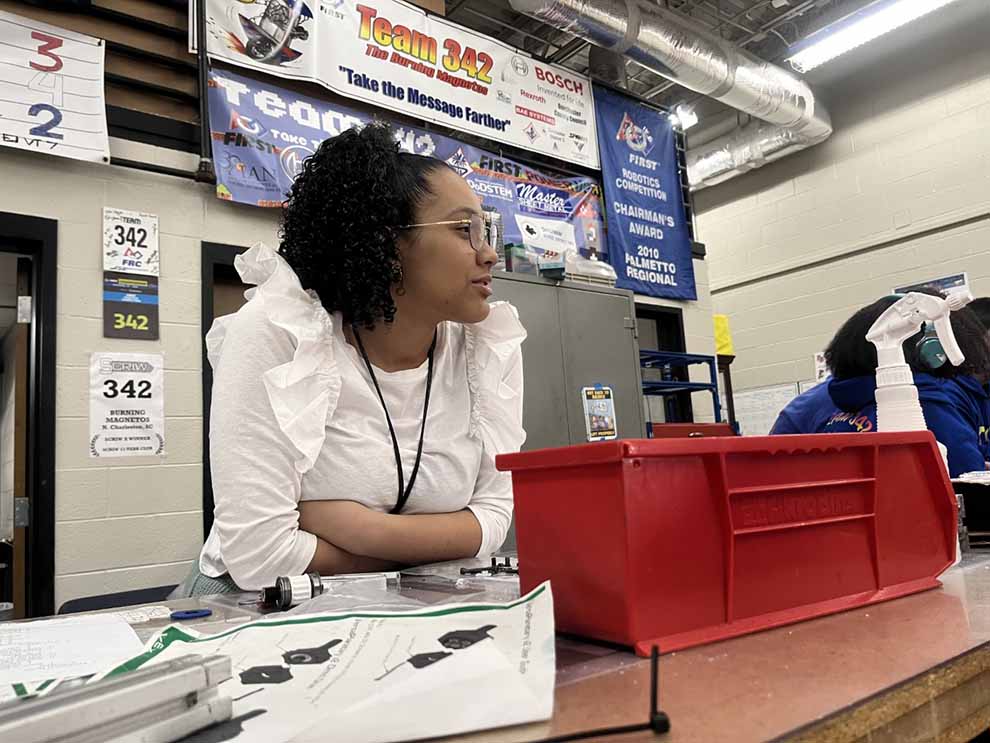 Bio (written by Matthew Neal, Fort Dorchester High School educator, Dorchester School District 2):
Victoria Zamora is an ambitious high school junior from Fort Dorchester High School in North Charleston, SC. Her interest in computer programming began at a young age through her participation in Hour of Code activities during elementary school. She continued to explore computer science through various summer camps, including a Girls Who Code program on cybersecurity and a robotics camp sponsored by Apple. In high school, Victoria challenged herself by taking advanced coursework, such as AP Computer Science Principles and AP Computer Science A, and joined the school's robotics team as a programmer, leading them to a silver-medal performance at the FRC district championships in Atlanta.
Victoria's drive to excel in computer science is evident in her participation in the University of Texas at Austin's Academy for Women and her upcoming attendance at the Carnegie Mellon Pre-college program this summer. Her experiences showcase her dedication to computer science and her passion for breaking barriers as a woman in STEM. Victoria is an inspiration for aspiring young women in the field of computer science, and her journey highlights the importance of programs like Hour of Code and robotics in fostering interest and encouraging participation in STEM fields.
* BE OUR NEXT GUEST BLOGGER! LEARN MORE. 
Note: This guest blog does not necessarily reflect the views of ETV Education.