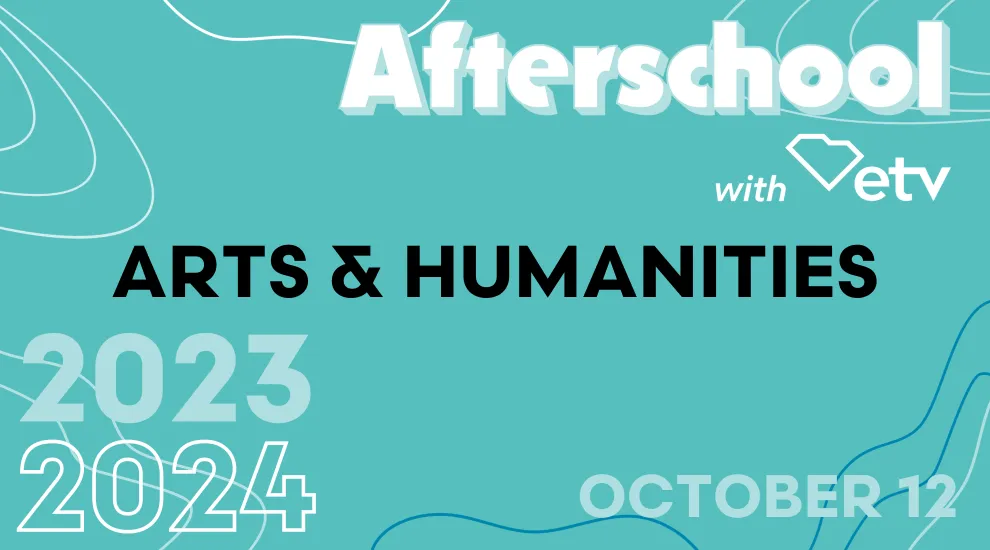 Join members of the ETV Education team for another session of Afterschool with ETV, Thursday, October 12, 2023.
Afterschool with ETV is a free one-hour virtual series offering educators an opportunity to learn about new and exciting tools and resources. Educators can choose to attend one of two planned session times, both conveniently offered shortly after school ends.
Grab your fellow educators and participate together! Attendees earn a certificate of participation for one hour of PD. *We also offer session recordings for those unable to attend the live events; see further below.
In response to topic suggestions and in honor of National Arts and Humanities month, the topic for our October 12 session will be "Arts & Humanities." This session will showcase SCETV Education resources that support and integrate with the Arts & Humanities. SCETV offers a variety of resources and services to support our state's educators, students and families; come and learn how to incorporate these resources into your learning community!
REGISTER NOW to participate in either our 3:15 - 4:15 p.m. session or our 4:30 - 5:30 p.m. session.
Also, save the date for our next two planned sessions; topics and start times will be announced via our ETV Education monthly e-newsletter (subscribe here).  
If you miss a session or would like to view recordings of past sessions, access our Professional Development At Home sessions via our ETV LEARN Moodle platform. Learners can view these recordings on-demand and then receive a certificate of participation. Registration is free, but you do need to create an account. 
Please share this information with your colleagues, and we look forward to connecting with you on Thursday, October 12, at 3:15 p.m. or 4:30 p.m.!