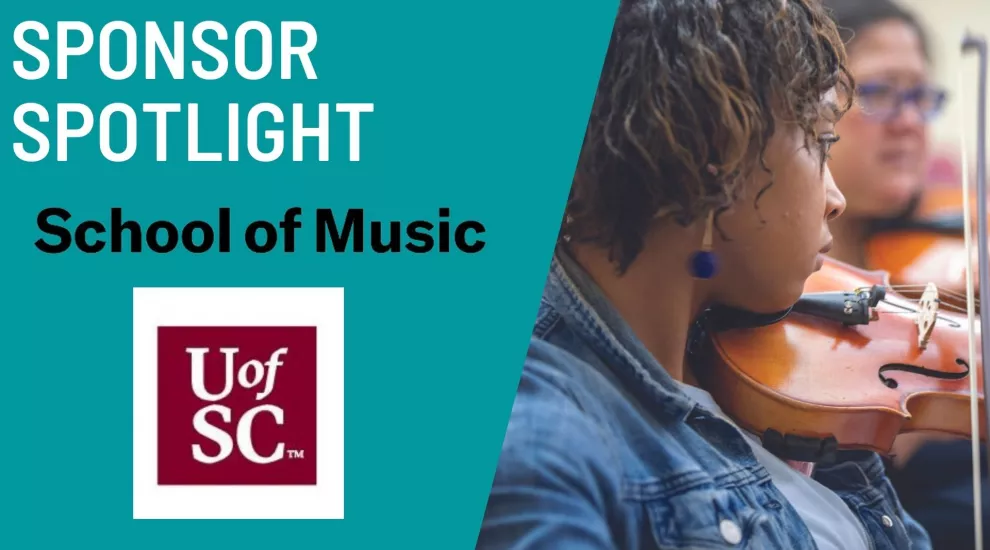 Sponsor
The University of South Carolina School of Music
813 Assembly St.
Columbia, SC 29208
The University of South Carolina School of Music prepares musicians for professional careers and leadership in music teaching, performance, composition, research and related fields.
Faculty teach more than 500 undergraduate and graduate music majors, including students specializing in almost every orchestra and band instrument, voice, piano, organ and guitar. The School of Music offers over 300 concerts and recitals each year, enriching university life and life in the Midlands, generally. Orchestras, choirs, opera, chamber ensembles and guest artist concerts take place in venues such as the Koger Center for the Arts, the School of Music's Recital Hall and Johnson Performance Hall in the Darla Moore School of Business.
The School also engages with the community through its MUSIC FOR YOUR LIFE program. The program provides access to affordable music enrichment opportunities by providing workshops, classes, camps, lessons and clinics.
Tayloe Harding, Dean of the School of Music, emphasized, "We believe music is an essential component of the human experience. Our mission is to prepare our students to be skilled music leaders to ensure that they advance the quality of life in their communities by unlocking music's unlimited potential to improve lives."
"The School of Music has established itself as a cultural and educational center of excellence for the state of South Carolina," says Dean Harding. "SCETV and SC Public Radio's mission of transforming communities with the power of music and the arts aligns with our core values, most especially our commitment to providing music listening, music-making and music learning opportunities not only to our students but also to all who seek them. We are grateful to partner with this impactful organization."
For more information, call 803-777-4280 or visit www.sc.edu/music
To become a sponsor contact Melanie Boyer, Corporate Sponsorship Manager, 803-737-3289 or via email at mboyer@scetv.org