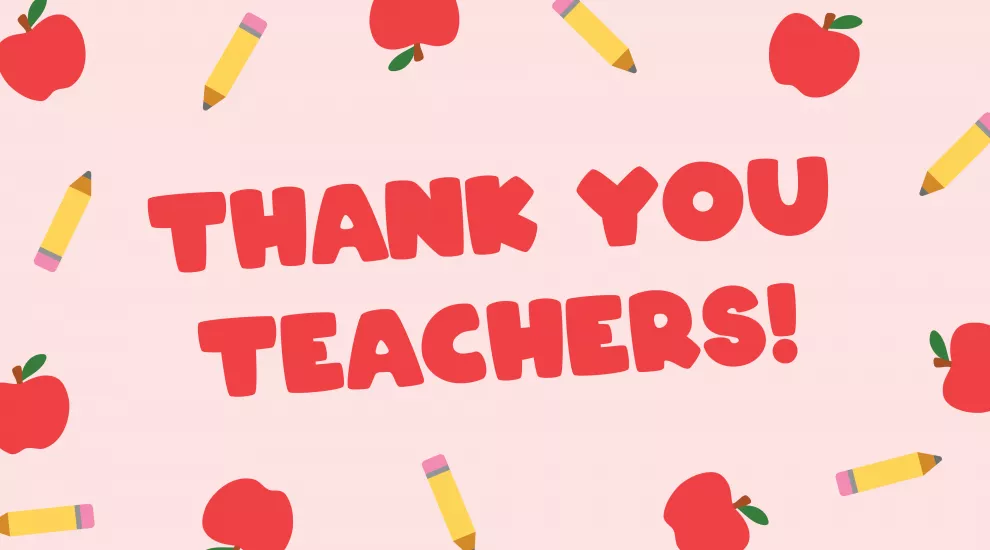 Better than a thousand days of diligent study is one day with a great teacher.     – Japanese proverb
As we do regularly, this week we are saying "thank you" to all South Carolina educators! As the Japanese proverb tells us, one day of interaction with a great teacher has the power to unlock new understandings, spark curiosity, and transform lives. The gravity of this unpredictable academic year does not escape us. We celebrate your tenacity and your contributions to cultivating our state's most valuable assets, our children. Teachers are the key to sustainability and in case you don't hear it enough, thank you, thank you, thank you! 
This year we will celebrate teachers with a social media Teacher Thank-a-Thon 
Follow us on social media for special messages and shoutouts to teachers in South Carolina. We have collected so many favorite teacher stories from our friends in the state and will share them for a collective celebration. We also want to hear about your favorite teachers. Find us on Facebook at South Carolina ETV and SCETV Education, Instagram at South Carolina ETV, and Twitter at @SCETV. 
Also tune in to the next episode of Carolina Classrooms: Celebrating Educators 
Join us on May 19 at 7:00 p.m. on ETV as we celebrate educators in South Carolina. Host Laura Ybarra will take you to the annual SC Teacher of the Year Celebration where district teachers of the year will be recognized, and five finalists along with the rest of us will find out who will be the 2023 SC Teacher of the Year. This Carolina Classrooms program will repeat on the SC Channel on May 19 at 10:00 p.m., and on ETV World on May 23 at 10:00 a.m.
Back to School Supply Wish List 
Each year, SCETV purchases teaching and learning materials to promote our services and resources. This year, we want to make sure the materials we purchase are the materials that are most needed for educators and students. Please take a moment and let us know what kinds of items you would hope to walk away with after an SCETV Education training, workshop, or conversation at a conference. We appreciate you.
To help us decide which items we will prioritize in this year's order, please click here.
These initiatives were designed as a demonstration of support for South Carolina's educators, but they only convey a portion of our gratitude for all that you do!