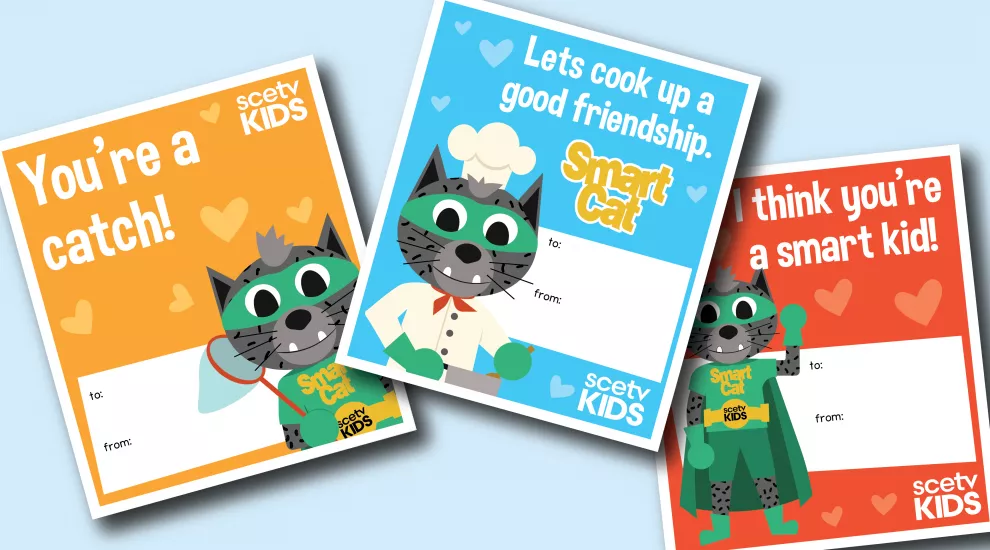 February may be the shortest month of the year, but it's all about light, love and the heart! From shining a light on notable African Americans and history, to sharing our love on Valentine's Day, and moving our bodies for heart-health, February has all the feels.
Warm young learners up with these Storytime with SCETV videos related to South Carolina African Americans and history:
Find more resources, including this lesson plan idea, African-American History Month: Enjoy and Learn from Great Resources for All Ages, on KnowItAll.org.
Ready to stretch now and move a bit? February is Heart Health Month so what better time to dedicate the month to moving with your students? Our Smart Cat exercise videos can help. 
Eating healthy is important, too, for heart-health, so February is a good time to talk about heart-healthy breakfast options like oatmeal with nuts and berries, whole-grain toast topped with avocado or banana slices and cinnamon, yogurt, or a hard-boiled egg. Then you'll be ready for National School Breakfast Week which will be celebrated March 7-11, 2022. (And if you're a teacher or community leader who would like your students to participate in National School Breakfast Week with us next month, please contact Ms. Bre Wilson, SCETV's Early Learning and Literacy Coordinator,. We'd love to collaborate with your class, school, or center!)
Speaking of love, February, of course, also includes Valentine's Day. Help young students print out our Smart Cat Valentine's Day cards and encourage them to give the cards to friends and family members – and their favorite teachers, too, like you! 
Finally, share the love with Arthur -- the PBS KIDS show about everyone's favorite aardvark will begin its 25th and final season this month! The final four new episodes will air February 21-24, 2022. After that, the show will only offer reruns. Visit the PBS LearningMedia Arthur Collection for related resources to help foster students' interest in reading and writing, and to encourage positive social skills. Spread the word, too, about the Arthur marathon running from February 16-21, allowing everyone a chance to get ready for the final episodes. Want to celebrate Arthur's 25th year with us? Again, please contact Ms. Bre Wilson. 
As you can tell, we want to support and engage with you! Please let us know your feedback about our resources and also if there are any specific needs you have. With feeling, the SCETV Education team!