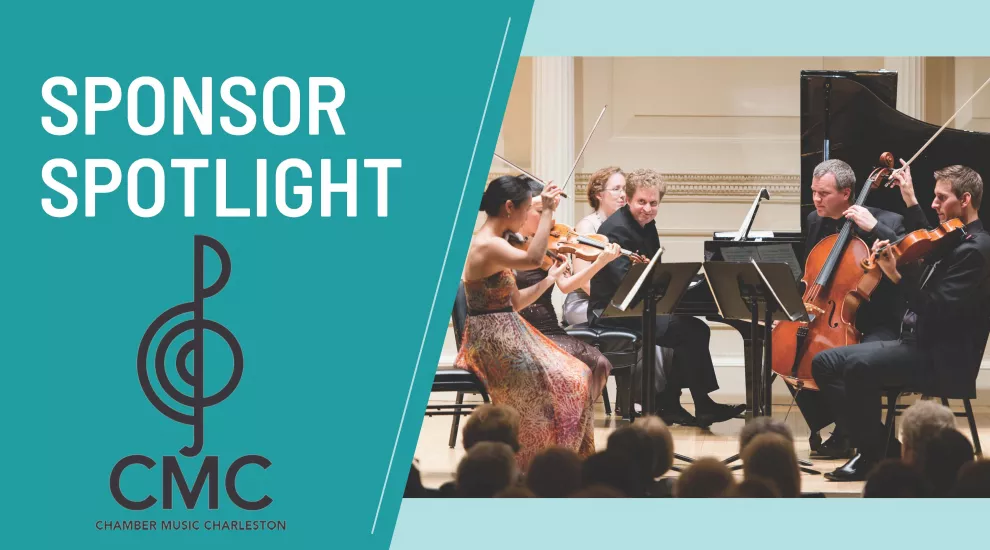 Sponsor
Chamber Music Charleston
Sandra Nikolajevs
President and Artistic Director
Chamber Music Charleston is a nonprofit arts organization founded in 2006. We began with the goal of bringing chamber music of the highest caliber to intimate venues of Charleston, South Carolina, primarily focusing on house concerts in the historic homes of downtown Charleston and the grand living spaces on Kiawah Island. We have since grown into an organization that presents over 50 annual performances, from House Concerts to larger scale chamber music concerts at the Dock Street Theatre and Sottile Theatre. 
Our chamber music concerts are unique in how the music is presented. We are able to break down the barrier between musicians and audience with entertaining and informative commentary before each piece is performed, and frequent interjections from the performing musicians. We aim to inspire and educate audiences of all ages—from our seasoned subscribers to the young audience members who join us for our "Classical Kids Concerts." This season we are especially excited about the guest artists who are joining us—from the legendary violinist, Midori, to the young virtuoso bassist, Xavier Foley.  Midori's approach to music education has actually inspired our new Youth Chamber Music Initiative. We are excited to not only have Midori perform a recital for us, but to also lead a chamber music master class with the students of our CMC TWO program.
Both our audience and that of SCETV and SC Public Radio value high-quality, thoughtfully presented content. This keeps us performing at a high level and even pushes us to continually reimagine and reinvigorate what we do—because we know it is expected of us. I am sure that it is the same for SCETV and SC Public Radio. We know the SCETV and SC Public Radio audience loves great music, and that is the audience we aspire to attract.
We are always attracted to the annual coverage that SC Public Radio provides for the Spoleto Festival—that adds such an air of excitement for the end of May and beginning of June. Some of our favorite programs include From the Top, where we get to hear the next generation of great classical musicians, and, of course, Performance Today, where we frequently hear our regular guest artists, such as Andrew Armstrong, perform.
Contact information:
PO Box 80072
Charleston, SC 29416
(843) 763-4941
chambermusiccharleston.org
To become a sponsor contact Melanie Boyer, Corporate Sponsorship Manager, 803-737-3289 or via email at mboyer@scetv.org.