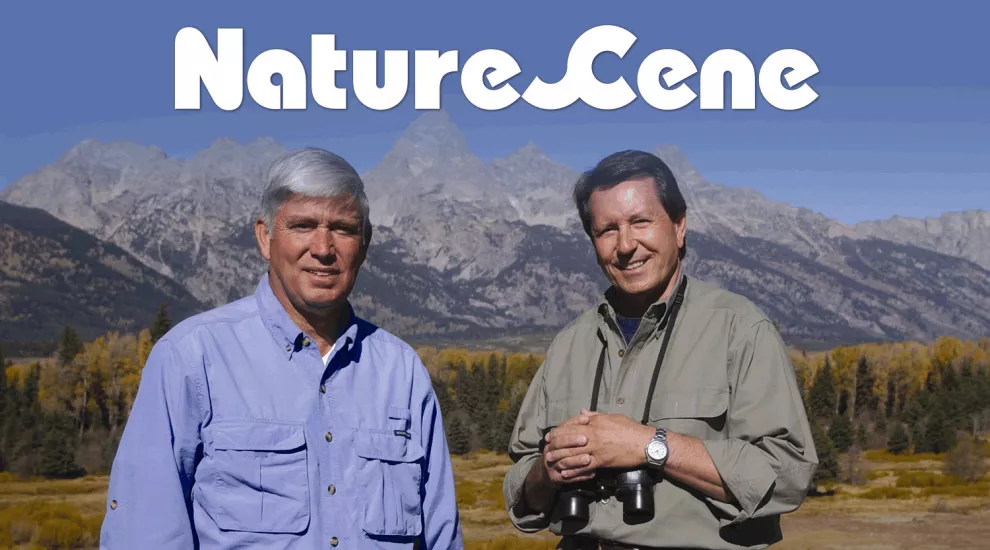 NatureScene, one of the most successful television shows at South Carolina ETV, took viewers on a nature-filled field trip throughout various beautiful environments across the United States. The show taught and engaged its viewers into learning about the beauty of nature. NatureScene was first hosted by Rudy Mancke and the series co-creator Beryl Dakers and then later by Jim Welch. Created in 1978, the show ran for 25 years on SCETV before ending in 2003. The series also aired nationally beginning in 1986.
Here are the top five reasons we love NatureScene and you should, too!
1. Authentic learning experience for all ages
NatureScene was one of the first television shows to take viewers on various expeditions through nature to learn about a variety of plants and animals. It became an educational tool for people of all ages, in and out of the classroom. Check out this episode in which Mancke and Welch take viewers on a nature walk through Congaree Swamp and come across a very interesting lizard. 
2. History in nature
The show provides an historical aspect as Mancke brings viewers through areas that have not been touched in thousands of years. Watch this episode as Mancke and Welch visit Appalachian Cove in South Carolina to learn about the history of a very old but beautiful forest.
3. Rudy Mancke and Jim Welch
Rudy Mancke and Jim Welch make the perfect team as they bring along their own originality to the show. Mancke and Welch have a dynamic way of asking and answering all the questions that are on our minds about nature.
4. Perfect for campers, hikers and all-around nature enthusiasts
Mancke not only taught about the beauty of nature but also about the plants and animals to avoid on nature trips. This was important information for campers, hikers and nature enthusiasts of all ages.
5. Views of nature throughout the world
Did you know that the show covered all 50 states and 10 countries? This show gave viewers a variety of beautiful locations and scenery. Click here to watch an episode produced in Arkansas. 
We are sure there are many other reasons to love NatureScene, so tell us what you love about the show by going to our Facebook page @SouthCarolinaETV and use the hashtag #NatureScene
For more episodes, click here: https://www.knowitall.org/series/naturescene