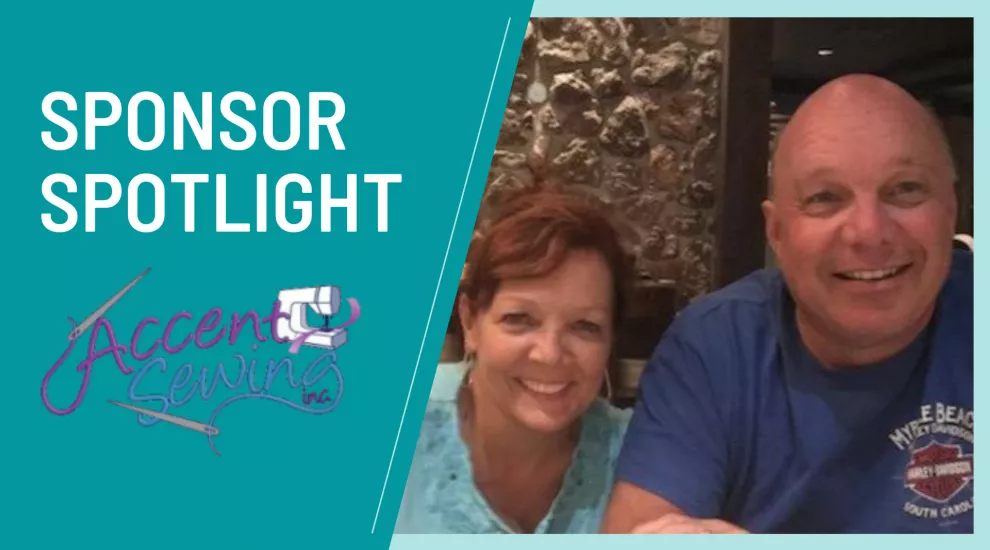 Sponsor: Accent Sewing, Inc.
Owners: Bob and Sheryl L. Smith
Although Sheryl Smith watched her grandmother sew on a Singer treadle machine as a child, the sewing bug didn't infect her until she was 19. Then, after 20 years in the insurance industry, Sheryl decided to take a part-time job at a local sewing store.
Eventually after working for several dealers, she and her husband, Bob, whom she met at a sewing conference, made the decision to purchase their own store, opening Accent Sewing in Murrells Inlet over fourteen years ago. As a new business in need of a marketing strategy, they looked for ways to maximize reach without breaking the budget.
According to Sheryl, "After researching several options, including commercial television and radio, billboards and newspapers, we found SCETV to be the best value for the money. The people we've worked with at the network have helped us every step of the way, and our sponsorship has definitely paid off." She goes on to say, "SCETV has helped us reach so many new customers. We are always having customers come in and say 'thank you' for sponsoring the sewing shows! Of course, my favorite programs are Love of Sewing and It's Sew Easy. I record them and watch them over and over."
Accent Sewing's partnership with SCETV helped the business grow and solidify its place in the community. A few years after opening, the Smiths made the decision to double in size, expanding their store to 4,000 square feet.
Sheryl says, "Being a part of the community has been a blessing. We have taught lots of children to sew with our summer camps as well as teaching classes for new sewers and quilters in our area. Sewing brings people together that have common interests and likes. Everyone has their own special gifts to contribute to each other.
Contact Information:
4410 Hwy 17 Bypass 87
Murrells Inlet, S.C. 29576
843-357-3228
www.accentsewing.com
To become a sponsor contact Melanie Boyer, Corporate Sponsorship Manager, 803-737-3289 or via email at mboyer@scetv.org.