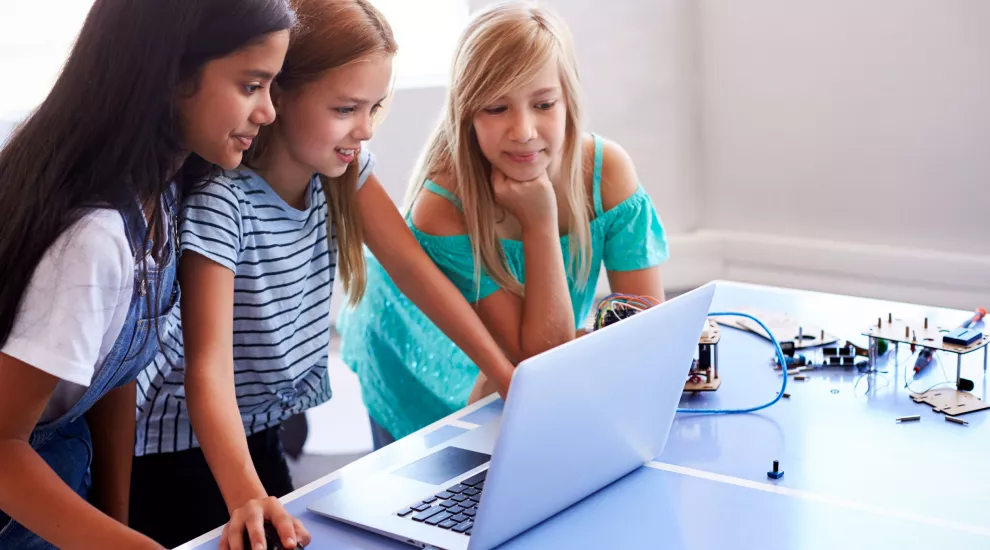 From our Educator Guest Blogger Series
Student A and their parents arrive for registration at Any Middle School in the USA. 
Student A's family relocated to the United States from Guatemala.  While registering, a district translator is present who assists Student A's parents with paperwork and all the information necessary.  Student A's parents wave goodbye and the student receives a tour of the school with one of the bilingual students.  Student A walks into a classroom where no one is bilingual and the teacher is talking, but Student A can't understand much of the lecture. 
Can you imagine starting a new school in a new country with a new language and culture?

As a science educator of 17 years, this scenario is becoming more frequent.  The South Carolina classroom today is more diverse than ever before.  One of the major challenges that English Language Learners (ELL) face like Student A is language.  Language is a tremendous barrier for many of these students. In addition, some students still struggle with the more common needs that are present with all students such as academic deficiencies, social wellness, and mental health trauma.

As a result, I knew that I needed resources that would help me address the unique needs of my ELL students.  I turned towards technology. Technology is opening the doors of communication between educators and students because of its easy accessibility.  In prior years, I would hope for a campus, district, or third-party translator.  Google Translate is helping me break down the barriers between ELL students and me. This Google product over the years has evolved into a very useful tool for non-speakers of any language.  In my classroom daily, it helps me assess, instruct, and communicate more efficiently and confidently.

In Google Translate, there are three features that are most helpful in the classroom setting: Conversation, Translation, and Upload (available online only).  These features are paramount in helping me support ELL students and communicate with parents or guardians.

Conversation
The Conversation feature within the app allows translation of your speech into another language aloud.  This is astounding because it allows for a more seamless conversation between you and your student in real-time.  In addition, all students do not come with the same academic abilities.  They may struggle with reading or writing in their own language.  The ability for a conversation with students helps build relationships.  It allows my students to feel seen, protected and supported within my classroom community. 

Translation of Text
The Translation feature allows you to translate any text into over 100 languages.  As an educator, I use this in my classroom for translating communication to parents or guardians and directions to students.  For example, I use this feature when posting in Google Classroom when constructing directions or composing science vocabulary lists.  This feature works especially well with Google Docs.  I can create a document in Google Doc, translate the file, and provide a copy for the student.  In addition, students can submit work in their primary language and I can translate the document.
Upload/Creation of student work
One of the major features of Google Translate is the ability to upload documents and translate them. I can upload various files such as PDFs, PowerPoint, Word, or even spreadsheets that I have created already.  This allows for easy differentiation of work until students are more confident with English.  Alternatively, students can upload their own documents for translation as well. 

Each of these features is just as useful for me as they are for the students in my classroom.  The importance of using students' primary language within the classroom is that it helps build trust with your student as well as supports the building of classroom relationships.  The building of the relationship facilitates trust because students see that I care about them and their culture.  This helps students feel more confident and increase their level of academic achievement in the classroom.

Little did Student A know…
The teacher already had a plan to help them achieve success. Teacher A already selected a peer buddy that would help Student A navigate the classroom procedures and classwork.  Student A sat beside the peer buddy.  The peer buddy was ready and typed a note on their Chromebook to Student A as the teacher continued going over notes. 
The note read:

¡Hola! Estoy aquí para ayudarte. Déjame mostrarte qué hacer.
(Hello!  I am here to help you.  Let me show you what to do.)

Student A smiled for the first time that day.
Bio:
Deidre Rumph is a 7th grade Science Teacher at Longleaf Middle School in Columbia, SC.  Previously, she taught 6th-8th grade Science, Biology, and Physical Science.  She is a NASA Endeavor Fellow and is certified in STEM Leadership from the Teachers' College at Columbia University.  You can follow her on Instagram and Twitter @stemfantastic or email her at stemfantastic@gmail.com.
* Be our next Guest Blogger! Learn more. 
Note: This guest blog does not necessarily reflect the views of ETV Education.