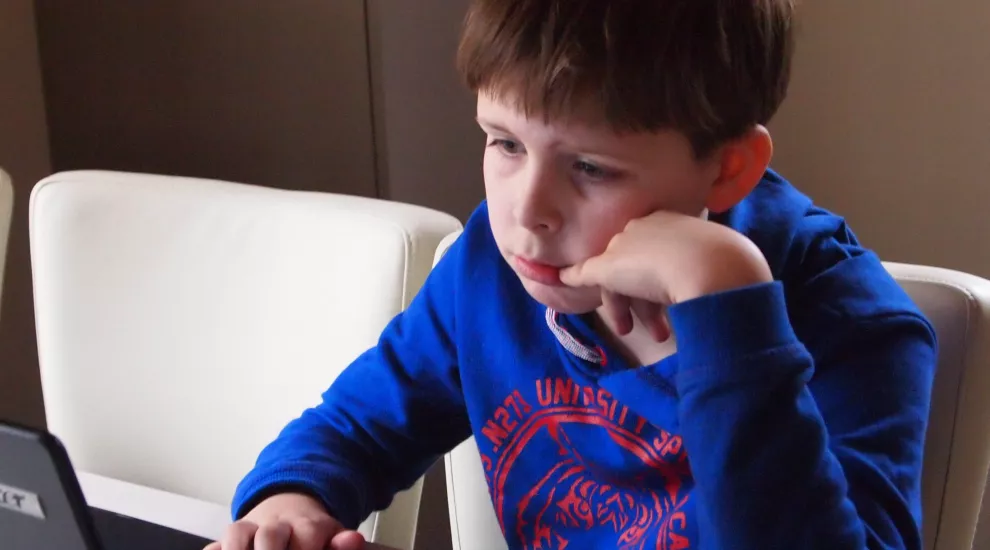 COLUMBIA, S.C. – South Carolina ETV (SCETV) today announced that it is partnering with the S.C. Department of Education (SCDE) and SpectraRep to explore leveraging datacasting technology to support students without access to broadband. With schools closed and distance learning becoming a necessary tool, providing educational resources to families that lack broadband connectivity is essential to preventing those students from falling behind.
According to the Federal Communications Commission (FCC), nearly half a million South Carolinians reside in areas that fall below that agency's standard for broadband connectivity. And, with schools closed as a result of the ongoing COVID-19 pandemic, those shortfalls are now limiting the ability of students to keep up with their peers.
To help address this issue and potentially increase access to educational resources in underserved communities across the state, SCETV and SCDE are exploring a technology called datacasting that has, until now, primarily been used in public safety applications. Datacasting will allow SCETV to transmit files, videos and other computer data to computers using an inexpensive tuner and TV antenna. This will provide students and educators who do not have broadband internet access with the same instructional content and educational resources that would normally require an Internet connection. Content sent through datacasting is encrypted and targeted to ensure broadcast transmission privacy and security.
SCETV has acquired equipment for initial testing and research; and, in cooperation with SCDE, the agency is working with SpectraRep to identify needs and technical specifications in order to outline objectives for the project and design an education-oriented interface. Founded in 1999, SpectraRep is a leading provider of datacasting solutions.
After internal testing, the next steps for the project will be to put prototypes in the hands of students and educators and begin soliciting feedback for a broader deployment.
For more information on SCETV, visit www.scetv.org.
QUOTES:
"Although datacasting technology has been used in public safety and other areas across the country, we believe this is the first occasion it's been used specifically to support education. During this unprecedented time, we believe that it is our responsibility to be innovative and to attempt to provide any advantage we can through the technology we have available to us. As we continue to explore the application of datacasting to serve our educators and students, we also plan to leverage this technology to support South Carolina emergency management and public safety information sharing and interoperability needs as well." –SCETV President and CEO Anthony Padgett
"South Carolina's digital divide has unfortunately made remote learning for students and educators in our rural areas difficult. Until we can bridge this gap, we must continue to be innovative in pursuit of our shared goal of ensuring students and their families have the tools and resources needed to be successful. I appreciate SCETV's commitment and willingness to explore every available option." –South Carolina Superintendent of Education Molly Spearman
"SCETV and the S.C. Department of Education are playing a pioneering role in an exciting new application of the power of datacasting. This initiative may well be a model for such partnerships across the country, combining the deep experience and expertise of public television in education, the technological innovation of SpectraRep and the commitment of far-sighted leaders like Superintendent Spearman to ensure that every student has access to high-quality educational content and services. This approach could help revolutionize educational equity in this country, a redeeming consequence of the terrible health emergency we're enduring now." –America's Public Television Stations President and CEO Patrick Butler
FIVE FAST FACTS:                                              
SCETV is partnering with SCDE and SpectraRep to explore the potential for datacasting technology to support education.
Nearly half a million South Carolinians reside in areas that fall below the Federal Communications Commission's standard for broadband connectivity.
Datacasting will enable SCETV's 11 high-power television transmitters to transmit computer data to specifically targeted computers. Students studying at home will be targeted to receive the same content broadband enabled students access over the Internet
Currently, the organizations are working together to identify needs and outline objectives for the project.
Among the next steps for the project are identifying appropriate content, enrolling educators and selecting pilot test sites for education, then exploring ways to support public safety.