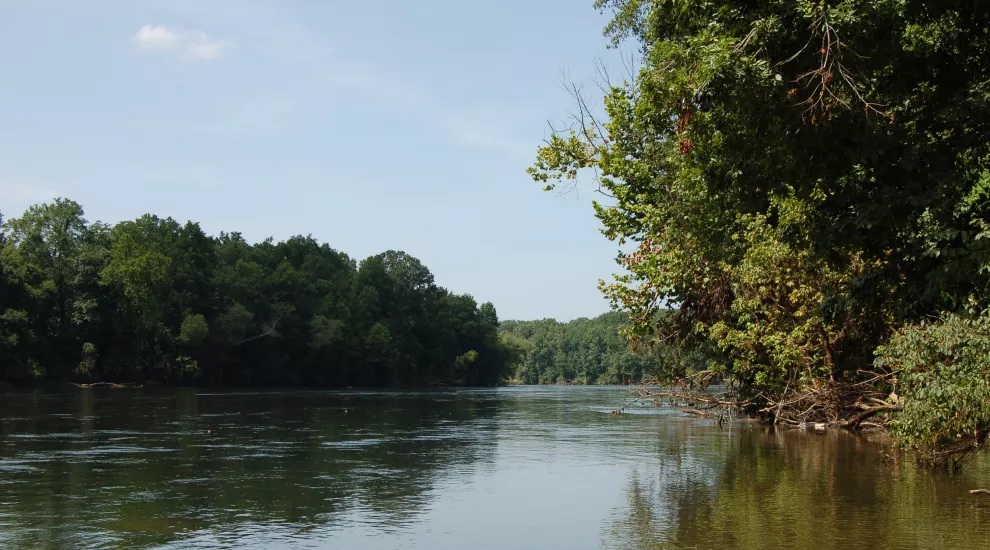 Well, for those of you still reading, today is the day – my last day at SCETV. It truly blows my mind how fast these past ten weeks have flown by. It's like I blinked and it was over. This summer has presented me with many new and exciting challenges, not just at work, but it was also my first time living completely alone – no roommates, no siblings, no parents, not even a pet. It has been an experience for sure, and one that I won't soon forget. But, before I get all sappy, let me first tell you about my final week.
This week, I completed the videos for the Catawba Cultural Center on Let's Go!, and the entire module was finished on Wednesday. Yep, it only took us a week to finish the whole thing, which is probably a record, considering how long the others took. On Wednesday, I interviewed Dr. Jackie Epps for the South Carolina African American History Calendar. Dr. Epps nominated the August honoree, Henry Minton, so it was really cool to sit down and talk with him. It felt really good to be able to get an interview for the August video and finish everything early, because last month was really riding the struggle bus in that department. Unfortunately, the video still needs music, so I don't have a direct link yet. However, when it's finished, you can find it here.
But enough of that… let's move on to the sentimental stuff.
I would say that my biggest challenge this summer, has been finding Queen songs to use as titles for my blog posts – yes, that is why my titles have been a little random at times, in case you have yet to catch on to the theme. Queen, while they are a truly iconic band (at least, in my humble opinion), has a very interesting mix of song titles. For instance, "I'm in Love With My Car", "I'm Going Slightly Mad," and "Save Me" weren't appropriate choices. But songs like "Now I'm Here" and "Don't Stop Me Now" really gave me something to work with. My tenth and final blog post is entitled "These Are the Days of Our Lives," inspired by the song lyric "These are the days of our lives / They've flown in the swiftness of time / These days are all gone now but some things remain…" (Don't look up how that verse ends, because it's really not as inspirational.) It reminds me that the time that I have spent here may be over, but the lessons that I have learned along the way will stick with me. I feel like it really embodies a lot of what I was talking about last week; time has gone by in a flash, but every experience has been so valuable to my personal development.
I think the thing I will miss the most is the people at SCETV: Donna's stories about her family, Ty asking me how I'm doing every time I walk into her office, Don's teasing me about not hearing my alarm on one occasion (I was only 15 minutes late, and I stand by that), Andrew's opinions on the new Star Wars trilogy (he's not a huge fan), Mimi encouraging me about my blog posts, and too many more to name. I cannot say it enough, but everyone here is so welcoming and kind, and that simple fact makes me so honored to have been a part of it for the past ten weeks. So, thank you all for making it so memorable!
If anyone is reading this and you are trying to decide if you want to apply for this internship, take my advice (and the advice of Nike®) and JUST DO IT™. The worst that can happen is you spend a couple of hours on an application and don't get an interview. But on the flip side, you could have the opportunity to experience an incredible ten weeks of working with some pretty great people, doing some pretty cool things.
In case you've missed any of my work, I have made a comprehensive list of all the editing projects I did this summer (with links). This one is for you, Mom:
South Carolina Students Celebrate Poetry
"Chasing the Moon" Screener Event at S.C. Governor's School for Science and Mathematics
Patina Miller | S.C. African American History Calendar
Archaeological Field School at Fort Hill
Drag Racer Pete Hill: A Legend on Two Wheels
Upcountry History Museum | Let's Go!
The Catawba Cultural Center | Let's Go!
About the Catawba Nation | Let's Go!
Henry Minton | S.C. African American History Calendar
*Direct link to all of my work on Knowitall.org*
One last word… my fifth grade teacher Ms. Clifford would not be happy if I signed off with a Porky Pig "that's all folks," so I will refrain from doing that. I will, however, say to my fans (my friends and family) that I wouldn't be anywhere without the people who have supported me in this great journey we call life. I do it all for you – and also myself, but hey, I have to start somewhere. Well, that's all … friends. (See what I did there? I'm sorry Ms. Clifford, but I just couldn't resist) *Drops mic* 
Looking back: 
Week One | Now I'm Here 
Week Two |The Show Must Go On 
Week Three | Don't Stop Me Now
Week Four | I Want It All 
Week Five | Keep Yourself Alive 
Week Six | Spread Your Wings
Week Seven | We Are The Champions 
Week Eight | One Vision 
Week Nine | Under Pressure