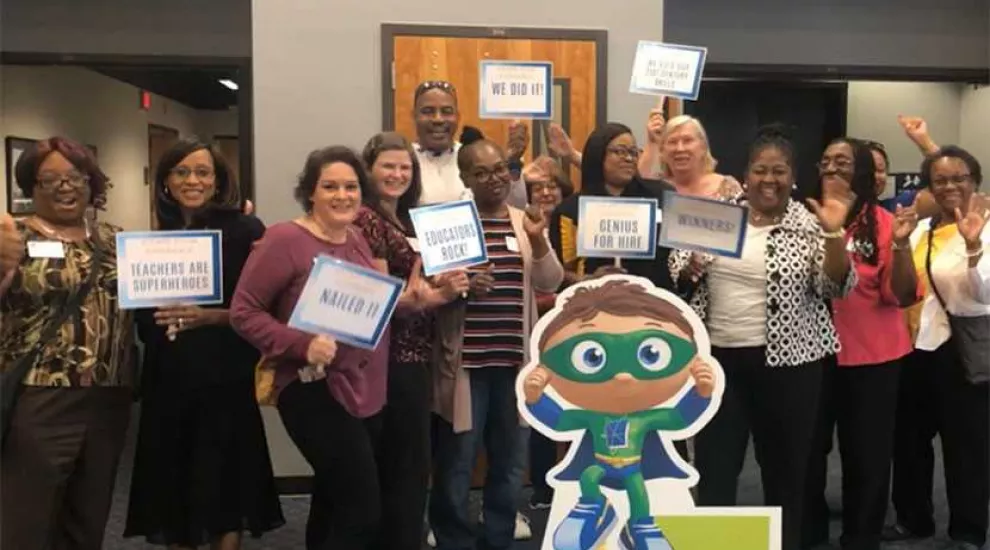 The Training & Research Team has been busy presenting and exhibiting this summer. Our team has also been in the professional development re-design lab working to create meaningful learning experiences for SC educators. We are excited to share highlights from our summer PD and community engagement. More information about fall PD opportunities is forthcoming. 
This summer our trainers traveled across the state attending conferences like the Education and Business Summit, Charleston Innovation Summit, Upstate Technology Conference, Midlands Summit, SCASA, and the Winthrop Partner Conference. At these conferences they offered a range of practical and engaging workshops including: ETV Resources, Blended Learning, Making Life Easier with Google Chrome Extensions, Social Studies Webtools, ETV Assessment Tools, and Instructional Videos. See highlights in the gallery  Also, follow us on social media for updates to our conferencing schedule, attend a session, and visit our booth. We look forward to seeing you!
We also had the pleasure of hosting workshops at our Columbia studio this summer. The Blended Learning workshop provided resources for integrating technology in instruction, assessment, and student engagement. Many thanks to Debbie Jarrett for coordinating the workshop. More online resources focusing on blended learning are forthcoming this Fall. Check out the gallery for pictures from the day and check back here for more details.
21st Century Learners Week was an exciting series of PD workshops promoting creativity, collaboration, critical thinking, and communication in teaching and learning. We were delighted to invite Kathy Schrock and Michael Cohen, aka the Tech Rabbi, to join us for our inaugural year. Per attendee evaluations presentations on virtual reality and design thinking were "thought-provoking" and "exciting." Local presenters did not disappoint. Special thanks to Carla Jefferson of Darlington County School District, Ashley Fort of Lexington District 3, Adam Babcock of Spartanburg District 7, Frank Baker of the Media Literacy Clearinghouse, and Sherard Duvall of OTR Media for showcasing the great work taking place in our schools and communities. The week also included a Teachers to the Rescue, escape room experience and a mini unconference. Pictures from the event are in the gallery and a toolkit of electronic resources from the event are available here. Shouts out to Kimberly Singletary for taking lead in coordinating the week. More content from the week is coming soon.
Other summer highlights include:
Accompanying Smart Cat to the Summer Reading Kickoff at Charleston Library. Visitors were treated to a book of their choice and a number of fun summer reading resources including summer reading logs, activity books. Coloring pages, crayons, bookmarks, tattoos, and pencils. Smart Cat also participated in a dance battle. He's got moves.
Debbie Jarrett provided training on ETV Resources to a group of higher education faculty from Thailand, as a part of an initiative in Francis Marion University's College of Education. We will continue to discuss global citizenship this academic year.
As always we invite you to register for an account, browse, and submit lesson plans on LearningWhy, take advantage of our TeacherLine Southeast professional development offerings, and submit a post for our guest blog.
New professional development resources and opportunities are on the way…See you this fall!
And don't forget the PD pledge. One tool at a time.
Training & Research – ETV Education