Face-to-Face Workshops
Professional Development Re-Design in Progress
The Education Division's newly formed Training & Research Team is working to re-design our professional development programming. New opportunities tailored to meet the needs of South Carolina's educator workforce will be available early Fall!
Questions about professional development programming may be forwarded to Salandra Bowman at sbowman@scetv.org or Dr. Stephanie Frazier at sfrazier@scetv.org.   
---
21st Century Learners Week Registration is Now Open
ETV Education is excited to host our inaugural 21st Century Learners Week. This event is designed to promote critical thinking, collaboration, communication, and creativity in teaching and learning for South Carolina residents. We look forward to seeing you July 22-25, 2019. Sessions are FREE and last from 10:00 – 3:00 PM each day at the ETV Studios in Columbia. 21st Century Learners Week is a bring your own device (BYOD) series.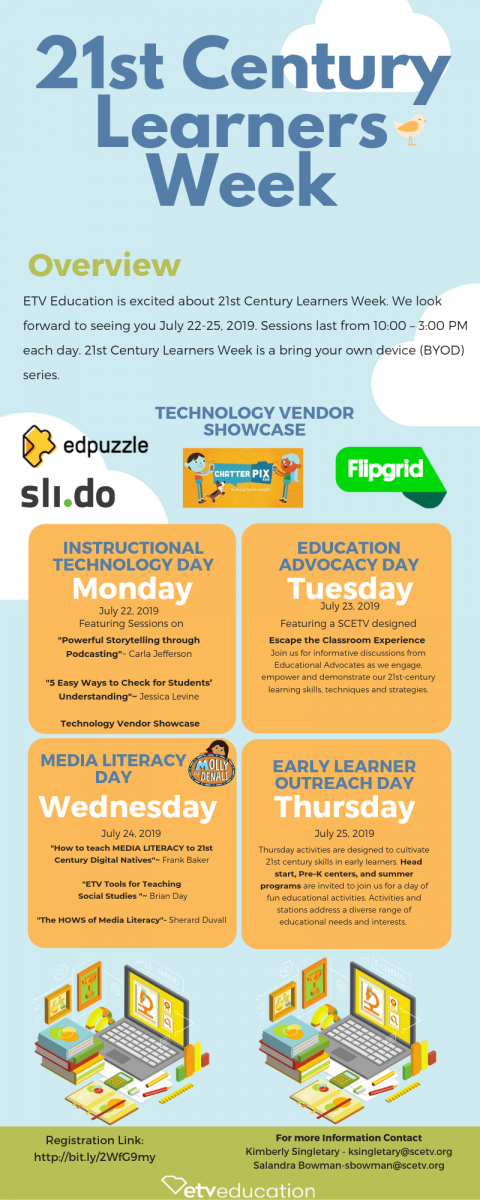 QUESTIONS?
Contact ETV Education Customer Service at 800-277-3245.